Story of One of My Favorite Teachers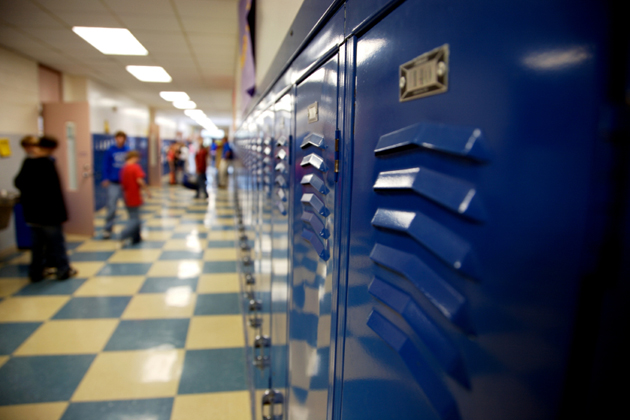 When I was in the 8th grade — living not in California, but East Jesus Nowhere — my junior high school had a program that was started by my science teacher called "Unified Studies." Many schools now have such programs in middle school. My daughter Maya had a program called "Core" at her middle school where students worked with one teacher for three class periods. Unified Studies was probably one of the early core programs in that, it was basically taking the last three class periods of the day and having one teacher teach three subjects. The class, FYI, was a b-l-a-s-t. I wasn't the best student in that class, but because I did well in 7th grade in my science class (where Mr. Bromley was my teacher), he told me I qualified for Unified Studies. I signed up, and being in that class was probably the best year I had in junior high. Why? Well, let me tell you…
Cross-Country Skiing
Yeah, we got to go cross-country skiing. My teacher secured a grant that enabled him to buy skis for the class to use. However, it wasn't about just getting on the skis and just kind of fa-da-fa-fa'ing around. We had to build up our cardio endurance…which meant running. And we ran a lot. Probably did about 5 miles a day for a long time so we could have the lungs and legs to ski. If you've never done any cross-country skiing, it's a lot like running, and it takes time to build up to go on long trips. So, there we were running and running to "get fit" so we could have fun in the snowy canyons of East Jesus Nowhere. It was worth the hard work because once we got on our skis, it wasn't difficult to go up and down the mountains at that point.
Bird Watching
My teacher was also an avid bird watcher, too — which just typing this makes me realized how dorky that sounds. But he was so enthusiastic about birds that we would often go out into the wilds to spot birds. Of course, it had to be tied to a class assignment, so we had worksheets that required us to note what the birds looked liked so we could get credit for the assignment. Now, to be honest, I don't remember much about any of the birds I saw — except for the Double-Crested Cormorant. Sure there were black birds a-plenty, but for some reason seeing a Double-Crested Cormorant through my binoculars stayed with me after all these years. What did I learn about birds? Well, because my teacher was so passionate about them, I learned a lot. We had to know all sorts of things about them: Where migrate to and from, what their kingdom, phylum, genus and species were (I'm sure I'm leaving out some classifications, but we had to know it back then). My teacher built-in the practical exercises (i.e., field trips) with the textbook/theoretical lessons of learning about the birds and then having to memorize all that stuff for a test of our knowledge.
Math
It seems I've always struggled with math (until college — where the higher levels of statistical analysis was something I latched onto, but not for very long). But back in 8th grade, I was convinced I wouldn't make it past arithmetic. Mr. Bromley wasn't a math teacher, but he did his best to help me figure out all those pesky long division, fractions, and decimal problems. I got it enough to pass. And then came pre-algebra. Some kids take to certain types of math, and others struggle. The pre-algebra stuff was a breeze for me. I kept thinking, "It's just find the missing number." So while I happily worked on problems with ease, classmates who I thought were super-smart, struggled with the algebra problems. My teacher noticed that I was doing well, and asked me to help the smart kids with the quip, "You get this stuff, Ted. Why don't help me out." Wow! After years of being the kid who was constantly struggling, I was now a T.A. of sorts. I don't think Bromley knew how much his casual comment helped me with my self-esteem, but it was a boost.
Volleyball
While I was a kid who struggled with numbers, sports was a place that I usually did well. Whether it was soccer, track, gymnastics, or my current obsession, cycling, I tend not to be shy about diving in. Now, I was never great in any of these sports, but I did enjoy doing them. Volleyball was something my teacher was extremely passionate about. He would follow college teams, bring in action slides of matches, and, of course, encourage us to play as much as a we wanted. Because of the flexible schedule we had in Unified Studies, we would play at least an hour and half of volleyball a day. We got good as a team (or so we thought)… and then we had the stupid idea of challenging the girls volleyball team to a match. We never played with a regulation net, so we were at a disadvantage. Long story short, we lost…badly.
Humor
Even though I learned a lot from Mr. Bromley, it was a sense of humor that bonded us. He had a very dry, but wicked wit (if you enlarge the photo below, you'll see that his shirt says "Be an athletic supporter" written in small script). However, it was one day in class that he dropped a quote from the movie Kelly's Heroes and I retorted with an impression of Donald Sutherland's character (Sgt. Oddball). He really liked that, and then found that we had quite a bit in common. Suddenly, I went from wallflower, to "buddies with teach."
Flash-Forward
What brought all this to fore was me leafing through my 8th grade yearbook awhile ago, and re-reading the inscription from Mr. Bromley: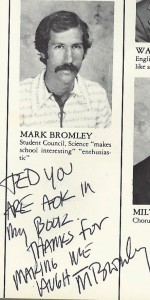 Well, because the Internet makes it easy to connect with people, I found him on a faculty list of a private school he's teaching at. I sent and email thinking he wouldn't remember me. And then, I received a reply:
Ted, how nice to hear from you. I even remember how to pronounce your name and I appreciate your kind words and taking the time to track me down. Unlike most people, I have done the same thing for thirty-five years. It is easy to remember the JH days because all was new for me, including dealing with junior high students. Your note inspired a two-hour search through old year books and I was surprised at how many kids I remembered not only by name and face but also, as in your case, personality.
I am grateful that I am still interested in biology and still respond to teenage humor since my own sense of humor seems to have arrested at age fifteen. And I still listen to the Beatles. If you add fifty pounds, subtract some hair and make what is left white, the picture you sent is right on target.
I hope this finds you content, productive and challenged. Thanks again for getting in touch.
MB