On NPR this morning there was a report on natural gas fires in Nigera as one of the greatest contributors to environmental damage — including global warming.
The first picture is from space, where you can see the natural gas flares…Â 
When drilling for oil, there are often natural gas pockets in the earth that can either be stored (and sold) or just burned off  — which is what they do in Nigera because natural gas is not as profitable as oil.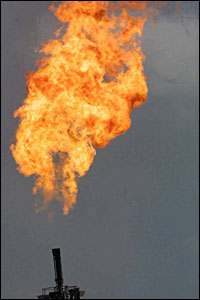 This map is a composite of the growth of natural gas flares in Nigeria. The amount of acid rain that falls in the regions affected by the amount of pollution in the air is quite large.  If you don't know the effects of acid rain, just add some sulfur dioxide and nitrogen oxides to a bucket of water and then use in your garden.
And if you want to see where race, class gender, and the environment come together in one place with devastating consequences, just look at this slide show from the National Geographic.  
–PK