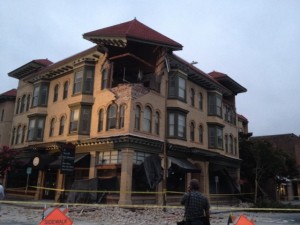 It was quite a shaker this morning! Like most people, everyone in our house was fast asleep when we were jolted out of bed by a quake that was pretty powerful. It lasted about 15 seconds or so, but it increased in intensity and then tapered off. Julie and I got out bed fast and made our way to the door frame of our bedroom. Maya, however, stayed in her room. After it was over, Julie went down the hall to see if Maya was okay. She was sitting up in her bed. Julie told her that if we ever get a quake like that again, to open the door and get in the door frame and hang on.
After it was over, and we didn't feel any aftershocks, Julie and I went back to bed where I said, "What do you think? A four?"
"No way," Julie said,"That was a five or 5.5."
"I think you're right. I'll say a 5.5 as well."
When we woke up later in the morning, we were hearing 6.0 or 6.1 on the radio, TV, and seeing reports on the Internet. Nothing really happened at our house, but our condo pool was sloshing water around after the quake. People in Napa didn't do so well. Lots of damage, some injuries, and a few structure fires in the area. The Governor has declared a state of emergency to speed repairs and clean-up. Overall, the event made me think that we don't have a good earthquake plan in our household, nor do we have food and water for three days. I guess it's time to get working on that to make sure we do, huh.