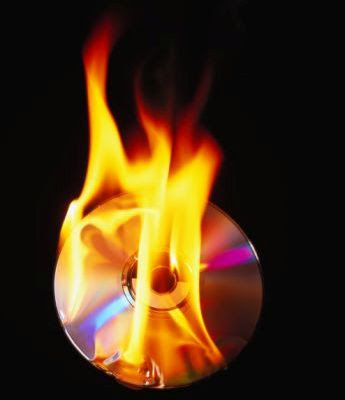 The compact disc was such big deal when they came into the market back in the '80s. The promise of better sound that wouldn't degrade with use was pretty novel back then. As long as you took care of your CDs, they would deliver the same sound as they did when you purchased them. And for a couple of decades, CDs were the dominant format that surpassed cassettes tapes in terms of portability, ease of use, and good sound quality. Vinyl was almost extinct as pressing labs went under and it seemed no one was bothering with that dead format anymore.
But vinyl didn't die.
It's now a very popular format that has its fans that span across age groups. It's more expensive to buy vinyl records, and part of that is that the records are heavier and the number of production houses is still small, so labels can market these records as somehow having a superior sound to CDs. However, as I found out from one of the clerks at Rasputin Records who is studying to be a recording engineer, the digital files used to cut the vinyl records is not the so-called Hi Res files, but the same sample rate as CDs (i.e., 16-bit, 44.1 KHz). So, when labels say the sound quality of the vinyl is superior, maybe they are comparing it to some of the LPs produced in the '70s and '80s that were mastered poorly. What people like about vinyl is "warmth" of the sound that creates a more pleasing listening experience. CDs can sound too shill at times, and that goes for mp3s as well. But if you have a stereo with a good equalizer and good speakers, you can decrease the amount of shrillness by playing with the sliders to get a sound that you like. The same goes for other music formats. Mp3s are a bit more difficult to make sound "warm" because there's not that much information encoded to tweak.
All this brings me back to the CD format. Its death was predicted a few years ago, but they are still around because people buy them. When I was at Rasputin Records the other day, I noticed they had CDs for 95 cents. Yeah, 95 cents. Most of the titles come from the '90s, but it made me laugh because I remember when those 95 cent CDs cost almost twenty bucks each. Now that vinyl is popular again, the price of records that were probably 95 cents are now averaging seven dollars in the used section. The new vinyl recordings are really expensive (around twenty-five to forty dollars). And now with Neil Young's Pono Player coming out that plays Hi Res files, we'll see if consumers take the Hi Res bait and start to buy their back catalog again.
Me? I still think CDs reproduce a pretty good sound, and that's why I'll continue to buy them. One day I may start spinning vinyl again (if I can find a place to put my turntable), but for now I'm a digital man with a collection of CDs, mp3s and, of course, streaming music through my phone.
How 'bout you? Are you satisfied with your current music playback set up?