"Who ARE Those Guys?" Butch Cassidy and the Sundance Kid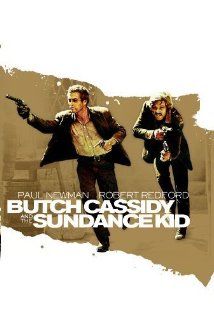 Our local cineplex has a series of classic films they show "for one night only." I've seen previews for them, but today I was reading the paper and saw that Butch Cassidy and the Sundance Kid was playing. So off I went to see this new digitally remastered classic film. Sure, I paid a premium to see it in XD ($13.75), but since I'm on a kind of sabbatical from work right now, Julie urged me to go out and enjoy some down time before work ramps up again.
I have to say that the film looks great seeing it in XD. Yes, it wasn't shot in 70mm, but rather 35mm, so there's not a lot the digital remaster can enhance. You don't want to play with the colors too much, because it's a film that was released in 1969, so you have to preserve the look of that era of filmmaking (something George Lucas can't seem to remember with his millionth tweaking of the original Star Wars trilogy). My only complaint was the sound. Yes, preserving the look of a film shot in 1969 is one thing, but there are ways to make sure the audio dropouts in the original (I presume there were dropouts) aren't in the remaster. I'm no mastering god, but even with my intermediate skills I know that it doesn't take all that much to find consistent background sound to mask the drops in sound quality. But whatever. I was happy to see a clean copy of the film with a great sound system.
I was too young to really appreciate the Redford/Newman films when they were originally released (i.e., Butch Cassidy and The Sting), and seeing them on TV didn't make it any better. But as an adult (which, of course, this film is made for), it was truly enjoyable. Paul Newman is funny, affable, and emotionally vulnerable. And Robert Redford is the strong silent type who, later, unburdens himself about Newman's ability to be the "brains" of the operation. Katherine Ross was pretty good as the Etta, the love interest to both Newman and Redford. But really this was a buddy picture of two robbers who, though likable, are kind of a dying breed as "civilization" comes west and disrupts their ability to keep flush with stolen cash.
Even if you get a chance to see this movie on DVD (or streamed), do it. You may need to be in a certain frame of mind to watch it (because the action is spread out), but just to watch Paul Newman and Robert Redford have a great time playing these characters is worth it. Yes, it ends grimly, but how else would an end come to a couple of bank robbing outlaws?