Well, Excuuuuuuuse Meeeeeee!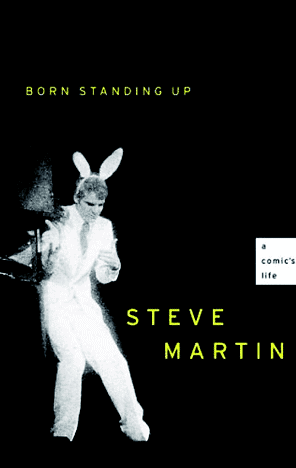 When you're in junior high (or middle school as it's called now) it's a time of transition where you shed the skin of the person you were, into the person you want to become. It's a psychological change that goes along with the physiological one that pre-teens/early teens experience. For me, part of junior high was the development of my sense of humor. From an early age, I loved stupid stuff. In 1972, my mom took me to see Woody Allen's "Play It Again, Sam" at the Village Theater in Danville, CA (which was a movie theater back then, but is now a theater where they perform plays and musicals) and I could not stop laughing at the scene where Woody is nervously asking a girl out on the dance floor, or showing a date how the Chinese eat rice. I got the giggles so badly that my mom was trying very hard to muffle my laugh (Eventually, she had to take me out of the theater until I stopped laughing).
Years later, my oldest brother and sister gave me a Steve Martin album for Christmas ("Wild and Crazy Guy"). I loved it from the moment I put it on. I wasn't too aware of Steve Martin, but when I was listening to the album, I knew I was given something that really spoke to my sense of humor — and , as it turned out, millions of others felt the exact same way. However, I got to be the early adopter that day and memorized the entire album in one weekend. I could even pitch my voice to sound like Martin; I mimicked every pronunciation, punch line, and way of singing so I could regale my friends at school with my new found "funny." It worked — for about two days — until other kids at school got the same album (or "Let's Get Small") and were doing Steve Martin routines in the hall. But for those two glorious days, I was the funniest guy at my junior high — even though I basically plagiarized my way to my short-lived junior high school fame as a "funny guy." I still loved Martin's comedy even after he peaked, but there was something about the way he did his routine that made me feel like I was hearing something that wasn't like other comedians of the time.
After reading Martin's new book Born Standing Up, I now know why: Martin consciously created an act where the jokes really didn't lead to a "release" (i.e., the punch line). He got the idea in a college psychology class where he read that a laugh was "formed when the storyteller created tension, then, with the punch line, released it …What if there were no punch lines? What if there were no indicators? What if I created tension and never released it? What if I headed for the climax, but all I delivered was an anticlimax? What would the audience do with all that tension? Theoretically, it would have to come out sometime. But if I kept denying them the formality of a punch line, the audience would eventually pick their own place to laugh, essentially out of desperation. This type of laugh seemed stronger to me, as they would be laughing at something they chose, rather than being told exactly when to laugh." (p.111) That was the "theory" behind Martin's comedy, and it took years before he found an audience who were in on the joke.
Born Standing Up is a memoir that's fascinating because the "public" Steve Martin doesn't really take center stage. What the reader gets is a thoughtful book that tells the story of how a suburban California kid got bitten by the performing bug at an early age, and by luck, perseverance, and finding an audience who loved his sense of humor, rose to fame as one of the most successful stand-up comedians — and then walked away from it. Along the way we get a glimpse of his family life (i.e., A strict father, whose own thwarted acting ambitions, left him bitter toward his son's success), his early comedy routines involving magic acts, getting work in Television, hanging with the Laurel Canyon crowd like Linda Ronstadt and Eagles (not the Eagles as Glenn Frey kept correcting Martin one night at the Troubadour), doing his act on The Tonight Show, Mike Douglas, and Merv Griffin's TV shows, eventually breaking through on Saturday Night Live and then as a big…big comedy star. Along the way, Martin confesses his insecurities, his alienation from his family, the loneliness on the road, the soul-sucking bubble of celebrity, and reason why he walked away from a career in stand-up comedy. You don't have to be a Steve Martin fan to enjoy this book, however. His story is a narrative that echoes the life course of many performers, but because of Martin's compact and economical style of writing, it's a lively read without much of the dross that afflicts the biographies of many famous people.
Even in his act, Martin foreshadowed aspects of his personality that showed how the "wild and crazy guy" is actually a lover of ideas (i.e., philosophy), art (he's an avid collector of paintings), and music (his banjo playing is no joke). But lest we forget what a funny guy Steve really is, here are some snippets from his stand-up years:
First off, "Ramblin' Man" (Download) This is one of those songs that riffs on the the whole "ramblin'" theme in popular music, but, of course, in a totally square way.
Next is "How to Meet a Girl," (Download) from the album Comedy is not Pretty. While this album wasn't as funny as the first two, it does have some moments where the "old" Steve comes shinning through.
Here's one from the first Steve Martin album I got — and this bit is called "A Wild and Crazy Guy." (Download) What I like about this snippet is that he takes the last part of his nightclub act (recorded in San Francisco) and transitions into when he was basically a rock star in the comedy world. So, in a sense, you really get a feel for how jarring of a change he went though in his career.
No sample of Martin's work can exclude his most famous phrase, "Excuse Me." (Download)
And while Steve often played the banjo during his routine, he never really spotlighted his own compositions until he included "Drop Thumb Medley" in his act. (Download)