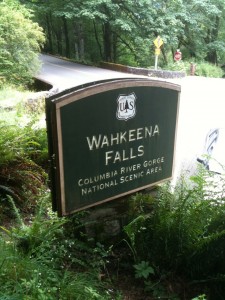 It was the 4th of July in Oregon, and according to my in-laws, pretty typical when it came to the weather.  It was cold (mid- 60s), overcast, and rain was threatening (but never came).  One of the things Julie wanted to do in Oregon was take a hike in "The Gorge."  Well, I wasn't sure what "The Gorge" was, but was up for it if it involved interesting things to see.  So, on the 4th, we all packed into our rental car and followed Julie's sister, hubby, and two kids on a 45 minute drive to Wahkeena Falls.
When we arrived, my FIL said that the hike was about 5 miles round trip.  It didn't seem like that big of a deal, but I didn't factor in the elevation (about 970 feet to another waterfall that was about 3/4 of the way up), so by the time we got to Fairy Falls, everyone was ready to go back down the mountain.  It was a really great hike with great views of the Columbia River Gorge, an abundance of trees, moss, plants and, yes, water.
And me being the weirdo that I am, couldn't resist making a short video where I'm channeling those British documentary hosts who narrate in a voice that's just way too excited about what they are seeing. And Maya being the good sport that she is, played along with my stupidity.