"U2 Violated Me!" (And Other Stupid Views)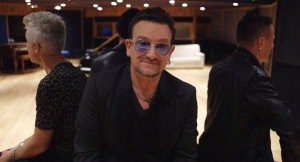 Last night, I was looking at what my daughter calls a "failed social network" known as Google Plus, and there was a story about the backlash against Apple and U2 automatically loading the group's latest record on all iTunes accounts. Now, it was a free download, and while there wasn't initially a delete button included in this gift, people were free to ignore the album in their purchased section of their iTunes account and let it sit there. But no. This is the Internet age, and people will complain in the most hyperbolic way about something as benign as a free album.  Sure, there was a lot of concern about not only being unable to delete the album before downloading, but there was anger over Apple's control over iTunes accounts whereby the company could force music on users if it so chose (which it did).
In a video that U2 posted on their Facebook page, Bono apologized not really to the world, but to one person:  Harriet Madeline Jobson.  She asked Bono (and Bono only, it seems) the following question during a Facebook Q&A with the band: "Can you please never release an album on iTunes that automatically downloads to peoples playlists ever again? It's really rude." Bono said "Oops," and then added that they did so with the best intentions that were colored with megalomania and self-promotion (but only bits and dashes).  That last part got The Edge laughing because as we all know, it was more than a "dash of self-promotion" that U2 agreed to partner with Apple and release the album. However, what Bono was worried about was that the songs the band worked very hard on wouldn't be heard because "there's a lot of noise out there." Yes, there is a lot of noise out there, and U2 knows how to cut through it (and add to it).  However, Ms. Jobson got one thing wrong in her comment to Bono:  the music didn't automatically download into your iTunes library (or as she called it, "playlist").  You had to complete the process of the "purchase" to hear the music.  And as far as it being "rude." Ha, bloody, ha (as they may say in the U.K.).  Since Harriet Jobson is a Facebook and iTunes user, she should know that both companies vacuum up your data and use it to market products to you. "Like" a posts about Bangers and Mash, and suddenly you'll see an ad disguised as a post about Bangers and Mash show up in your precious, hollowed news feed.  Buy a copy of "Fifty Shades of Grey" on Amazon, and suddenly, your email Inbox is filing up with recommended titles that are similar to your interest in poorly written erotica. Post a picture of some amazing meal at so and so restaurant on Twitter and soon you'll see ads appear for similar restaurants in your feed.
The common denominator in these scenarios (except for U2's album) is that all these companies are trying to get you to buy stuff.  Apple was giving away U2's album for F-r-e-e, free! Not coaxing you to spend your own money and buy it (However, Apple really wanted you to buy a new iPhone). It cost you nothing for U2's record. You could take it or leave it — and later delete it. How is that rude? You and I don't own iTunes. Apple does. And in the terms and conditions you blindly agree to, you're probably agreeing to things like Apple promotional campaigns and the like. The truth is most of us don't know what Apple has a right to when we agree to the terms and conditions on iTunes.  We just click "agree" and then look to see what the free single of the week is. So how could, like one writer at the News Herald, write that "We felt violated" without smirking?  That's just stupid. In an era when the NSA is spying on us, an era when our debit card information has been hacked and stolen from so-called trusted merchants like Home Depot, Target, and even your frickin' bank, you feel violated by a free album that shows up in your iTunes account?  Did personal information get leaked? Nope. Did you lose money because Apple gave you "Songs of Innocence" by U2?  Hardly.  Do you just like to bitch and moan because it's easy to bitch and moan about a freebie that you didn't ask for? Yep. And I'll bet that the reaction to the junk mail the mail carrier delivers doesn't evince even a tenth or hundredth of the bitching that came with all the #didIaskforthisu2? blah blah on the Internet.
In the end, I think Bono's apology was unnecessary at some level (see above), but necessary because Apple's promotion with U2 was a butt of jokes that the band wanted to put and end to — especially since the CD version of the album has been released and they are ramping up for a tour. Congratulations Internet! You got Bono to apologize on behalf of Apple for giving you free music — music many of you would have pirated anyway if it wasn't free.