Twilight of Rock and Pop Radio?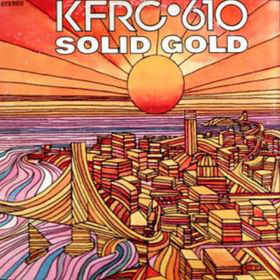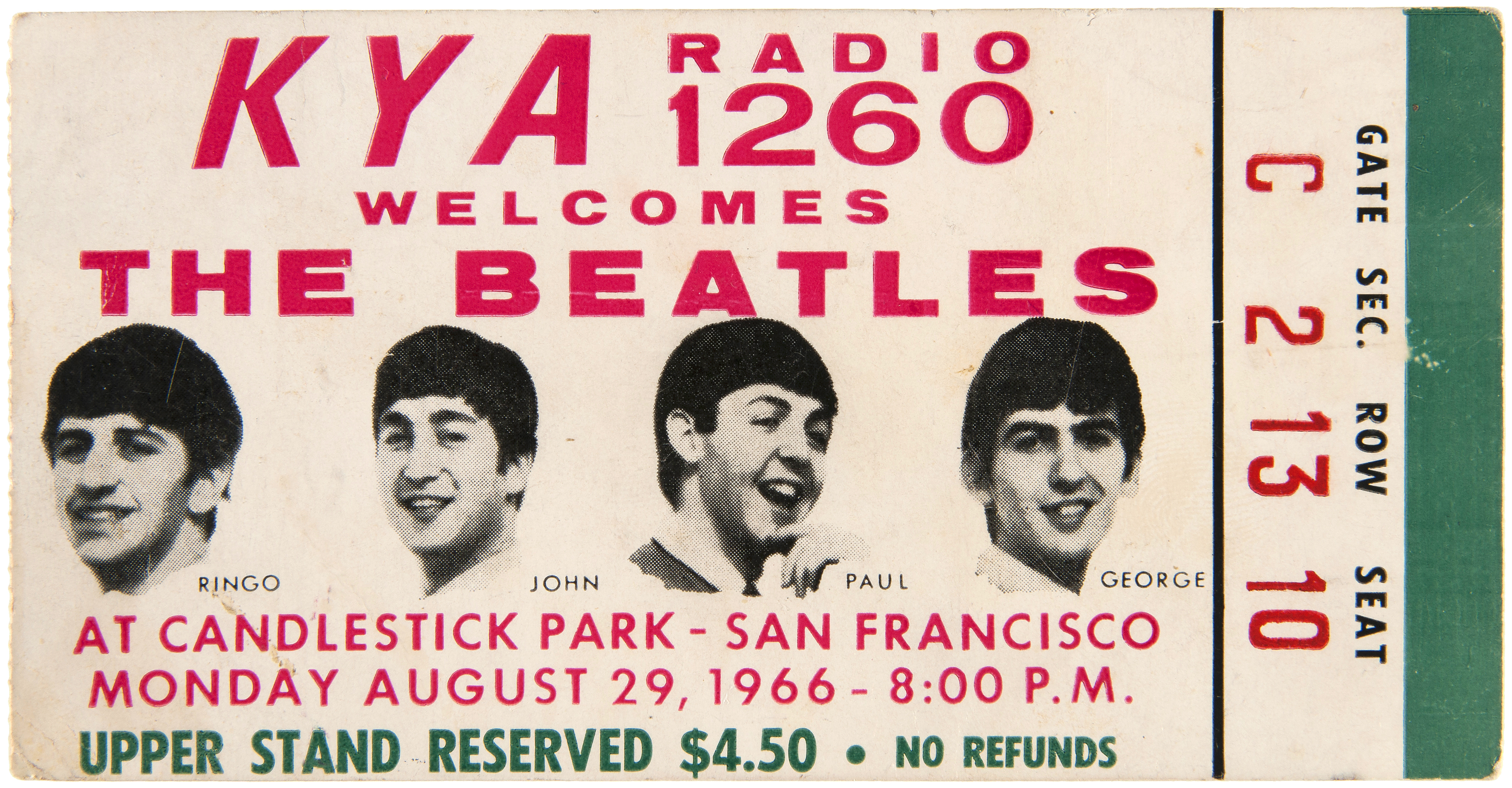 Let me be upfront: I grew up listening to the radio for music. Top 40 as a kid. MTV, rock and modern rock as a teen and 20-something. Triple-A and alternative rock as in my 30s, and now mostly alternative, classic rock, and NPR.
I've also worked in the radio industry far longer than I ever expected to. My first job was in 1983 at this radio station — and yes, that was the bumper sticker the promo team used to give out when I started there:

And to this day, radio is my bread and butter. But it's also an industry that's losing audience share in many formats due to factors like consolidation, competition from YouTube and streaming services, car dashboards integrating apps, and changes in the music industry where people don't tune into the radio to hear new music. That's not a comprehensive list, but it's enough to show that while radio still has an impressive amount of daily listeners, the formats that have the most loyal listeners ain't what it used to be. According to a recent article in the industry site, Inside Radio, the most loyal listeners (and the formats that have the most radio stations in the U.S.) are as follows:
Country music (2,175 stations)
News/Talk (2,027 stations)
Religion* (1,948 stations)
Contemporary Christian (1,191 stations)
*The overwhelming number of these stations are Christian and are own by two companies, Salem Media and Educational Media Foundation.
That's a lot of stations. Yet, if you look at the Neilsen ratings around the U.S., you won't see many Religion and Contemporary Christian stations with the largest audience share. Mostly, it's iHeartMedia, Entercom, Townsquare, and Cumulus-owned stations — with these formats leading this age demographic in 2017: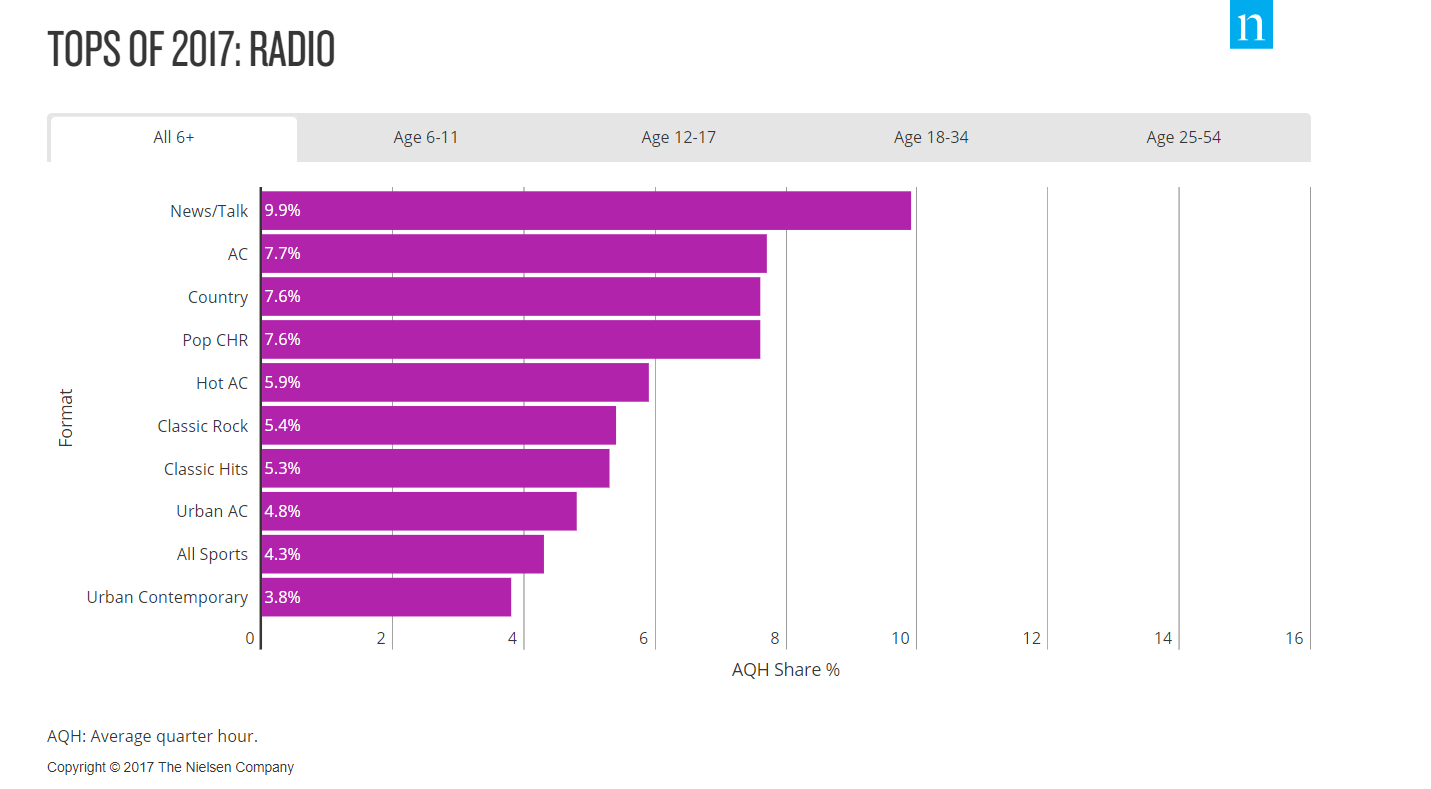 What's somewhat surprising is how many people in a younger demographic were listening to News/Talk in 2017. However, considering this data is from the first year of the Trump administration — where news about daily drama in the White House dominates — it's not entirely unexpected to see News/Talk see a surge in listeners.
What do News/Talk, Country, Adult Contemporary, and Religious/Christian formats have in common? On the surface, not a lot. But if Educational Media Foundation CEO Mike Novak is correct in his summation to Inside Radio, he says the relationship between the stations he oversees and its listeners is "like a marriage." They (the audience) see the stations as part of their family and "as a way to help them get through their day."
"Family," "marriage," and a trusted voice or programming that helps them "get through their day…" What does that connote? A tight bond between the radio station and an audience. None of this is new or revolutionary in building a loyal audience, but somehow pop and rock formats haven't been able to grow that level of loyalty. Why is that? Well, some of it has to do with fragmentation (and aging) of an audience. Pop and rock radio still exists, but it's a far cry from Top 40 radio and AOR stations when I was young. A New York Times article from 1993 (that's about the time this fragmentation started to happen) spelled it out like this:
[D]eregulation led to a sudden increase in the number of radio stations around the country, and with it rampant speculation by station owners who were more interested in making quick profits from sales of their properties than in cultivating loyal listening audiences.

Weaker, Not Stronger

But the result was the opposite: stations with little clear sense of identity in the public mind, which made them financially weaker, not stronger. In the competition for ratings that would raise the value of their stations, many owners relied increasingly on research techniques in which listeners are telephoned and played pieces of records. The responses would help determine the station's playlist. While this often achieved improved ratings in the short run, many believe that it proved detrimental in the long run because it further diminished a sense of station identity.
Country, pop, and rock and some rap could — prior to the '90s — be heard on a Top 40 station. "Mass Appeal" was the buzzword, and stations would tailor their playlists to grab as large of an audience as they could by appealing to as many niche tastes as they could. Take for example the Top 40 charts in 1978 — compiled from both Billboard and American Top 40 — where the top 20 songs of that week had the following:
1 HOW DEEP IS YOUR LOVE –•– Bee Gees (RSO)
2 BABY COME BACK –•– Player (RSO)
3 BLUE BAYOU –•– Linda Ronstadt (Asylum)
4 (Every Time I Turn Around) BACK IN LOVE AGAIN –•– L.T.D. (A&M)
5 HERE YOU COME AGAIN –•– Dolly Parton (RCA)
6 YOU LIGHT UP MY LIFE –•– Debby Boone (Warner Brothers / Curb)
7 SLIP SLIDIN' AWAY –•– Paul Simon (Columbia)
8 SENTIMENTAL LADY –•– Bob Welch (Capitol)
9 YOU'RE IN MY HEART (The Final Acclaim) –•– Rod Stewart (Warner Brothers)
10 HEY DEANIE –•– Shaun Cassidy (Warner Brothers / Curb)
11 COME SAIL AWAY –•– Styx (A&M)
12 YOU CAN'T TURN ME OFF (In the Middle Of Turning Me On) –•– High Inergy (Gordy)
13 WE ARE THE CHAMPIONS / WE WILL ROCK YOU –•– Queen (Elektra)
14 RUNAROUND SUE –•– Leif Garrett (Atlantic)
15 IT'S SO EASY –•– Linda Ronstadt (Asylum)
16 DON'T IT MAKE MY BROWN EYES BLUE –•– Crystal Gayle (United Artists)
17 SHORT PEOPLE –•– Randy Newman (Warner Brothers)
18 JUST THE WAY YOU ARE –•– Billy Joel (Columbia)
19 SERPENTINE FIRE –•– Earth, Wind and Fire (Columbia)
20 TURN TO STONE –•– Electric Light Orchestra (Jet)
Fast forward 20 years to 1998 and this list would be broken up into niche formats — mostly Adult Contemporary and Classic Rock. Debby Boone, Crystal Gayle, and Dolly Parton would not be on Country playlists in '98, nor would Shaun Cassidy and Leif Garrett be on AC stations — except as part of some flashback special programming. For a Classic Rock format, Queen, (maybe) ELO, Styx, and (maybe) Bob Welch would show up on some station playlists.
It's those niches that proliferated when radio consultants standardized playlists, changes in technology were introduced into radio programming (i.e., voice tracking and automation), and, as the New York Times article notes: "In recent years… music video, the popular music press, college radio stations and even word-of-mouth have played a proportionately more important role than commercial radio in popularizing many of the most successful pop and rock albums."
With the Internet maturing into a huge media outlet, now people can tailor their listening to whatever genre pleases them. Do you want all hip-hop from the Golden Age of the 90s? Done. NuMetal from the early 90s? No problem. Music by just one artist? Sure. If you have a streaming service, that can happen with a couple of clicks. No more waiting for your favorite song to come on the radio. It's all there. So where does pop and rock radio fit into this? They are playing music to a core audience in a very predictable way (i.e., playing what's popular; not what's interesting or unexpected). When a radio station sounds stale, when DJs aren't local stars who connect with their audience, when you have the same kind of music playing over and over and over with little variation, that bond between audience and station starts to fray. When large companies lose sight of a fairly simple concept of growing an audience the way Christian broadcasters have not lost sight of, it's time to move away from the risk-adverse business model (i.e., let others make mistakes by playing the "wrong song"), and go back to what made pop and rock radio such powerhouses back in the day: a unique identity borne out of a tight bond between the listener and a station.