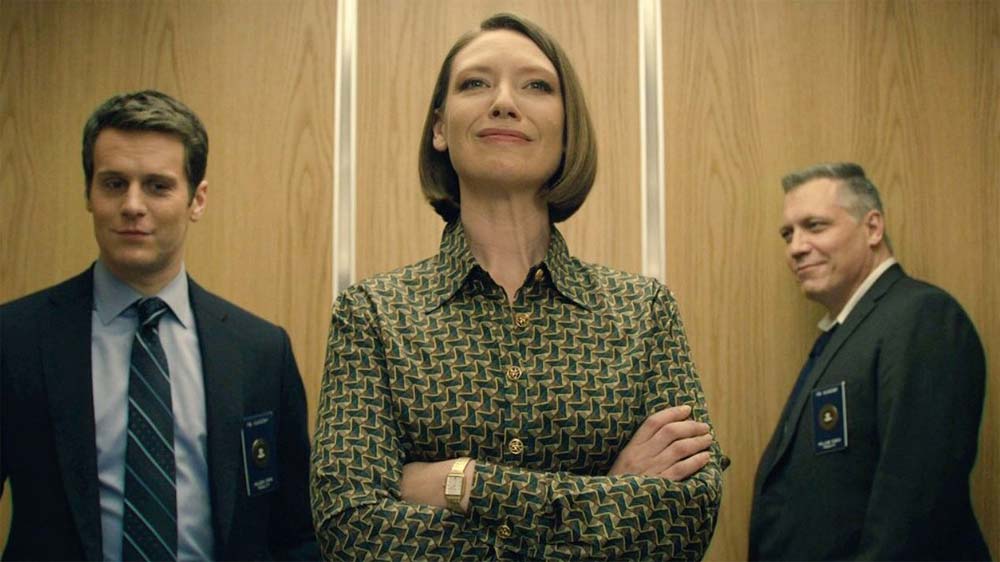 People love cop shows. There's something fascinating about crime, criminals, and the police officers who solve them. Some people like how justice prevails in the end and how the bad guys either get locked away or killed by the good guys. Yes, people do evil things to each other in this world, and it's always satisfying to see those who do horrible things get their comeuppance in the end.
However, as to the "why" people do evil things like murder is the central question of the compelling Netflix series, "Mindhunter."  Based in part on the non-fiction book Mindhunter: Inside the FBI's Elite Serial Crime Unit by John E. Douglas and Mark Olshaker, the series produced by Joe Penhall, Charlize Theron, and David Fincher centers on three main characters:  Holden Ford, Bill Tench and Wendy Carr — all of whom are brought together to head up a newly established Behavioral Science Unit in the FBI.  A problem arises when the profiles the FBI use to find a motive in murders (i.e., opportunity, revenge, or passion) aren't fitting certain murders. A new type of killer is motivated by something else, and it's up to the three main characters to find out the what and why of a killer's actions. Nowadays when the term "serial killer" is used to describe a criminal, we know exactly what kind of person he is. But in 1977, the FBI was just starting to understand these killers, and in "Mindhunter" we get to see how a database of characteristics is painstakingly assembled through interviews with killers.
Ford and Tench are opposite personalities.  Ford is sensitive, intellectual, and given to long-winded dissertations when lecturing beat cops on investigation techniques.  Tench understands beat cops because he was most likely one of them. He can break down complex terms and concepts into everyday language, while Ford struggles to reach his audience. They both compliment and conflict with one another as their methods of extracting information from convicted killers has mixed results. It doesn't help that their boss is only letting them compile this information on a part-time basis (10 hours a week).  Moreover, because neither of them is trained in high level research, they have data but lack the intellectual training to compile the raw data into theories of criminal behavior that can help law enforcement solve crimes. Ford — and to a lesser extent, Tench — have some ideas what's motivating these killers, but it's not until they meet with Wendy Carr, a professor of psychology at Boston University, that she begins to see the kind of research gold the FBI has.  Eventually, she's convinced to join the unit after she helps Ford and Tench get a couple of grants that give them the budget to not only do their work full-time, but also hire assistants in their department.
"Mindhunter" teases a serial killer (who has yet to act on his desires) at the beginning of most episodes, but the central arc is about Ford, Tench, and Carr doing the hard work of compiling their database. That may sound boring, but it's not. These people have lives, and it's the complications of their lives that also drives the drama. Ford is clearly the central character, and his relationship with his work and having a girlfriend (Debbie — who is a graduate student in sociology) creates a certain amount of discord in his personal and professional life.
Bill Tench is married with an adoptive son, but he too demonstrates how married life is, as he says, like a business you can't get out of (unless you're willing to hire expensive lawyers). He pours himself into his work because the barriers at home (a cold marriage and a son who refuses to speak or show any love) leave him more than a bit ambivalent about the life he lives. And Wendy Carr? She's up for tenure at B.U., but she's also a lesbian who lives a closeted life with her partner (who is also a professor, but fully tenured). Her decision to leave her partner and academia confines her in a loveless existence where work is the most important thing. These are people for whom their jobs are more of a vocation. In other words, their work is more than a paycheck; it's more like a calling where their work will have a lasting impact on the society at large.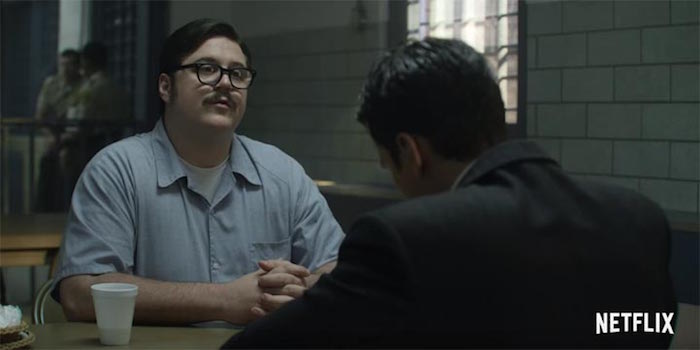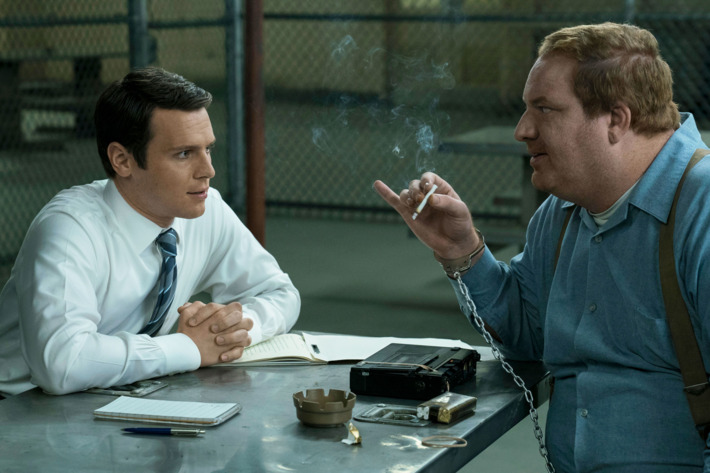 What I liked about this series is how the story progressed from diffuse beginnings to a more focused ending. Ford starts out as a failed hostage negotiator. He's reassigned to "Cop School" with Tench where they drive around the country to meet with local law enforcement to share knowledge about investigating and solving crimes. Later, when they are allowed to set up the Behavioral Science Unit, it goes from a basement start-up to more advanced operation.  In the course of that progression, it's Ford who exhibits the most character change. At first, he's kind of a bookish, but sympathetic person, but as he starts to experience success in using the data to solving crimes, he becomes more self-centered and egotistical in his investigations (which grow more unconventional).
Overall, this series is a solid piece of storytelling where the main conflicts are balanced with well crafted subplots. This is clearly "Season 1" of an ongoing series, and it's been set up to continue many threads of the story that were left unresolved.  So, if you're looking for a compelling, but dark police procedural that captures the mid-70s (with all it's cultural change) in a fairly authentic way, "Mindhunter" is the ticket.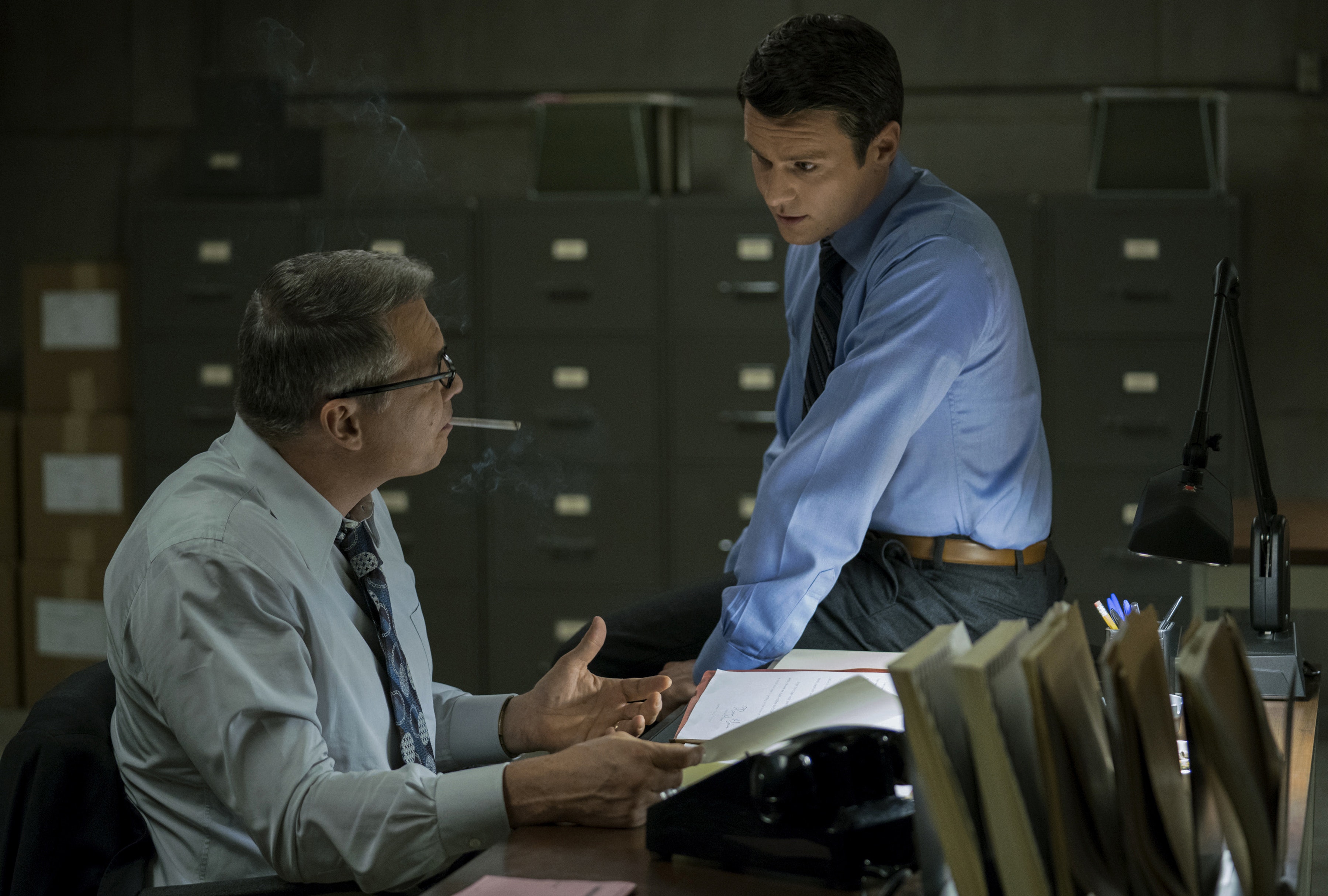 And as a bonus, the soundtrack to the show is a good sampling of music from the era. Some songs are easily recognizable, but others spiked in are some deep tracks that sound great, too.  I put tougher a playlist of the song featured in the series on Google Play.  Have a listen!