Thursday's Song: Hanson "Thinking 'Bout Somethin' "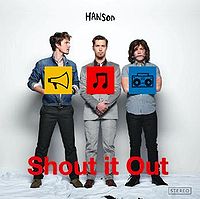 It's hard to believe that Hanson burst on the pop charts 13 years ago with "MMMBop."  When that song came out, I was working at the same place I work now and thought it was a pleasing song, but I had no idea would usher in the boy bands of the late '90. But Hanson wasn't interested in squealing pre-teen girls everywhere they went.  Nope.  These guys wanted to be real musicians, and have stayed active in the music business — despite a huge battle they had with their label over the commercial potential of songs they submitted over a period of three years.  They now have their own label and are able to produce whatever they want.
Last year, Taylor Hanson joined with James Iha (Ex-Smashing Pumpkins guitarist), Bun E. Carlos (Drummer for Cheap Trick), and Adam Schlesinger from Fountains of Wayne to form Tainted Windows — which had some really great power pop songs.  Well, it seems time away from his brothers and being immersed in the power pop of Tainted Windows was good for Hanson's songwriting.  The result is the surprisingly wonderful "Shout It Out" which finds the group sounding both mature and musically fresh.  I've had the song "Thinking 'Bout Somethin' " on my iPod for about a week, and it's really quite catchy — and one of many really wonderfully crafted pop songs on the album.
Have a listen and tell me what you think!
"Thinking "Bout Somethin'," Hanson (Download)