Kate Bush is one of those fortunate artists who can record whatever she wants and her fans will buy it (including me!). Her music and lyrics are very haunting, introspective, bizarre, and, at bottom, a powerful voice that explores the feminine side of humanity.
I first got to know her music with the 1985 release of "Hounds of Love" and became an instant fan. I listened to that album over and over that year and was really taken by the way she masterfully blended an artsy vibe with a pop sensibility. Then I started checking out her back catalog of albums and while none really grabbed me the way Hounds did, it was very impressive to learn that she was only 19 when she recorded her first LP, "The Kick Inside."
In her native England, she is one of those singer/songwriters who has attained iconic status. But here in the U.S., she's often seen as that singer who sounds an awful like Tori Amos. I'm not going to rant about that hack Tori, but let's just say that if it wasn't for the fact that Kate Bush is deathly afraid of flying (which rules out touring North America) Tori Amos would have just been a footnote as the singer for 80s synth-crap band, Y Kant Tori Read.
'Nuff said. Now back to Kate Bush…
Side 2 of "Hounds" is quite the tour de force for an art pop album. It's a song cycle entitle "The Ninth Wave," and while the narrative is a bit opaque, it seems to center on a girl's near death experience that takes her on a kind of journey of the soul. The theme of water is present through all of the songs and it could signal some kind of rebirth into the world. She eventually returns to this world with a renewed love for her family, and all seems to be right again. Yes, there's a kind of "Wizard of Oz" quality to the song cycle, but as far as I know, Dorothy never became a ghost of sorts who visited her home trying to make contact with her loved ones.
"Watching You Without Me" is a song that has so many wonderful musical layers that it's best heard with a pair of headphones. The spare quality of first part of the song gives way to Morse code beeps, a non-English sounding language, and a wave-like/effects laden plea to communicate. But, because she's essentially a ghost, her attempts to connect with the humans in the room come out fragmented and foreign. It's a powerful example of alienation and I think it demonstrates why Kate Bush is so admired as a songwriter who can create original songs that communicate central themes with layers and layers of audible clues. And because she is able to do heady things like that, the "Hounds of Love" stands as one of the overlooked musical treasures from the '80s.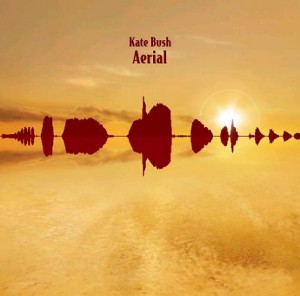 20 years later, Kate Bush released a CD that was also very technically proficient, but lacked that certain something that made her such a brilliant oddity back in the day. "Aerial" is essentially Bush's "mother album"(complete with drawings from her young son). Some of the songs are very good, but too often the songs are mawkish and mired in a kind of "my kid just the best" sentimentality that, for me, made me feel like the alienated ghost in "Watching You Without Me." However, "King of the Mountain" despite its tired theme of Elvis Presley (?) has a great band feel with Steve Sanger's drumming adding the right about of heaviness to give the song a great rock feel  — something that's rare in a Kate Bush song.
Sadly, the rest of the album doesn't really rock, but we do get audio of Kate's son Bertie talking about the birds — which makes me wonder if this recording was part of a home movie soundtrack or something. We all lose our edge as we age. But I really thought that Bush's long hiatus would result in something much grander than the songs that made the final cut on "Aerial."