The Ying and Yang of Showers and Toilets in Hotels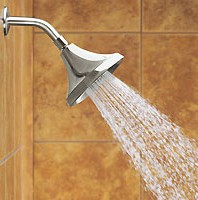 I think we all have stories when we travel about things we like and things that are just perplexing.  We're staying at a Holiday Inn Express and while it's a a fine hotel in terms of staff friendliness, location, general comfort and the like, there's one thing I just don't understand:  low-flow showers.  Okay, in California, or any other state where water is a resource that's in a very limited supply, low-flow showers in hotels are understandable.  However, we're in Portland, Oregon where, as I type this, it's raining – which means if it's raining in July, an abundant water supply is something that's not a problem for Portlanders.
Sure, hotels in water rich states want to save money on their water bills, but here's what I don't get: the toilet in our room is like a waterfall when flushed.  I mean it's a hell of a lot of water! And the shower is like some bizarre-o universe where people prefer a spritz of water than a full on fire hose.  Don't believe me?  Okay, I shot this video with my iPhone just to prove my point:
You know, it's a sad, sad, sad, sad state of affairs when I think I can get a more substantial shower out of the toilet in our room than the actual shower.  And I feel doubly bad for Julie and Maya because they have hair, and with the amount of water coming out of that spigot, I have no idea how they are able to wash all that shampoo and conditioner out of their hair.
I guess this is one time when it's good to be bald!