The Rise and Fall of Dire Straits
Some people get the attraction to Dire Straits, and some wonder why the hell these guys made it into the popular musical consciousness in the first place. If you're in the second camp, you might as well stop reading because, well, this could be painful.
Like many people who heard Dire Straits for the first time in the late 70s, it was the single "Sultans of Swing" that hit me when it burst onto the airwaves. It was an amazing song to hear on the radio back then because it really didn't sound like anything else that was charting at the time. And the fact that Mark Knopfler's guitar work was just so jaw-droppingly great was the icing on the cake of an already catchy song. Sure MK's voice is not something that one immediately points to as an example of great singing (he would have been voted off American Idol during the first week — if he made it that far), but his Dylanesque growl heralded a welcome return to a more roots-based sound in a musical landscape that was populated by over-processed and increasingly sterile disco. While the first album is not my favorite of the Dire Straits catalog, it has a wonderful sense of organic groove that waned in later recordings.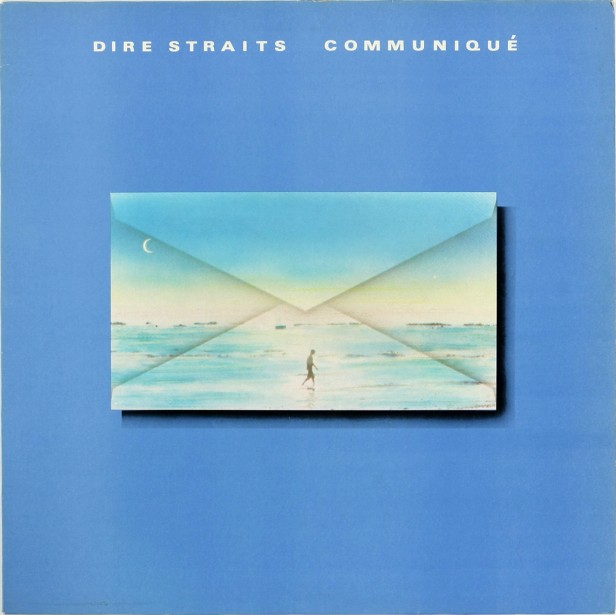 Communique had all the marks of the dreaded sophomore slump. There are some good to great songs on this album, but the band sounds too much like a Johnny One-Note on song after song. That's not necessarily a bad thing considering the first album was so successful. And to be fair, the songs on Communique are actually catchier than they are on the first album. Knopfler's ability to craft a head-nodding/foot-tapping hook (either in a chorus or by using his guitar) is quite clear on the following tracks:
Update: I wrote up a piece for Ultimate Classic Rock where I expand on this album and wrote: "Communique does have similarities to the debut record, but part of that could be because Knopfler was under pressure to come up with new material so quickly."
Read More: Sticking With the Formula: Revisiting Dire Straits' 'Communique' | http://ultimateclassicrock.com/dire-straits-communique/?trackback=tsmclip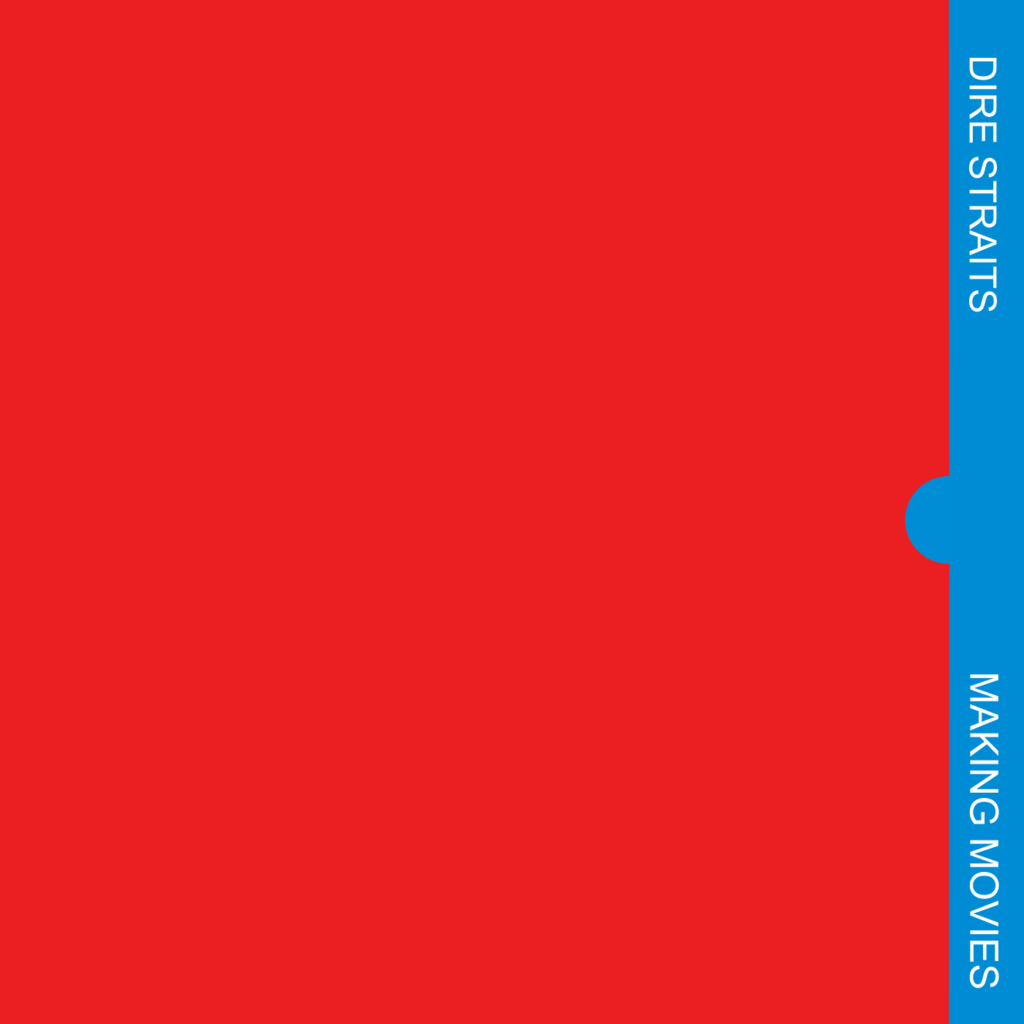 Making Movies is quite possibly Dire Straits' best album. The band was basically a trio at this point, but what they lacked in original players they made up with sophisticated playing and matured themes. "Tunnel of Love" alternates between balls to the wall rocking and a kind of pathos of distance as Knopfler sketches images of life and love from his salad days. The lead break in the ride out section conveys such longing that one wonders if Knopfler shed a few tears when playing music like this. "Romeo and Juliet" has a similar emotional quality, but this time Knopfler is able to hit those emotional highs in the chorus and (again) with the lead break in the ride out. "Romeo and Juliet" is one of those songs that still give me those little goosebumps when I tune everything out and actively listen to the song. There are very few songs that can do that for me, so when one comes along, I really never grow tired of it.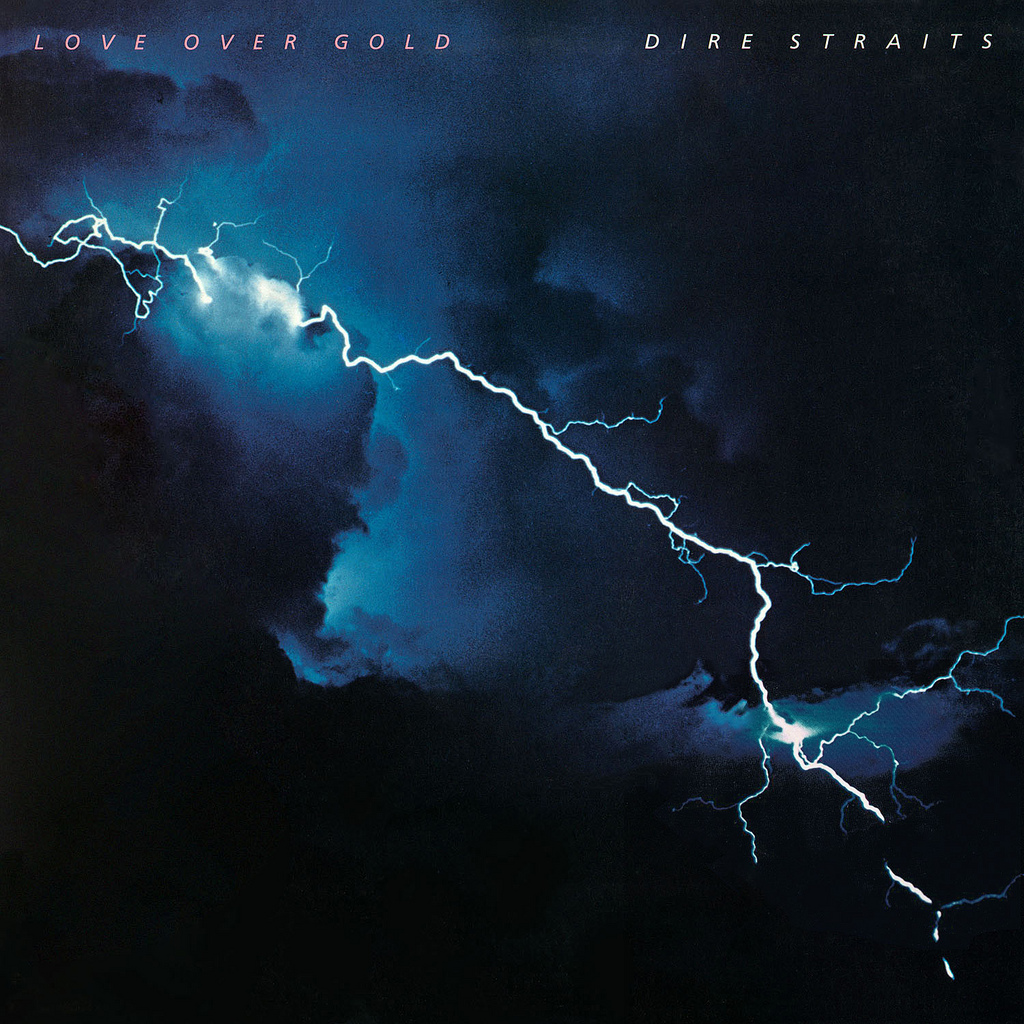 Love Over Gold was actually the first Dire Straits recording I bought — and it was on cassette! I had just started my senior year of high school when KZAP in Sacramento, CA started playing "Industrial Disease." Seemed every morning I was getting ready for school, they played "Industrial Disease" – and I was quickly hooked. I purchased the cassette (At Tower Records on Bay Street in San Francisco) and was really surprised to hear that none of the other songs were as upbeat and catchy as "Industrial Disease."  The lead track, "Telegraph Road," chronicles the rise and fall of industrialization and toll it takes on the psyche of working men and women — and does so in a sweeping and cinematic way. It really is a tour de force for Dire Straits that stands as one of the best songs in their catalog.
And then…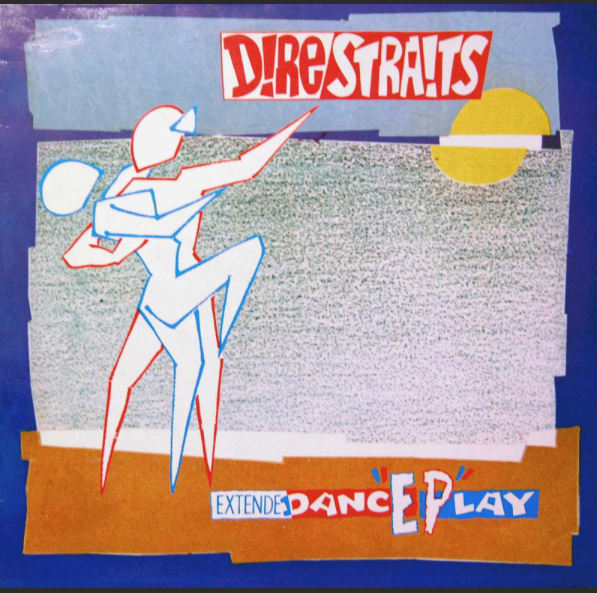 They stripped it down with an EP (ExtendedancEPlay) that had the single "Twisting By The Pool," the jazzy "Badges, Posters, Stickers and T-Shirts," and "Two Young Lovers" — which sounded better live than the studio recording. It was like Knopfler needed to shake off the weighty themes explored on "Love Over Gold," so he jumped into the studio and made a fun EP with songs that were just about, well, twisting by the pool, love, and annoying fans.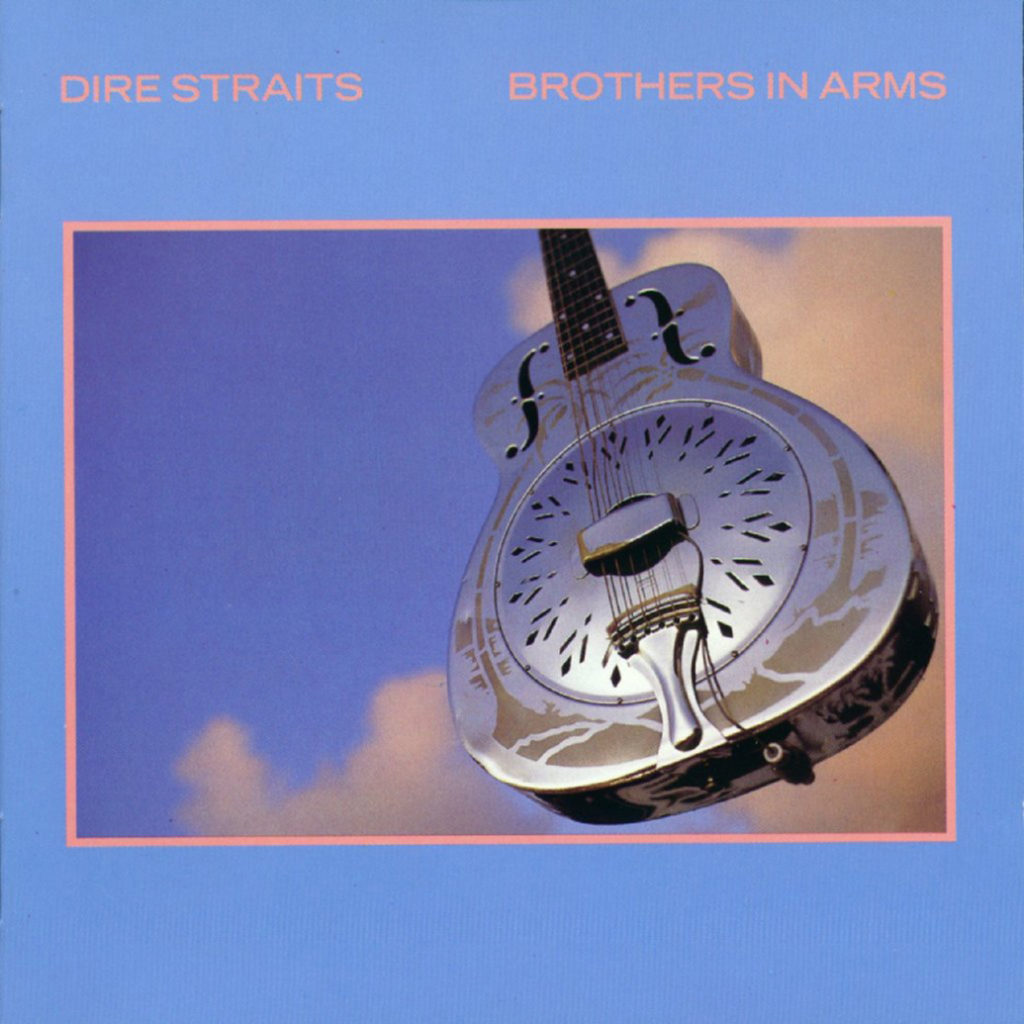 With Brothers In Arms Dire Straits became accidental pop stars. "Money For Nothing" —  while an amusing song — is actually quite annoying to me. The first time I heard it, I thought there was no way in hell MTV was going to play the video. What do I know! They played the crap out of that video and the song went to #1 on the charts. I suppose prior to Brothers In Arms, I was enjoying the fact that very few people in my circle of friends were really into Dire Straits. And because they weren't that popular, I could claim them as "my band" and feel somewhat superior. Then when "Money For Nothing" went #1 and MTV sponsored Dire Straits' tour, it was all over. "Walk of Life" is a vapid song whose video had all those clips from sporting events that just underscored its mindlessness (to me, that is). And the first and last single of the album ("So Far Away") was a sleepy mid-tempo number that was devoid of emotion (again, to me). What kept me listening to the album were the last six songs. And this was the time when LPs, cassettes, and CD were out at the same time. I didn't have the money to buy a CD player, so I had the LP (i.e., vinyl) and it was side two where I found "my band again." I used to think that the first three songs on side one of Brothers In Arms were for the "kids" — and side two was for the serious fans. And decades later, it's pretty clear which side I'm on when it comes to this recording.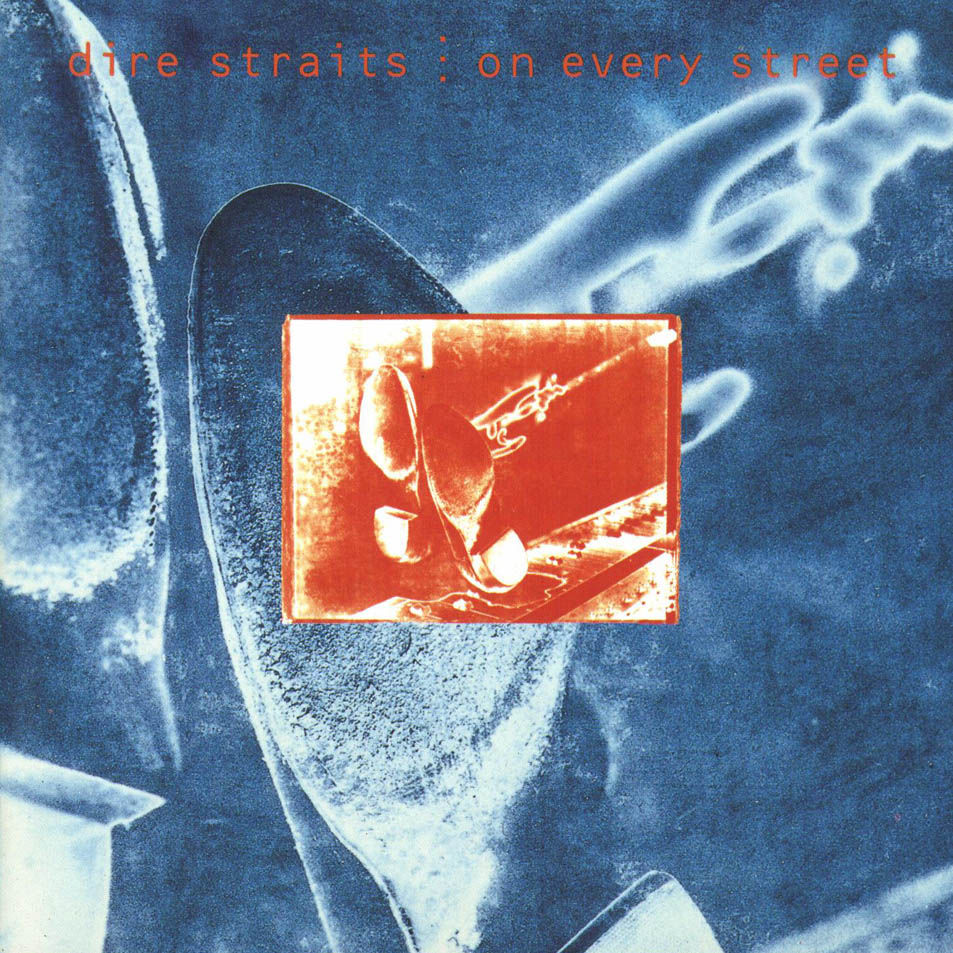 On Every Street was such a letdown. Honestly, it had been so long since Dire Straits had released any new material, I wasn't convinced that it was actually the same band when I bought the CD. "Calling Elvis" and the title track were, to me, the strongest cuts — and who knows, maybe Mark Knopfler knew that as well and that's why he featured those songs at the outset. There's very little to be excited about when it comes to this album. Much of it sounds like MK popped a copy of Brothers In Arms into his CD player and said: "Well, I guess I could write another "Money For Nothing."  And he pretty much did with "Heavy Fuel." But it doesn't stop there. He also revisited the stupidity of "Walk of Life," and penned the follow up entitled "The Bug."  Except for the first two tracks, the rest of On Every Street sounds like a band who had pretty much given up. Middle age mellowness had taken over and what was left was a group of laconic songs that didn't even hint at the band's former greatness. It's unfortunate and sad that On Every Street was the last Dire Straits album. Had they only done what The Police did (i.e., Pulled a "Constanza" and gone out on a high note) they wouldn't have been stuck with this lead ball that caused nary an eyebrow raised when they finally broke up in 1995.