I don't know if I'm just conditioned to reading on a computer, but I really love my new Nook that Julie bought me for my birthday.  Now, reading on the Nook is really not like reading on a computer.  Rather, the "e-ink" that renders on the screen is much easier on the eyes.  I don't know how to explain it, so I'll just be lazy and show you a picture: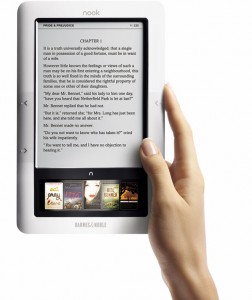 Can you see the gray screen with the black lettering?  That's what I mean by "easy on the eyes."  I also have to say that for some reason (maybe it's the novelty of the thing) that I'm drawn to reading again — after a long spell of not reading much at all.  Anyway, the books I'm reading are fairly easy, but that doesn't mean I'm not enjoying them.  For example, a few days ago I finished Sarah Silverman's book, The Bedwetter: Stories of Courage, Redemption and Pee — which I'll probably review for Popdose.  And now I'm reading The Hollywood Economist:  The Hidden Financial Realities Behind the Movies by Edward Jay Epstein — which is not as boring as it sounds. What I really enjoy about the Nook is that it allows readers who like to take notes while they are reading to do so. I know I've stated this feature as a big deal for me (and a bit of a deal breaker for the iPad) since I like to return to certain passages because I suppose I've also been conditioned to read books while taking notes.
That said, my biggest beefs with the device really come down to three things:
The screen sometimes freezes when activated after sleep mode.
The booting up process takes a very long time.
Highlighting text and taking notes is not as fluid as it should be.
But these are the pitfalls of being an early adopter, and I'm sure B&N will make the Nook better in the next iteration.  So, if you like to read, and have some time to visit your local B&N, give the Nook a try.  I think you'll find it a rather cool gadget that maybe will rekindle (I know, bad choice of words) your love of reading.