St. Vincent "Masseduction"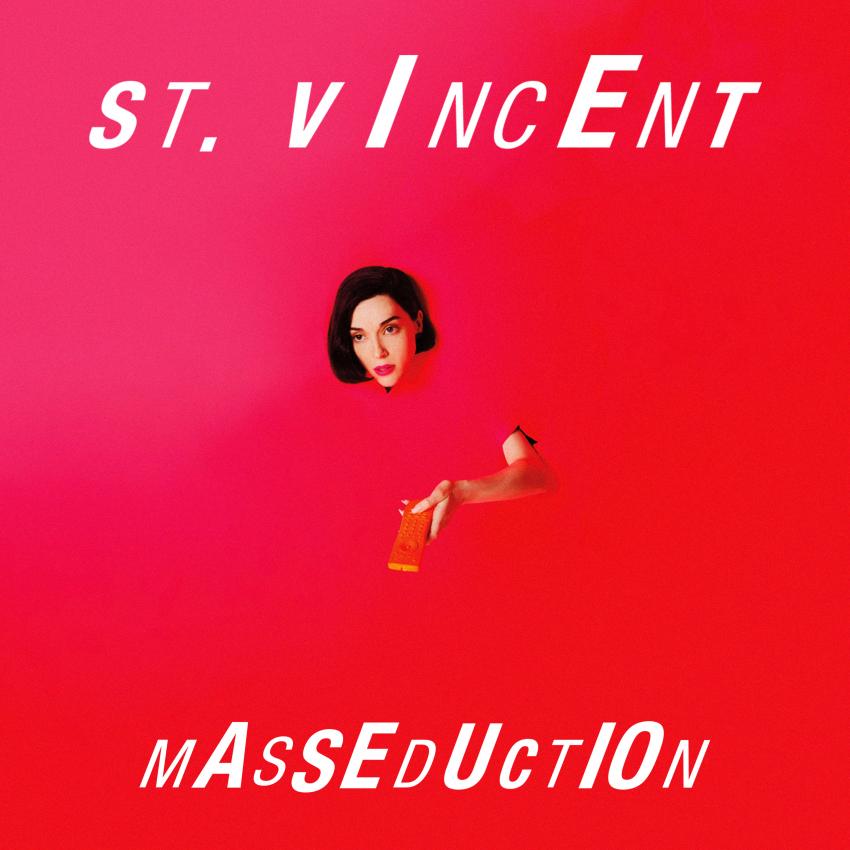 One review I read on St. Vincent's "Masseduction" was that the album was her "Let's Dance."  And in a way, it makes sense.  For Annie Clarke, who started out in the very strange band The Polyphonic Spree (2004-2006), and then as a solo artist in 2007, she's fashioned herself into an art-rock performer who seems to change from album to album (sound familiar?) While I've only been following her career since she teamed up with David Byrne in 2012 to record "Love This Giant" in 2012, her current record is gaining a lot of accolades.  For "Masseduction," St. Vincent paired with producer du jour Jack Antonoff — whose work with Taylor Swift, Sia, Lorde,  and Pink has made him an in-demand collaborator for artists looking for hits.
So…has "Masseduction" succeeded in creating hits? Sort of.  Because St. Vincent comes from the art-rock realm, she's now straddling the line between pop and her roots — which doesn't make for a consistent record.  There's kind of a whip-lash collection of styles that may turn some folk off and make others happy — depending on their preference of styles.  On the album opener, "Hang on Me," she creates a very intimate sounding song surrounded by buzzing guitars, a spare sounding drum machine, and string-sounding keyboard flourishes.  To me, it's one of the strongest tracks on the record. "Pills" is bound to divide listeners after the album opener because of its chorus and mechanical delivery.  When I first heard the song, I found it kind of annoying, but now that I've lived with the record for weeks, it has some kind touches that I like. After listening to a loop of the chorus for over 2 1/2 minutes, she changes the tone of the song with a Beatlesque ride out that breaks up the song in an effective way. The title track has lots of elements thrown at the production wall to make a hit, but it all sounds too forced and contrived. "Sugar Boy" also has a kind of "Let's try and be weird" vibe that also misses the mark not so much because the song isn't catchy, but because it's forcing "the weird" on its listeners.  "Los Angeles" finds its footing with a solid blend of styles (both musical and vocal) that makes for a good pop song.
Things get more personal with "Happy Birthday, Johnny" where St. Vincent continues the tale of a guy who's gone from love interest on her first album to a soul whose lost his way in "Prince Johnny," and now as a person who is homeless and dependent on drugs. "Savior" is saved by the lyrics where they alternate between sexual and the spiritual.  "New York" is clearly a crowd-pleaser with the chorus punctuated with various versions of  "Where you're the only motherfucker in the city who can stand me."  "Fear the Future" continues ( or maybe resumes)  St. Vincent's desire to go back to her art-rock dabbling, while "Young Lover" sounds more conventional.  My second favorite song on the record is "Slow Disco," another confessional where St. Vincent changes her vocal phrasing that sounds, at times, like Aimee Mann when she sings, "Am I thinking what everybody's thinkin'? I'm so glad I came, but I can't wait to leave."  Alas, the album concludes with the pained and painful "Smoking Section."
Overall, "Masseduction" is — if you pardon the pun — a hit and miss affair.  When St. Vincent drops some of the artifices, she really shines — even in songs where the art-rock vibe is dominant.  But too many of the songs tend to get bogged down with an inauthentic feel. This may make for an uneven effort, but so far "Masseduction" is introducing St. Vincent to a more mainstream audience — something David Bowie was also able to do with "Let's Dance."