Rush at the Sleep Train Pavilion 6-26-11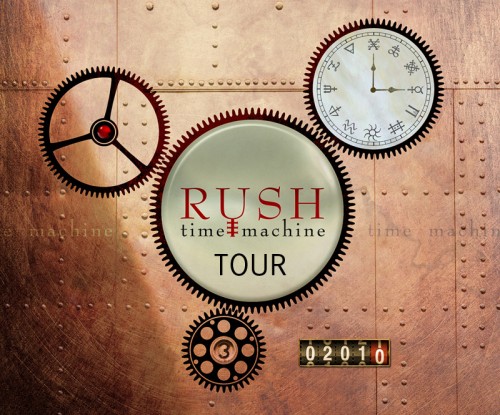 Rush's Time Machine Tour rolled through the Bay Area for a second time, and, yes, I had to go (again).  Why?  Because 1.) They are one of my favorite bands. 2.) I'm not sure how much longer these guys can take the punishment of touring,  All three members are approaching 60 (Neil Peart turns 60 59 in September[Thanks for the correction, Brie]) and for the kind of show they put on (3 hours; no opening act), it's not easy to maintain that kind of endurance night after night.  Maybe they'll hang up their instruments and retire to a life of leisure soon, but until that day comes, they have decided to keep going as if it's 1981 — the year they hit big with the album Moving Pictures.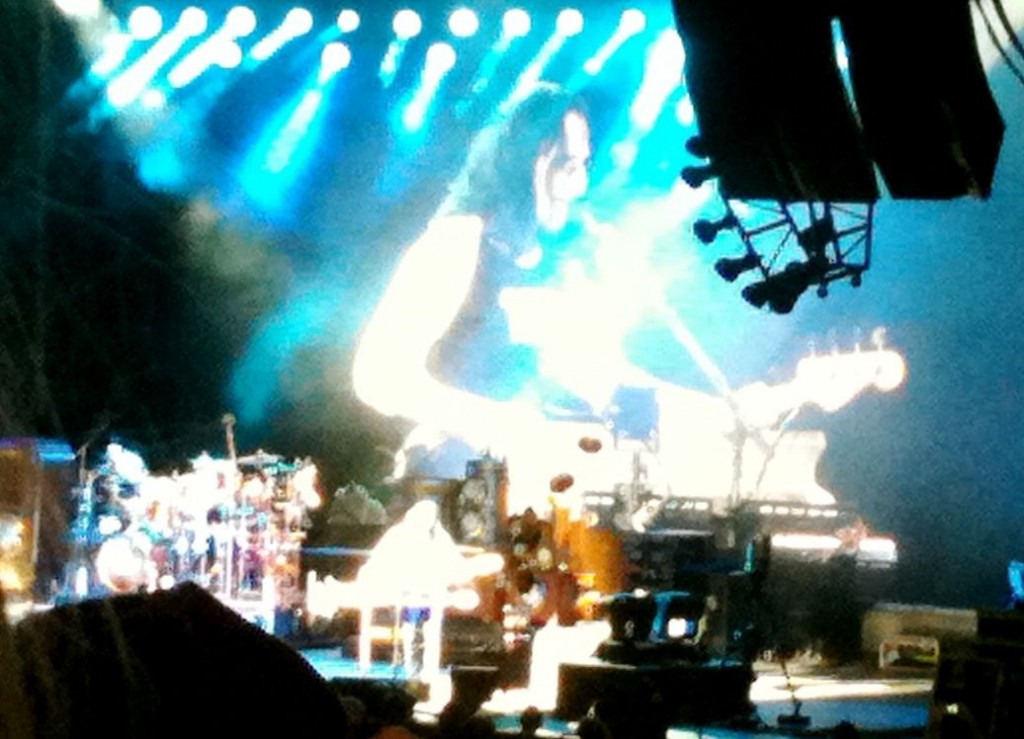 Moving Pictures was the album that propelled Rush from "under the radar progressive/hard rock band" to one with huge mainstream appeal. Thanks to that one song that, according to the band, wasn't really anything special to them when they were recording it (i.e., "Tom Sawyer"), the band enjoyed mainstream popularity for about three albums and had one top 40 hit in the U.S. ("New World Man").  But even though the "pop" crowd dropped them by the late '80s, they continued to grow their audience by consistently touring and recording new material.
Their record label left them alone because they sold albums at impressive levels, so the band members were essentially free to follow their muse knowing that 1.) They would sell albums and make money touring. And 2.) Their fan base had become a loyal group of people who would buy anything the band released.  Also, they didn't have to prove anything to anyone, and didn't care one whit what critics said about their music — mostly because their business model and rabid fan base immunized them from having to suck up to the music press to sell their records and promote their tours.  People could write and say what they wanted about Geddy Lee's "Cat screeching" voice, Alex's "Poor man's Jimmy Page" guitar playing, or Neil's bombastic drumming and overwrought lyrics, it didn't (and doesn't) matter.  The people who "get" Rush, can't be dissuaded by what others say about the band. They know what great musicians they are, they know what their songs mean to them, and they marvel at how these three suburban Canadian guys can play some of the most complex hard rocking songs live – and sound very much like what they recorded in the studio.
But since their R30 Tour, they have expanded an element that's been part of the band's personality since the get go — but only in the last 10 years has really evolved: their sense of humor.  Rush's songs aren't really humorous, and the music is anything but comic, but the boys really do have great comic timing, and they use it to poke fun of themselves during their shows.  Now, Geddy's brother works in video production, the three guys are goofs, and who knows, after a few bottles of wine, someone must have convinced them to try their hand at acting. The result?  A funny series of videos that opens each set and closes the show. Here's the opening film:
After that five minute short, the group launched into this set:
The Spirit of Radio
Time Stand Still
Presto
Stick It Out
Workin' Them Angels
Leave That Thing Alone
Faithless
BU2B (Brought Up To Believe) (from Clockwork Angels)
Freewill
Marathon
Subdivisions
They took a 20 minute break (because, as Geddy said, "We're old men who need a little rest"), and then were back at it for an amazing second set that had this short film to introduce that the band was going to play Moving Pictures in its entirety:
Tom Sawyer
Red Barchetta
YYZ
Limelight
The Camera Eye
Witch Hunt
Vital Signs
Caravan (from Clockwork Angels)
Love 4 Sale (Drum solo)
Acoustic Guitar Solo/Closer To The Heart (with a different outro)
2112 Overture/The Temples of Syrinx
Far Cry
"Far Cry" is a song that took a few listens to grow on me, but it's become a favorite of mine (mostly because of the chorus), and I think it was a great closer for the show.
After the requisite stadium clapping from the crowd with cell phones doubling as lighters, the band came back for their one and only encore:
La Villa Strangiato (with a humorous polka intro)
Working Man (With a non-humorous reggae intro and Cygnus X-1: Book I teaser outro)
The final film had Jason Segel and Paul Rudd reprising their roles from the film, I Love You, Man for a funny encounter with the band. The video cannot be embedded because Funny or Die wants you to see it at their You Tube page, but it's well worth the click (Clicky click HERE).
Overall impressions:  I thought Rush did a good job on this show (Their performance at the Shoreline in July 2010 was better). The band had a few mess ups – the first being at the end of "Limelight" (I believe).  Alex played the refrain one more time, but Neil and Geddy were ready to close out the song.  When Alex realized his mistake, the other members just cracked up with a kind of "Ha ha, you blew it" sort of smile.  The other problem was during Neil's drum solo, it seemed that some of his electronic drums were not working.  He was playing them, but no sound came out of the monitors when he hit some of the drum pads.  He soldiered on, though.  Also, some of the video elements during the songs weren't working.  I know this because I saw the same show a year ago and almost every song had extensive video images.  But that didn't phase the audience.  They were just happy to be there.  I took Maya to this show, and she said that she really liked their performance, but mentioned that Neil's drum solo "Just kept going on and on and on…"  Fair enough. It is a pretty long solo, but it's also a composition that has some really cool rhythms that runs the gamut from rock to African to jazz  — making it more than just some guy making loud noises with sticks.  I also went to the show with a friend of mine I've known from high school (Jeff Johnson) and he was blown away by the concert. To wit, today he put this on Twitter about Rush: 1) Those dudes are still incredible musicians. 2) I forget what a great bass player Geddy Lee is. 3) I need more Rush in my library.
'Nuff said.