Roadshow: Landscape with Drums—A Concert Tour by Motorcycle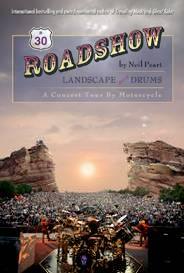 Did you ever harbor dreams of being a rock star? If so, you might want to read Neil Peart's latest book, Roadshow: Landscape with Drums—A Concert Tour by Motorcycle. It just may get you to reconsider what you think the glamorous life of a successful touring musician is in your mind's eye. Peart has chronicled (in excruciating detail) the "life in a bubble" feeling one gets performing night after night in a big rock show. It's a book that will undoubtedly appeal to fans of the rock group "Rush" because it was written by the band's drummer. But it's also a book that highlights the pressures of being in a band where every performance has the pressure of being "at your best."
For those who don't know Rush's music, it's what some derisively call "math rock," because their music can be very complex at times. Peart is known among musicians as one of the great drummers of the genre and his complex drum patterns and lightening fast (yet very musical) drumming attract a fair share of, um, overly enthusiastic music fans who obsessed over both his drumming and the lyrics he writes for the band. And because Peart describes himself as shy and uncomfortable when meeting fans of the band, he tends to shun the "meet and greets" in favor of giving fans what they came to see: Rush perform at their best during a concert.
So, you would think that giving your best night after night means you save all your energy for the show, right? Not for Peart! His idea of touring with the band is to travel from city to city on a motorcycle — while the other members of the band travel by plane (and the crew by busses and trucks).
Many musicians have a tight schedule when traveling from venue to venue on a tour and it usually involves the following: 1. Check out of the hotel 2. Get in a limo or van. 3. Go to the airport. 4. Get on a jet. 5. Get in another limo or van. 6. Go to hotel. 7. Go to soundcheck. 8. Go to hotel and maybe do some interviews. 9. Go to venue. 10. Perform. 11. Meet fans and other blood-suckers. 12. Go to hotel. 13. Sleep. 14. Check out of hotel. 15 Get in another limo or van and start the process all over again. It's a tedious and, often times, boring existence that takes you away from your friends and family for up to a year so you can promote your latest album and, of course, play in front of an audience that is there to see you!
However, Peart decided change things up and travel by motorcycle and see parts of North America and Europe that he wouldn't be able to see had he handed his life over to "handlers" on the tour. Roadshow is part memoir, part travel log, and part concert tour. It's a book that left me wondering why anyone would put themselves through that kind of physical punishment on a daily basis – and I'm not only talking about the drumming. Peart and his friend/body guard ride an average of 500 miles a day in all sorts of weather arriving hours before a show to shower, eat, nap and do a quick soundcheck and then get ready for a 3 hour performance. I suppose it beats the alternative (see the traveling schedule in the paragraph above), but it's clear that Peart starts to tire of the routine he has set up for himself toward the end of the tour.
Night after night, the band plays to dedicated fans who have remained loyal to the band for 30 years. And day after day, Peart and his buddy ride and ride North American roads that are often scenic. But after 200 pages of going on this virtual tour with the author, I was starting to feel fatigued.
There are many moments in the book that are quite funny, and many characters that they meet who are fairly colorful, but I think the reader will come away with a sense that Peart is not happy with his day job. After a while, the nightly performances become something to get through so he can reward himself with a motorcycle ride, a drink of scotch, and a good meal. He clearly dreads the east coast and European legs of the tour, and he often wonders if this tour will be his last. But he doesn't feel any pangs of loss at the thought of never touring again (too busy concentrating on the nightly performance to give it much thought), and when the book finally comes to an end, I felt almost relief at not having to read about another day's travels, or the semi-joys of playing live.
For those drooling fan-boys who want to be Peart's "friend," this book is about as close as you'll get to him. For a guy who is very awkward and shy in front of people who admire his work, he reveals quite a lot about his personal life (and has done so in three book prior). Why does he do so? Well, from what I can surmise, he wants to live down a reputation he has for being a dick:
"What a terrible thought! No doubt it was true, if only because I didn't make myself available to all those who wanted a piece of me, but hated the idea that people who didn't even know me could think badly of me. It rankled on my mind all that day, and remained a disturbing thought for many days after that, echoing in my thoughts sometimes as I rode through the day: "People who don't know you think you're a dick." After the show, I made a journal note:

Thinking tonight how it bother me that people should think ill of me. I give them everything onstage, every night, but some want – demand –more. Another unbridgeable divide.

Humphrey Bogart quote: "The only thing I owe the public is a good performance."
And if you've ever see Rush play live, you know that Peart, Geddy Lee, and Alex Lifeson do just that. That is to say, they consistently play well night after night.
While I did enjoy this book, it didn't match Peart's previous book, Traveling Music – which I thought was a nicely layered "look back" at his life based on the music he was listening to as he traveled around the southwest part of North America. However, I would recommend Roadshow for music fans and those who are thinking of getting into the music business as a performer. Like Scott Tarow's book One L (which chronicled his daily struggle as a first year law student at Harvard Law School) Peart's book presents an unvarnished looked at life on the road and the large and small pressures of giving one's audience what it wants while trying to have a life that is separate from your public persona.
–PK