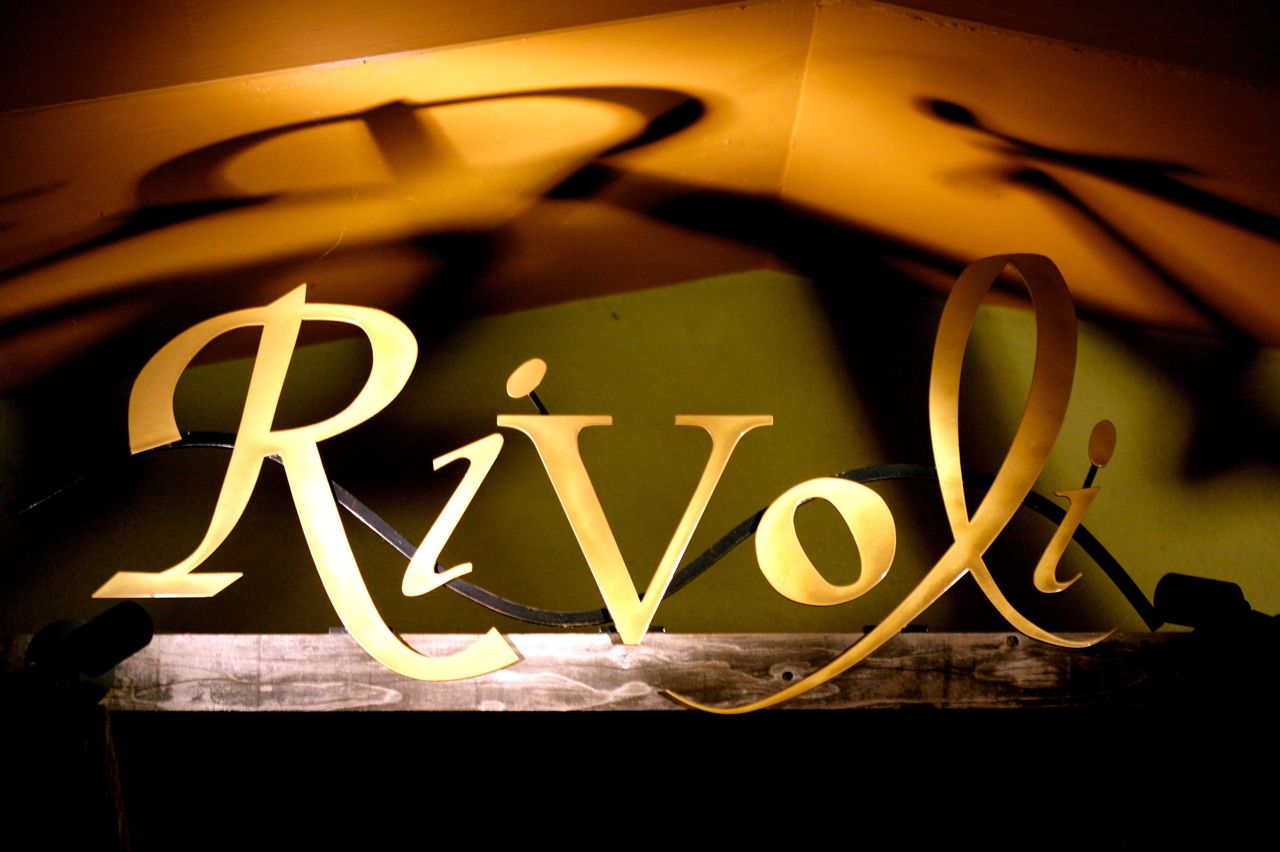 First off, every restaurant has a bad day.  That's a given — unless you're eating at some kind of family chain restaurant where the food is pre-packaged and tastes exactly the same no matter what city you're in. With people who are foodies, and I count myself in that group, they take the time to really savor the food.  You know, taste the flavors, admire the presentation, and enjoy the combination of ingredients that make a particular dish unique. That what foodies generally do when they dine out at nice places. Sure, being a foodie has a snobbish quality to it, but if people can geek out over baseball, music, wine, or any number of things, why can't there be food geeks?
But I digress…
Back to my main point:  one of our favorite restaurants is Rivoli — a restaurant in Berkeley, CA that's a few blocks from the Albany boarder.  We've been going there once a year (usually on our anniversary) because 1. The food is really quite good. 2. The manager remembered our name from year to year when we would call for reservations.  3. On our honeymoon we stayed near Rue de Rivoli in Paris.  So, you roll all that into one, and you get a restaurant that we have a certain amount of brand loyalty to.
Breaking with tradition (i.e., only going to Rivoli on our anniversary), we decided to eat there last night.  They were accommodating (Although, I admit I was somewhat disappointed they didn't know our name when I called for reservations), and we were one of the first people seated. The first thing we noticed was that the restaurant had a facelift.  Gone are the more Parisian accents of a darkened room with stylish booths. Now, the room is a lot brighter with more Chinese-inspired lighting.  The wall decor also has jettisoned any nods to Paris and now has a more modern touch of favoring earth tones.  The large picture window of the lush garden is still there, but I swear the garden has been trimmed back a bit.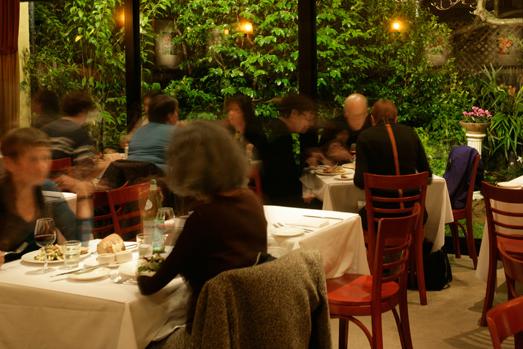 So what happened with dinner?  The short version, was that it was hit and miss.  The appetizers were quite good.  I ordered one of their mainstays, Portabella mushroom fritters, aïoli, parmesan, arugula, caper with a vinaigrette.  I've had it before, it's quite delicious.  The mushrooms were tender, and the batter was light but not overbearing.  Julie had the purée of Jerusalem artichoke soup, truffle oil, and shaved parmesan — which she said was very good.  So far, so good, right?  On to the entrees.  I had the grilled yellowtail, grilled calamari,cucumber and mint salad, lemon and garlic yogurt, over what I think was an Israeli couscous. Julie ordered the Sonoma liberty duck cooked two ways, winter vegetable soufflé, brussels sprouts with pancetta and pine nuts, black mission fig marmalata.  Maya (who didn't want an appetizer) went for the Wisconsin bluecheese and black truffle ravioli, butternut squash, pearl onion and snap pea ragout, and toasted breadcrumbs.  Julie loved the duck and the souffle, but had trouble with the brussels sprouts (I don't blame her, I can't stand brussels sprouts, either).  Maya found the ravioli too rich for her constitution, and said she should have read the menu closer.  She saw butternut squash and thought that's what the ravioli was filled with. The yellowtail — when combined with the other ingredients was, to my palate, earthy in taste.  But after I separated the fish from the other food, I realized the earthiness was actually that burnt flavor from being on the grill for too long.  When the waitress came by to ask how the food was, I told her that even though I ate all the fish, it was charred and wasn't too pleasant.  Maya and Julie switched dishes (because Maya couldn't eat anymore of the ravioli and wanted the duck), but Julie thought the ravioli was really quite good and could understand how it was too much for Maya.
By the time the dessert menu came around, I was in the mood for some coffee (decaf, since I don't bother with caffeine drinks nowadays).  Julie and Maya were too full for anything else, but I ended up getting a latte — which was light and frothy.  As a "sorry for the burnt fish" gift, the chef sent out her signature hot fudge sundae, whipped cream with toasted nuts. I tried a few spoonfuls, and so did Julie, and I gotta say the chocolate they use is fantastic.  Later we found out they make the chocolate sauce by adding cream — which is probably why I fell in love with it.  We couldn't finish it off, but it was a nice gesture from the kitchen to send out a dessert.  The wait staff was also hit and miss.   The food came out quickly, but reception and interaction we had with our server was kind of cold.
Like I said at the outset, every restaurant has an off night, and every restaurant customer will often order food that's not to their liking.  So, even though we had a okay time at Rivoli, the food, the service, and overall experience fell short of our usual expectations.
1539 Solano Ave
Berkeley, CA 94707
(510) 526-2542