Restaurant Review: Wence's Restaurant in Pleasant Hill, CA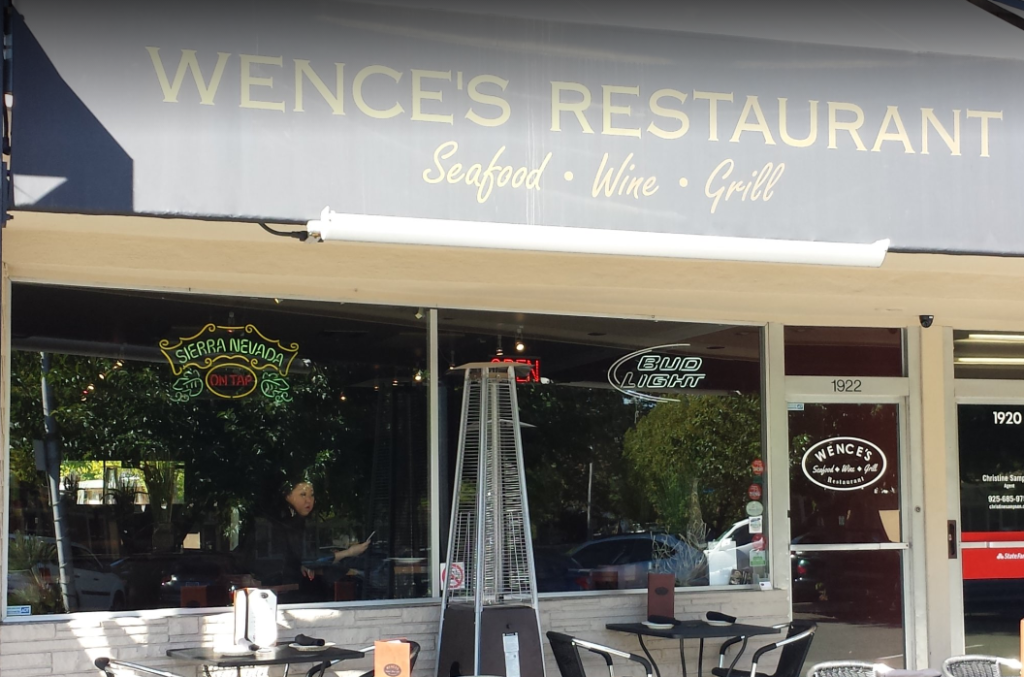 There's a scene in Steve Martin's L.A. Story where an out-of-town character asks about a restaurant: "What kind of food do they have?" In unison, Steve Martin and his friends say: "California Cuisine."  The joke of course is that any fusion of styles can be labeled "California Cuisine."  Last night, though, Julie and I went to a local restaurant that proudly serves California Cuisine.  Wence's Restaurant in Pleasant Hill is a bit off the beaten path — and far away from the downtown area — but it's a solid neighborhood restaurant that serves a variety of dishes that run the gamut from burgers, steak, seafood, pastas, and gnocchi. They have a well stocked bar with specialty cocktails and a wine list that's not too overwhelming.
My first choice for dinner was the Cajun Chicken Jambalaya ($19.00), but I opted for the Chicken Scaloppini ($21.00) because it looked more interesting (and it was). Julie went for the Gnocchi ($11.00), which came with a choice of sauces (pesto creme, marinara or Gorgonzola cream sauce — she went with the Gorgonzola cream sauce). We also had house salads ($7.00) with a spring mix, romaine lettuce, cherry tomatoes, red onions, Asiago cheese that was tossed in a vinaigrette. Oh, and because Julie likes beets, she asked if they can add some (they did). For starters, they had a special on oysters where each oyster was a dollar — so we got 12. Julie ordered a Chardonnay by the glass, while I went with water.
The oysters were from Hood Canal in Washington state, but they were small like Kumamotos. The presentation was pretty standard and there was a choice of a vinaigrette and cocktail sauce for added flavor. While the oysters were good, my only quibble was that they were room temperature — even though they were on a bed of ice. The salads were quite fresh and flavorful, so no quibbling about that. The entrees were both well presented and the portions were very large for my dish. Julie's gnocchi was smaller, but considering it was bathed in Gorgonzola cheese, smaller is about right for the richness of the entree. As it was, she wasn't able to finish it, but was intrigued by the fact that the waiter said they made their own gnocchi (which is kind of rare for restaurants in Contra Costa County), so that's why she opted for it over the seafood ravioli or the grilled pork chop. She did like the gnocchi, but found it so rich that she regretted her choice and thought the other dishes sounded more appealing. Me? I thought the Chicken Saloppini had a good presentation. The chicken itself was topped with mushrooms and had sherry based reduction sauce. The vegetables were broccolini (perfectly cooked) and baby carrots (under cooked), and the scalloped potatoes were nicely done and topped with (I believe) a tomato-based spread with a white cheese (possibly ricotta). The chicken breast was slightly over cooked, but overall flavorful. However, the sherry demi glaze sauce was too overpowering.  I think when cooking with sherry wine, there's a balance that can be hard to do. Too much and you've got one dominant note for the entire dish. Too little, and it seems like a food lacks flavor.
The ambiance is very nice at Wence's (especially if you sit in the adjacent room next to the main entrance).  The staff was friendly and the service was generally good. Pleasant Hill doesn't have the same number upscale or flashy restaurants as Walnut Creek, nor does the city have the excellence in cooking as many restaurants do in Lafayette, but Wence's is a very good neighborhood place where the food has much more flavor than say, Jack's or even Zio Fraedo's (I know. I know. People love that place, but when I went, the food was just okay).
Would I go back Wence's? Absolutely! There's more to try on the menu that looks interesting (i.e., seafood entrees, the jambalaya, the seafood ravioli, and even the steaks). So, while I did have some issues regarding overpowering flavors and under cooked veggies, it's not a deal breaker. Plus, it's really nice to have a neighborhood restaurant of this caliber so close to where we live.