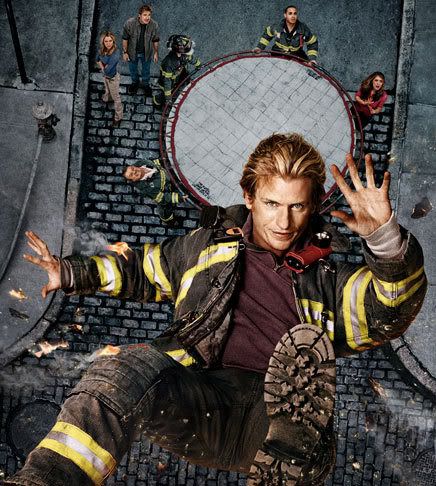 Sometime I forget that really compelling TV can be shown on basic cable. We're not HBO or Showtime folks (actually, we are, but we pay iTunes to download shows like "Weeds," or Netflix for "Big Love") , but next best "adult" show is "Rescue Me." I started watching the show when it first came out, and I sort of dropped off midway through the second season, but I just bought a season pass on iTunes for the current run, and it's pretty great. Like I said, it's a show you don't want on when the kids are around because even though the series is made for F/X, it might as well be on HBO or Showtime. There's a lot of sex talk, sex, drug use, violence, and all those other things where you get a parental warning on… so keep the volume low, if you know what I mean.
Now, let's get going with the show, shall we?
After 9/11, firefighters in New York City were accorded saint status because of the heroic sacrifices they made. However, with the guiding hand of Denis Leary leading the way (Leary is show's co-creator, co-writer, and star of "Rescue Me"), fictional members of the FDNY are humanized on the show to the point where you realize these guys (and some gals) are there not only to a job (i.e., fighting fires and rescuing people from burning buildings), but also their lives are often quite turbulent and tragic because of the nature of their work and the social circles they inhabit that they themselves need rescuing. In short, these folks are no saints, and the world they live in is no heaven.
The show isn't always intense and dramatic, however. There are some very funny moments, but when they do come, it's usually after a very tense scene. As a viewer, it's tough to get into the groove of "the funny" when right before a humorous scene there could be something like a mother asking her son to kill her so she doesn't suffer from cancer anymore. Yikes! It's pretty jarring at times, but not enough that I need to turn it off.
If you like your drama with a dark underbelly, then "Rescue Me" is worth watching. In fact, I was so taken with the way "Rescue Me" uses popular music (from the theme song and throughout the show) that I decided to do a TV themed Mix Six for tomorrow. So tune in, okay?
–PK