Well, it's been a bit quiet on my end because I've been getting some stuff ready for my class I'm teaching in January, but I couldn't end the week without a Random Sample, now could I? Well, I could, but some of you would be sad, and I don't want that.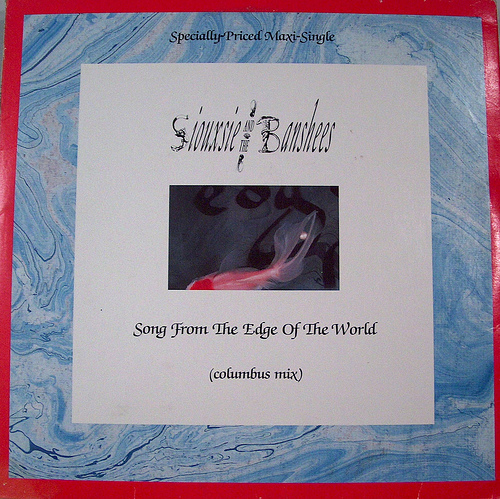 "Song from the Edge of the World," Siouxsie & the Banshees (Download)  Live 105 in San Francisco used to play this song quite a lot back in 1987.  I found a used copy of the maxi-single at Rasputin Records on 11/18/87 for $3.00 (according to the sticker on the album cover) and it just kind of sat in my record collection –until 2008.  Now it seems this version is quite the rarity in terms of singles.  The Banshees only included the "Columbus Mix" on one of their greatest hits compilations — according to the Wiki on the song — and the 7 inch single is not widely available. Oh, and I gotta say that when I hear the opening line of the song, I expect Siouxsie to say "…to Stawberry Fields."  You'll understand when you play the song. 😀
"Miracle Mile," Down with Webster (Download) These boys are from Canada (I know, you thought the only Canadian band I listened to was Rush).  I found out about Down with Webster from an unlikely source:  Gene Simmons from KISS.  Yeah, Simmons was on "The Hour" with George Stroumboulopoulos and he was all ga-ga about the band — and so was George.  "The Hour" is on CBC (Canadian TV, folks) and after watching them talk up these guys I bought their new album off of eMusic.  There are many great songs on the album, but this one just kind of stands out.
"My Generation Radio 1 Jingle," (Download)  "Anyway, Anyhow, Anywhere," The Who (Download)  This is one of those albums Who fans love, but casual fans will find interesting.  Back in the day when bands were learning how to suck up to the media, they would often write jingles that included the name of a TV or radio station — and the Who were no different.  What can I say, baby needs a new pair of shoes!  Here's their Radio 1 version of "My Generation" that's just screams "SELL OUT," but their version of "Anyway, Anyhow, Anywhere positively rocks!