More songs you didn't ask for!  This week sure flew by fast. It seems we were just grumbling out of bed because it was back to school/back to work Monday and now it's Friday.  Oh, and speaking of back to work, looks like a full time job is on the horizon for yours truly.  I won't say much more than that since it's not quite a done deal, but by mid-February, I could be back to working for The Man.
Now, one with the show …
"Face Dances Part Two," Pete Townshend (Download) This album came at an real low point in Townshend's life.  He was hooked on drugs and alcohol, felt like his relevance in the world of popular music was pretty much over, and wasn't sure if he was going to be alive by the time he turned 40. However, it was during this time that his creative output was incredibly prodigious.  Upon completion of his solo album "Empty Glass," he wrote and recorded songs for The Who "Mark II" (Keith Moon out — as in dead — and Kenny Jones in and behind the drum kit) which resulted in "Face Dances."  Then he released this solo album — the oddly titled "All The Best Cowboys Have Chinese Eyes," and then capped it off by writing and recording what was supposed to be The Who's last album ("It's Hard").  How someone can do all that while completely zonked on drugs and alcohol is beyond me.
"Paper Planes," M.I.A. (Download)  This song came out in 2007 but was used in a movie I saw last night called "Slumdog Millionaire." I first heard "Paper Planes" on our local alternative station (Live 105) when it was released, and now, it seems, it's getting a lot of airplay on stations that are more pop oriented.  Anyway, M.I.A.'s name is actually Mathangi Arulpragasam and her family comes from Sri Lanka where they've been active in Sri Lankan independence since 1975.  As far as M.I.A.'s music goes, I must admit that I'm only familiar with two of her songs.  The one featured here, and her first single, "Galang." What I love about "Paper Planes" is what most folks probably love about he song:  the chorus is largely built on the use of sound effects — which makes for a memorable hook.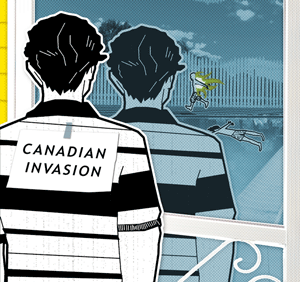 "Standing on the Shoulders of the Carcass of John Mayer," Canadian Invasion (Download) One of the blogs I read (Girl About Town) centers on the music culture in Philadelphia.  Even though I had mixed feelings about Philly when I lived there (mostly because I was homesick) I knew about the vibrant music scene.  Alas, I was too mired in school to take part, but after leaving Penn and Philadelphia, I kind of kept up by periodically listening in to WXPN to see what's what.  Anyway, "Girl About Town" was promoting Canadian Invasion's new album and I went over to their My Space page to check them out — which, if your couldn't figure it out, Canadian Invasion is from Philadelphia.  Besides the brilliant title of this song, it's a real power pop gem that manages to drop Nietzsche into the lyrics.  And here I thought Sting was the only one who had a licence to name drop great literary figure into songs. Ha!