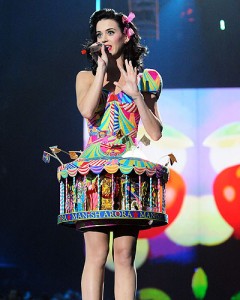 Last month, the New York Times had a pretty interesting article on the Lilith Fair and Lady Gaga that focused on the way in which each pop phenomenon was waxing and waning.  Now every decade has its retro period as a cohort emerges into their 20s and early 30s, and that means the '80s and '90s are ripe for mining gold for music, film, TV, and the like.  The '80s, one would presume, are on their way out, and the pop culture of the '90s is supposedly in.  So it stands to reason that something like the Lilith Fair would fit well with the current hunger for "all things '90s."  One would think.  But we're in a pretty horrible recession in case you hadn't noticed, and people are pretty miserable about it – even those with jobs.  The article in the NY Times argues that people do not want to be reminded that life isn't all that pretty with navel-gazing songs about inner demons, spurned love, and angst.  Nope.  They want T&A — and lots of it.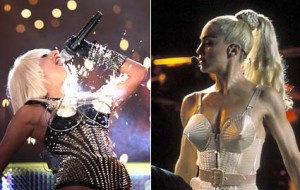 Now, if you think back to the '80s, we had the giggly, flirty, and just slightly naughty stylings of Madonna. By 1983, the country was just crawling out of a very deep recession where the unemployment rate was pretty high (about 10% nationally), inflation was crazy mad, industrial powerhouse centers were morphing into the rustbelt, and small farms were going under.  But Madonna (throughout the '80s) was able to help us forget about all the boo hoo by taking a little thing called sex and mixing it with whatever scandalous things she could dream up to … oh well you know.  It was all in good fun, but at least she never posed naked, huh.  Oh wait…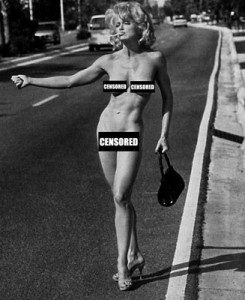 Whoops! Well, I guess I was wrong there, huh.  Well, what about someone like Madonna 2.0  — also known as Lady Gaga?  Sure she channels a lot of Madonna's style (See the side by side pic above), but does she have to pose in her birthday suit to sell magazine covers?  Um, I don't think so. Oh wait…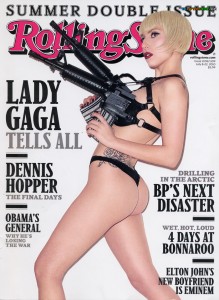 So what's my point here?  I suppose it's that, yes, sex does indeed sell, and it's kind of a recession proof industry, but when it comes to popular music during tough economic times in the latter part of the 20th century  –and the early part of the 21st century — the use of the female body to entertain, distract, and titillate, has evolved to the point where in order to grow your fan base and promote yourself in the era of multimedia, less is more. That is to say, the less clothing you have on your body, the more people will notice you.  It's a strange meld between the adult entertainment industry and the music industry — and in many ways, it only applies to female performers — but the image (especially a sexualized image) of a female body is more important than the music.  Lady Gaga, Katy Perry, et al write good (if not derivative) pop songs, but if they didn't look the way they do (with their arsenal of crazysexycool clothes), they wouldn't broken through the noise.
Am I being a big prude about this?  Hell no! But there is a sterility to the kind of sex they are selling.  It's all big puffy pink clouds, fake fur in neon colors, perfectly straight hair, and lots and lots of make up.  Madonna was selling a variation of this back in the '80s and '90s, and now "Madonna's children" are doing the same.  It's a fantasy that creates a type of woman where they have transcended all the messy stuff that makes us human.  Or, to be incredibly highbrow about this, and to put a rather pedantic critique on what I mean, I submit this example culled from the ivory tower of academia: