Originals, Special Editions, and Remixes
Artists who can't leave well enough alone…and fans who demand perfection.  Oh, and don't forget money!  That seems to be the relationship between an original work of art, a special edition and the remix. You can cite as many examples you want off the top of your head, but since I like nerdy stuff, my examples for this bloggy blog post are Star Wars and Rush's Vapor Trails.
First the low hanging fruit of criticism that is Star Wars…
The Atlantic ran a piece today (8/27/14) about how George Lucas doesn't want fans of Star Wars to see the movies as they were released in the theaters between 1977 and 1983. He wants to keep tinkering with the films by adding effects that weren't there, changing the visages to match the faces of the actors in the prequels, and omit some of the cheesier effects that were state of the art in 1977, but now look like the original Battlestar Galactica TV series — which, of course, copied many elements from Star Wars. Okay, fans have responded, by piecing together so-called despecialized versions of the films so people who haven't seen the movies in their original forms can view them as the public saw them back in the day. Like most fans of Star Wars, I know of all the special editions and so forth Lucas has been releasing since he's been able to. But as they say, a picture is worth a thousand words, so here a couple of screenshots from all the various versions: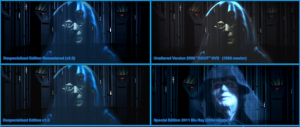 And…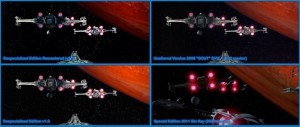 As you can see, many of these changes are about tweaking the color, "going back" to what was originally on the screen, and just stopping with all the additions that, when taken together, don't amount to much. Lucas has shown himself to be a filmmaker who only has one movie in him — a movie that's six episodes long — and he can't stop working on it. Years ago, after the last of the prequels came out, Wired magazine ran a story that posed the question of what Lucas would do now that he didn't have to worry about Star Wars anymore. The author speculated that freed from Darth Vader and that whole universe, Lucas might start making films that were more in line with American Graffiti or something more character driven.
Nope.
Flash back to a 60 Minutes piece done in 1999 when the first prequel came out. It showed Lucas sitting in the editing room with a team of editors reviewing a battle scene. Was Lucas (who did direct this mess) concerned about the main action? No. He kept asking the editors to make changes to very small things going on in the background. He would say things like: "You see this soldier way back there? Yeah, I want to see him kind of blow up. And the same thing over here, but when he blows up, I want to see parts just fly." See what kind of director Lucas is? A technical director. When I interviewed Mark Hamill years ago for a radio station I was working for, he confirmed that by saying that Lucas was your basic film school director who understood all the flash and explosions, but couldn't direct the actors very well.
So for Lucas, it seems, the Star Wars films are the only films he's interested in working on until he drops. Why? I'm guessing because 1. This is how he can continue to generate income for his empire. 2. He's too much of a gear head not to play with the latest technology vis-a-vis Star Wars. 3. He's out of ideas and doesn't know what else to do with his time.
Now to a trio of musical perfectionist, Rush…
If you're a long time reader of this blog, you know Rush is one of my favorite bands. I've seen them live more than any other band I admire, and I'm pretty much a completist when it comes to their music — except for Caress of Steel. Back in 2002, Rush released their comeback album following a four-year "pause" due to drummer Neil Peart's family tragedies (his daughter and wife both dying in 1997 and 1998). It was uncertain that the group would ever release music again, but they did return to the stage with the release of Vapor Trails. It's a dark album that alludes to the tragedies in Peart's life, 9-11, and a kind of aimlessness that pervaded that four-year span. But it's also a hopeful album, too. The problem with the record was that it wasn't mastered right. The volume of the recording was pushed beyond the maximum into what is called clipping (meaning the audio is so loud that it's in white noise levels). You've heard clipped audio before. It's a kind of distorted sound that's not very pleasant to listen to. The other thing was the way the album was mixed. All the tracks were pushed so far in front of the mix, that it was a wall of sound that had a muddled quality (Think AM radio). Well, while fans were thrilled about the new music, they quickly started carping about the lousy production quality. Why would Rush, whose recordings are very clean (sometime to the point of the music sounding a bit sterile) put out a product like this? Well, because of burnout after 14 months of recording  and a very long tour, the band wasn't interested in fixing their mistakes — until 2013 when David Bottrill went back and remixed the record.
Why?
Well, could it be money? Sure, if there's a way to make more money, why not. But for Rush, they are getting close to calling it a career (and yes, if you ask Julie, she'll say I've been saying that since 2008), and not wanting leave a blemish on their output, they wanted to have a "clean" version of the record out there so fans would stop bitching about how sucky Vapor Trails sounds. Well, that's all well and good, but warts and all recordings are what make them time capsules. When artists go back and remix, remaster, and even revise songs they recorded at a specific time, sometimes it seems like they are papering over a past they would like to forget. So while I don't mind a good remaster (i.e., Led Zeppelin's latest CD remasters that are much more pleasant to listen to), it raises an eyebrow when I see people like Lucas trying get people to forget original versions of his films by presenting a "better" versions of it to the public. Rush, however, had every right to go back and fix what was broken — but they haven't done so by keeping their "mistakes" from the public as the original version of Vapor Trails is still available for purchase.