New Order July 11, 2014 in San Francisco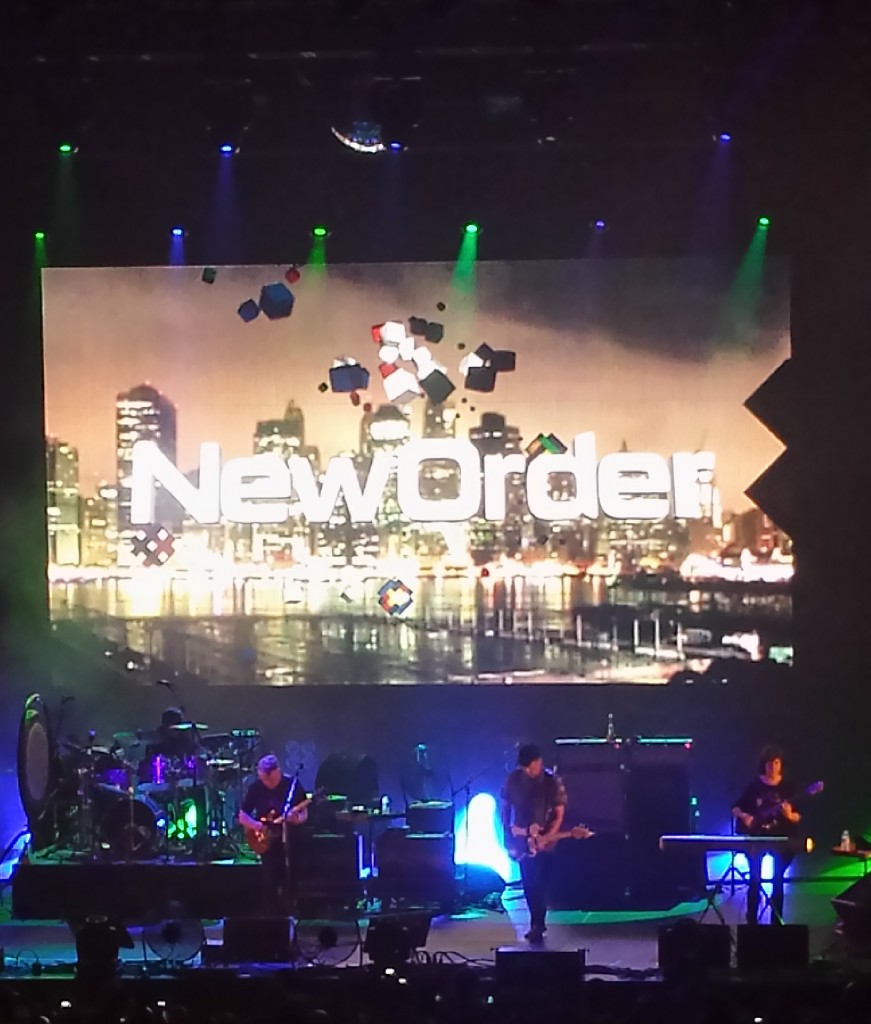 As Julie posted on her Facebook wall before the concert: "The blank look you get when you tell people you're going to see New Order in concert tonight. Anyone 5 years older than me, blank. Anyone 5 years younger than me, blank." We were at the grocery store hours before we went to the City to see one of the bands we both have loved since our college days, and the two people we told about the concert we were going to see that night had no idea who the band was.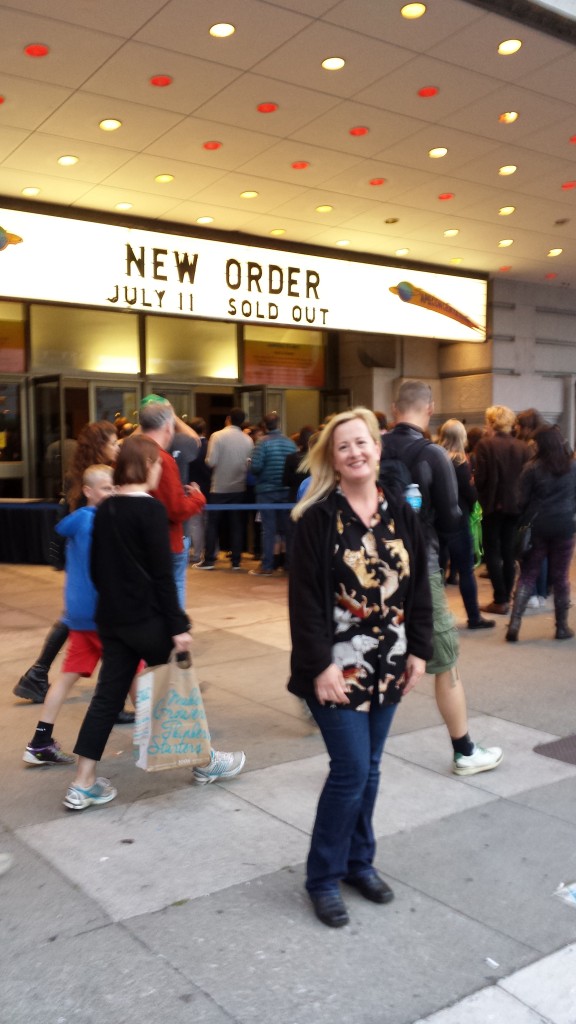 Granted, New Order isn't an iconic '80s band like U2, but they are more influential than people realize. If you're a fan of electronic dance music (EDM), New Order are one of the pioneers; a band who infused EDM into alternative rock  (guitars, acoustic drums, and bass).  However, there was a sound that New Order became known for. Peter Hook's bass work is unique in that he plays the instrument so high in the range, that it has become a signature of the band's music. Bernard Sumner's jangly guitar work cuts through the wall of dance-infused synth that keyboardist Gillian Gilbert creates, and Stephen Morris' drumming keeps the rhythm going — but he also spikes in some great fills that adds the right amount of spice to the songs. The foursome was the original line up (they added Phil Cunningham in 2001 who replaced Gilbert for a time, but is now part of the current incarnation. After the departure of co-founder, Peter Hook, Tom Chapman took up "slapping da bass"), and together they made music that was niche and not very mainstream — until the single "Blue Monday" was released in 1983. The song, according the Wiki "became the best-selling independent 12″ single of all time in the UK." However, it wasn't available on a full record until the release of Substance 1987 – which was a compilation of their 12″ singles and contained their first Top-40 single, "True Faith." That single was one highpoint as far as mainstream appeal for New Order, the other being the 1993 single, "Regret." In between those bumps in mainstream singles, the band continued to release high quality rock with an EDM twist until their first breakup in 1993. The group reformed in 1998 and continued until their second break up in 2009 (after Hook left the band).
Flash forward to 2014, and New Order is back for a third time. An album was released in 2013 that was culled from song done with Hook that were left off from the band 2005 release, Waiting for the Sirens' Call, but the band is working on new music, like "Singularity."
And now, on to the show…
New Order opened their set at the Bill Graham Civic Auditorium with "Elegia," which, if you're a fan of the film, Pretty in Pink," you'll know as the music that accompanied the "What about prom" scene between Molly Ringwald and Andrew McCarthy. The band then launched into "Crystal" from 2001 with projections from the official video. To me, it was a rather uneven beginning to their set. Crowd-pleasers like "Regret," "Ceremony" and "Age of Consent" were spiked in early, but it wasn't enough to raise the energy level until they brought out their heavy-hitter. Once "Bizarre Love Triangle" started, the band maintained the energy until the end of the set. Rolling out a steady stream of songs that had the crowd singing and dancing  was what people came to experience. It was one of those moments when the performers and the audience are locked into a groove that neither wants to break. Having more familiar songs from their catalogue and omitting more of the shoegazing ones was a smart move for the band. Almost everyone in the audience was in their late 30s to mid-50s and clearly came of age when New Order was at their peak. But age has not worn the band down. They still play with the same gusto they did back in the day, but part of why is that they stay focused on the music and leave the "flash" to the lighting effects and video projections. Indeed, New Order is one of the few bands I've seen where the group rarely has a spotlight on them. Bernard Sumner (58 years old), the lead singer and primary songwriter, was rarely visible from the stage, and when he did step into a spotlight, it was only for part of a song, and perhaps to show off his new guitar.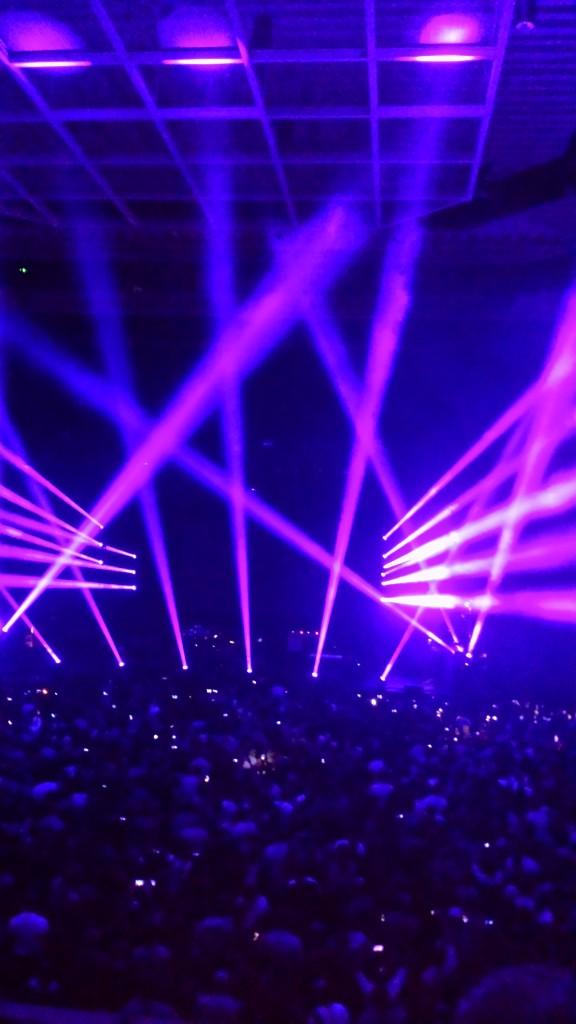 The encore, which paid tribute to the original incarnation of the band, Joy Division, was tasteful and a wonderful way to close out the show. I looked behind me to look at the audience during the song, and there was a guy who was crying when they played "Atmosphere." At first, I thought it was ridiculous and funny to cry during this song, but then I started to think about maybe how this guy had lost someone and this song just triggered that memory. Whatever the case, let's just say that I went from mocking him, to sympathy for what I gamed out in my mind about why tears were rolling down his face.
The last encore was an odd pick (considering that very few people come to San Francisco with flowers in their hair anymore). The band covered Scott McKenzie's "San Francisco (Be Sure to Wear Flowers in Your Hair)." It was light-hearted, but like I wrote earlier, an odd pick. San Francisco has been many things in its past, but considering the prevalence of "Tech bros" these days, the displacement of whole neighborhoods by new money, and the high cost of living in the City, they should have covered Barrett Strong's "Money (That's What I Want)."
Despite my minor qualms, Julie and I had a fantastic time!  Our friends, Marilee and Paul gave us tickets to the show because they weren't able to attend. It was such a thoughtful gift that brought back many memories of New Order, and how they were part of the soundtrack to the early years when Julie and I started dating.
(To see a clip from New Order playing "San Francisco", click this link): New Order1
Setlist from the 7/11/14 show in San Francisco:
Elegia
Crystal
Regret
Singularity
Ceremony
Age of Consent
Your Silent Face
Californian Grass
Bizarre Love Triangle
5 8 6
Plastic
True Faith
The Perfect Kiss
Blue Monday
Temptation
Encore:
Atmosphere
(Joy Division cover)
Love Will Tear Us Apart
(Joy Division cover)
Encore 2:
San Francisco (Be Sure to Wear Flowers in Your Hair)
(Scott McKenzie cover)