Listen to Mix Six: "Who Charted?" HERE
How YOU doin'? You should be feeling pretty darn fine 'cause it's Friday, the work week is coming to an end, and there's drinking in the offing! However, before you crack a cold one, pop the cork on a fine bottle of wine, or get ready to mix up that Manhattan, let's get to the non-alcoholic mix, shall we?
This week's mix is culled from the archives of Billboard magazine, and what I've done is grab songs from various years and various positions on the top 40. So, enjoy the "vertical tasting" of these songs starting in 1987 and working forward. They're not all in chronological order, but it's pretty close!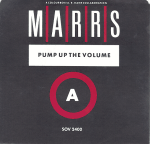 "Pump Up The Volume" M/A/R/R/S In 1987, this song was at #13 on the Top 40 andI gotta say that if there is song that reminds me of my trip to Guyana, it's "Pump Up The Volume." I ventured there with my mom in December 1987 (my parents, middle brother, and sister where born there). One night I went dancing with some new found friends, and they played this song at a club a few times that night. The song was a big hit down there 'cause the dance floor was packed when this song came on and remained packed as DJ played some Socca hit right after M/A/R/R/S.

"Too Legit To Quit" MC Hammer In 1992, Hammer fought hard not to be a one hit wonder.  And what kept him from falling fast into obscurity?  Why, it was this furious, overblown, borderline spastic hit that was at #29 on this date in 1992.

"Feel Good Inc." Gorillaz One year ago today, this song was #34 on the charts. A favorite of mine because Maya and I used to crank this song when it came on the radio — especially the "Ha, ha, ha, ha HAAAAAA!" part.

"Firestarter" Prodigy Did this song really come out in 1997? Jesus, I could swear I heard it before that. Oh yeah, that's because if you listen not-so-carefully, you'll hear a sample from Art of Noise in there (remember the song "Close (To The Edit)?"

"Blurry" Puddle of Mudd Number 10…Number 10…Number 10 (Sorry for "one number off" Beatles reference). This one surprised me with its chart position (i.e., #10) — only because I didn't think that many people were ga-ga over PoM. Oh, and you have to admit that "PoM" would look a lot cooler than"Puddle of Mudd" if you saw it scrawled on a locker in some suburban high school in 2002.

"It's Not Over" Daughtry This week, Mr. Almost American Idol is at #7. Take a guess who influenced his music. Who knows, maybe on his right shoulder he has a tat of "PoM" in ultra cool lettering.
See you next week kids! But before you go, make sure to visit Kurt's blog to read part 2 of our rock roundtable. Just click HERE!
–PK