Listen to Mix Six "I Care" HERE 
Who says the 80s where the decade of greed?  Oh yeah, it was probably the film "Wall Street" that put the bumper sticker slogan on it. But not everyone with tons of cash was heartless. Many rock stars have big hearts and give their time, talent, and energy to many causes. In the 80s, it started in England and then snowballed from there.  
Oh and if you've ever seen the movie "Scrooged," Bill Murray's character at one point blurts out an extremely sarcastic "I CARE!" when his assistant balks about having to work late when she has her kids to attend to. She still has to work late, but the corporate "I CARE" was one of those small but, for me, classic moments in the film. So, if you're wondering where the title of this mix came from, now you know.
Ah, memories…
Where was I?  Oh yeah, rock stars and "save the world" causes.  Here we go!  Get ready for the goodwill to wane the longer you listen. 🙂
Band Aid "Do They Know It's Christmas" Rock stars for a cause is nothing really new, but when Bob Geldof (Boomtown Rats) and Midge Ure (Ultravox) teamed up to write a song to highlight the famine in Ethiopia, they really unleashed a trend in the 80s that was later ripe for parody.  But don't get me wrong, this song is probably my favorite in this group.  Some people really hate this song.  But some people really hate kids and puppies, too.
USA for Africa "We Are The World"  Not to be outdone by a bunch of Brit popsters, Michael Jackson and Lionel Richie, created a larger, longer, and more overblown, "Check your ego at the door" song that had Dan Aykroyd as one of the singers. Huh? Thumbs up Lionel…thumbs up.
Northern Lights "Tears Are Not Enough" Why is it that Canadians are so modest?  The Brits set the trend, the Americans supersized it, and Cananda?  Well, let's just say their group of pop and rock stars that included folks like Anne Murray, Gordon Lightfoot, Dan Hill, Joni Mitchell and other light rock favs.  But they also added 70s and 80s heavy hitters like Geddy Lee (Rush), Bryan Adams, Mike Reno from Loverboy, Corey "Sunglasses at Night" Hart, and Neil Young. Oddly enough, what ended up on the airwaves (Canada only, it seems) was a kind of understated song that was fairly unremarkable.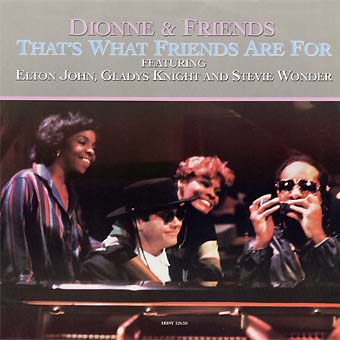 Dionne and Friends "That's What Friends Are For" So, while reading the Wiki on this song, I was surprised to learn that Rod Stewart recorded a version  that appeared in the film "Night Shift" in 1982.  Huh. Oh well, Dionne's "friends" on the song featured a few no names like Stevie Wonder, Gladys Knight and Elton John.  The proceeds from this song went to the American Foundation for AIDS Research.
 
UB40 "Sing Our Own Song" Okay, I don't think any of the money made off this song went to anything other than UB40's bank account, but I couldn't get my hands on a copy of "Sun City" or "Free Nelson Mandela" to spotlight apartheid and oppression in South Africa. So…This is all I have to offer kids.  One amusing note on this song is this:  Listen to opening and tell me if the intro sounds like "The Muffin Man."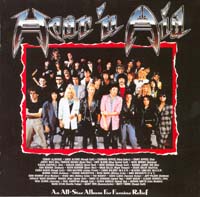 Hear N' Aid "Stars" Man oh man, who knew metal heads had such big hearts! Sure, Don Dokken, Kevin DuBrow (Quiet Riot) and Rob Halford (Judas Priest) all belt it out, but it's Ronnie James Dio who really brings it on this one.   Like the funds generated from the Band Aid, USA for Africa, and Northern Lights projects, the money from Hear N' Aid went to African famine relief.
And then…
The parody of these songs from SNL (Click HERE).
Peace, love, and understanding y'all!
–PK