Mix Six: "Emo…Chunky…Emo"
Listen to the full mix HERE
Hi you music lovin' kids! Ready for another mix for a Friday? I've put the actual mix back up because if you're sitting at your desk, it's just easier to let the full mix play while you work. I've also loaded the individual tracks, so if you like what you hear, you can have the single play. Who loves you! It's me, isn't it. 🙂 [Oh, and now that I'm getting rung up for perhaps misusing the term "Emo," I'll just say this: Emo is basically short for emotionally charged rock that often has a punk flavor. The songs in the middle of this mix are more chunk rock (hence the use of "Chunky") and those that bookend the mix have a more emo quality to them — to me, at least.]
Okay, here' we go…
"The Kill" 30 Seconds To Mars (Listen HERE) The first three songs in this mix were picked by my niece, Kiryn. Even though she's too young to remember that the lead singer for this band (Jered Leto) played Jordan Catalano on My So-Called Life, it's no biggie because she loves the band!
"Hysteria" Muse (Listen HERE) Ah…the bad review and the fan's who do not care. I'm used to it with my love of certain prog-rock bands, but I was reading a review on Amazon, and this sweet and sour review by Matthew Cooke made me think back to the number of crappy reviews of albums that I really liked: "Yes, the record is completely unoriginal. But when these guys let it rip, there's no doubt they have the fever."
"Three Little Pigs" Green Jelly (Listen HERE) Just have your "sense of humor" switch "on" when you listen to this one (If you've never heard it before).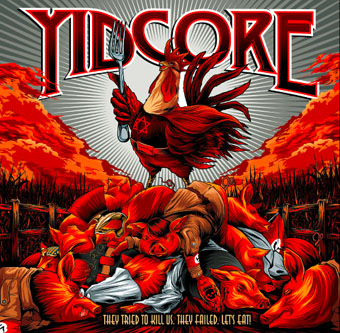 "Hellicopters" Yidcore (Listen HERE) What's the best way to celebrate a Christian holiday? How 'bout a song from an Australian Jewish punk group? 😉 This one is taken from Yidcore's latest CD entitled "They tried to kill us. They failed. Let's eat!"
"Seven Nation Army" The White Stripes (Listen HERE) Maya came up to me the other day and asked if I had this song 'cause she wanted to hear it. I was a bit surprised because I didn't think she knew who they were. So then I got all jazzed and downloaded the guitar tab to play along with the mp3. Then I taught Maya how to play it, and it was fun, and I'm a geek.
"The Great Escape" We Are Scientists (Listen HERE) I'm not sure how I got this song (it's probably a download from Jefito's site), but it was on my iPod for months and it just got stuck in my head. Now, it can get stuck in your head, too.
Have a great weekend
–PK