"I Could Give A Rip": Radio Tokyo Tapes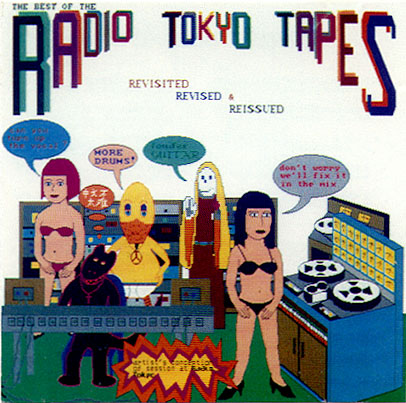 Hello music lovers! We're getting ready to take a vacation next week so I'll be on blogcation as well. Not to worry, though. I'm still going to have a Mix Six on Friday, and next Friday will be a special vinyl record day spotlight that I'll be taking part in with other music bloggers. So make sure you come by on 8/10/07 to see what's cooking on the turntable!
Okay, on to it…
If you're new to this feature, it's a pretty simple premise: I found a bunch o' LPs in one of our storage units and decided to encode songs from the old LPs as mp3s so you can have listen. Plus, there's usually a back story on the songs featured, so you get to hear me blah blah about a certain LP.
Case in point, "The Best Of The Radio Tokyo Tapes." This is a compilation LP I found in 1987 at Rasputin Records in Pleasant Hill, CA — which just relocated down the street to Concord (where the old Tower Records used to be). Anyway, this was an impulse buy based on the fact that there was a 36 second song by the Bangles. Huh? Wha? 36 seconds! What kind of song can you, um, bang out in 36 seconds. And since this was a used copy, it was only four dollars. I had five dollars in my wallet, so what the hell, I bought the record.
I get home, put the song on the turntable, and lo and behold, the song's actually pretty good. It's got all the things that made The Bangles lot's of fun (i.e., vocal harmonies, guitar work inspired by 60s pop/rock, and great hooks). But what's interesting about this song is that they refer to themselves by their shortened original title, "The Bangs." I did a Wiki search on why they changed their name, and it seems they were going to be sued by another group from New Jersey with the same name. So, to avoid any legal entanglements, they went with The Bangles.
So here 'tis! "No Mag Commercial" by The Bangs (Bangles) (Download)
Next up is the great L.A. alternative rock band, The Minutemen. This tune has some vague political undercurrents, but I've always loved the enigmatic line in the song "Why did I celebrate the 4th in somebody else's country?"
Enjoy!
"I Felt Like a Gringo" The Minutemen (Download)
–PK