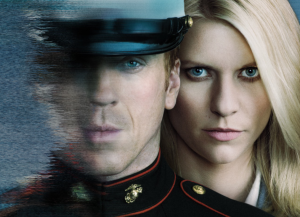 You may have heard that this is President Obama's favorite show, and it's easy to see why so many others are smitten by it. Homeland is a dark drama about Nick Brody — a vet from the Iraq war who comes home after being MIA for eight years to his family. Carrie Mathison is a CIA agent who, after having her suspicions about Brody, spies on him and is the only one who knows he was "turned" by his captors in Iraq to harm the U.S. The problem is: Carrie is unorthodox in her methods and, well … she's kind of crazy. She suffers from bipolar disorder (same as her father) and is on medication that is given to her by her sister (who is a nurse). No one can find out about her mental condition or else she'll be thrown out of the CIA for withholding that info. However, it's Carrie's altered mental state that leads her to the truth about Brody and her attempts to save him — the never-ending theme of the show.
What did I think of the show? Overall, it's very powerful television. The first couple of episodes were kind of slow, but once the show got its hooks in me, I was, well, hooked. While the overall arc of the first two seasons lead the viewer down some improbably roads, it was still fun to suspend my disbelief and just go to where this show was taking me. Clarie Danes is wonderfully nuts in this series. She plays Carrie in a "I'm on the edge of losing my shit" way. And Damian Lewis who plays Brody is very good at being almost a sociopath in his ability to compartmentalized all the forces that are pulling him in many directions. Of course, he loses it at times, but more often than not, he's the good solider who is carrying out orders for our enemy, while climbing in rank in the political sphere (he goes from returning vet to senator in short order). The layers of political intrigue are pretty well woven into the fabric of this show, and that's what makes it so good. It's not black hats vs white hats. Rather, almost all the characters have done morally questionable things and operate on dual agendas.
I don't have Showtime, so that's why I'm a Johnny-come-lately to Homeland, but I was given the keys to legally watch the show online by my friends John and Dorothy. And I'm glad they gave me that access. It took me some time to complete the two seasons of the show (the third season starts in late September, and has 12 episodes), but I'm glad I got to savor it over the long haul. If you haven't seen this show, and are looking for a gripping drama, this one is a winner.