Have We Reached The Bottom Yet?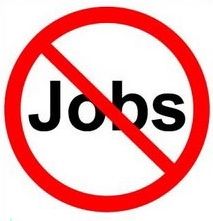 These days, it almost goes without saying that when it comes to the economy, the news is grim and gets grimmer.  With today's unemployment numbers the highest they've been since 1982,  word that Bank of America is going to shed 35,000 jobs in the next three years, domestic auto makers saying they are going to fold if they don't get government money, and even state governments (like The Golden State) saying that it's going to run out of money by February if our esteemed elected officials can't figure out what to do with the budget, one has to wonder when do we hit rock bottom?
Well, obviously no one knows, but I have a feeling something like this is going on:  companies are overreacting to this economic downturn.  People being people, it's natural to get swept up in the mood of the crowd.  And in an effort to be proactive about the downturn and do what needs to be done to save a company, layoffs, cutbacks, and salary freezes are pretty much the order of the day.  Also, since this is December (a month when employers usually make cuts) the severity of these cuts are going to be much harsher because companies are preparing themselves for the worst in Q1 next year.
Quick cuts don't necessarily lead to quick recoveries, but what I think is going to happen in the middle of Q1 (again, this is only speculation since, well, that crystal ball I have only works for products at Target) is that employers are going to realize they overreacted and will have to hire back people because there's more work than anticipated.  They won't hire back in large numbers, but  based on how "the market" is reacting right now, I have this sense that all bets are off until the Obama Administration takes power in January and their policies are enacted into law.  Once employers get a sense of the political and economic terrain they are going have weave in and out of for the next four years, the worst of this crisis will settle and we may see signs of a recovery well before what the economic experts are predicting (2010).  
In the meantime, if there was an album title for the next few months, it would be something like: "The Greatest Hits of Really Bad News."