Friday the 13th with the East Bay Bike Party People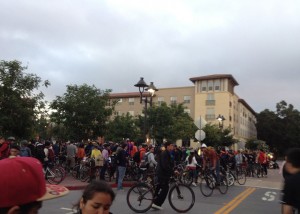 Last night I did something out of the ordinary. I was checking out an article on Popdose about the band Delta Rae when I heard all this cheering/noise coming from what I thought was the BART station. Tea Party folks? Nah. They don't cheer, they boo. Sporting event? On Friday night? People having a party? Seemed plausible, but it sounded like hundreds of people cheering. Julie and Maya were lounging on the bed talking, but I was curious. So I jumped on my mountain bike and rode over to what was going on.
And because we live in a world where it's easy to capture events on video, here's mine to show what happened when I got to the BART station.