Finally! A Good Meal in Walnut Creek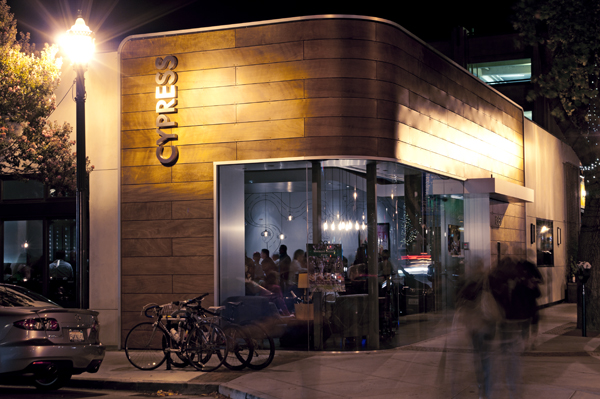 [Alas, this restaurant is now closed]
We've lived in Walnut Creek for 15 years now, and in that time I don't think I've had a meal at a restaurant that I would call impressive.  Mostly the restaurants in Walnut Creek are more style than substance.  The food is okay, but prices are generally high, the service is spotty, and the atmosphere is usually good.  But really, when you go out to eat, it's the food you really want to be wowed by.
And I was at Cypress.  Julie and I were looking for a place to eat this afternoon, and after our first two choices were nixed (one because of the crowds, and the other because the restaurant was closed), we sauntered past Cypress and eyed their menu.  I'll admit that I wasn't reading the menu too carefully, but hunger was upon me, and at that point I didn't care where we ate — as long as it was good. So we took a chance and went in.  Given my low expectations of Walnut Creek restaurants, I figured we were in for an overpriced, but mediocre meal.  The wait staff was a bit disorganized at first, but everyone was very friendly.  Once we got our menus, I didn't want to order anything too big because it was late in the day and I was thinking about dinner.  So, I ordered the crab cakes, onion soup, and, just because it looked interesting, the macaroni and cheese.  Julie ordered a quiche and a glass of white wine. I wasn't sure what the portion sizes would be (Cypress used to be the location of a small plates restaurant, so I thought they wouldn't bring out big portions).  As we were waiting, the waiter brought out a small plate of pastries and bread with an assortment of blueberry, apple, and butter spreads.  The pastries were nice and warm, and the presentation was very appealing.  And owing to my hunger, I dug in without any hesitation.
After placing our order, I decided to try one of their cocktails.  And predictably (for me), I went for a bourbon-based concoction.  It was very much like a Manhattan, but they used Cinzano and a few other things that I should have written down (but didn't).  It had a few layers of flavor, wasn't overly sweet, and was chilled without any ice chunks in the drink (Oh, how I hate it when a bartender shakes a drink to the point that shards of ice are in it).
And then our meal came.  The crab cakes weren't smashed up little patties, but were tall and fluffy with a very pleasant lemon flavor. The cakes came with a salad that included hearts of palm, avocado, capers, and a dressing that was also lemon based.  The crab cakes were a little too fluffy and kind of fell apart on my fork when eating them — and that was a little annoying.   Combining the salad with the cakes was a good work around for the crumbling crab cakes, though. Julie thought the crab cakes were too dry, and I had to agree.  But despite the dryness of the cakes, they were quite good.
The onion soup was really delicious.  The combination of the hearty stock, the sweetness of the onions, the creaminess of the cheese,  and the croutons was expertly balanced.  The macaroni au fromage caught my eye because of the cheeses they used (swiss and gruyère) and that they topped it with herbed bread crumbs. I'm not a big mac-n-cheese guy, but I have to say that it was sublime.  The marriage of the cheeses made it more tangy than the standard macaroni and cheese dishes, and the bread crumbs added the right amount of texture.
And what about the quiche?  The quiche was, by far, they best of the dishes we tasted.  They served a liberal slice that the manager of the restaurant described as "fluffy."  And he wasn't wrong.  So many quiches are very dense, but this one had a lightness that allowed the flavors of the ingredients to really stand out.  And what did they add to the quiche? Leeks, spinach, mushrooms, butternut squash, chives,  goat cheese,  and they topped it off with a cream sauce that just added to the depth of flavors.  I only had one bite of it, but it was delicate (the crust was more like pastry dough than pie crust), and delicious.
What made me raise my eyebrow a bit (in a good way) was the price of the cocktails and wine.  Cypress promotes the fact that they have a mixology bar where ingredients are combined with care (as in "I know that the hell I'm doing.")  Most places that tout a "mixologist" means you're going to pay a premium for their talents.  But at Cypress the prices were very reasonable.  The cocktails ranged from $8-$10, and the wines by the glass weren't too steep, either.
Clearly, I'm over the moon about this restaurant,  but I think it's because I've finally found a place where I would definitely go back — and heartily suggest to friends and family.   Usually, I tell people to go to Lafayette if you want a good meal, but now I can add one place in my hometown that I'm not the least bit hesitant to recommend.