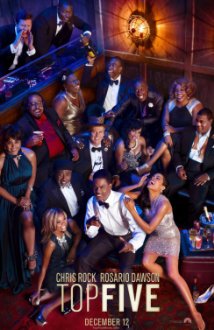 I'm not a big Chris Rock fan, but I do find some of his stand-up pretty funny. His humor is, of course, raw, angry at times, but always trying to bring a dose of truth to uncomfortable topics — which is what most good comics do. His film work has been spotty, but he's definitely honed his craft on the stand-up circuit. Sometimes that's been a benefit to his film work, and sometimes he just seems lost trying to play a character that's not "Chris Rock."
One thing that surprised me about Rock is that one of his favorite filmmakers is Woody Allen. I mean his comedy is so different from Allen, but it seems he likes the way Allen explores the nature of fame through his various Allenesque characters. So, Rock decided if he was going to channel Woody Allen, he had to make it authentic to the "Chris Rock" character he's been playing for years.
Enter "Top Five," a look at fame from the perspective of a black actor/comedian who has made a ton of money playing "Hammy the Bear" in a trilogy of films that required him to dress up in a bear costume, be a cop, and fire guns. People loved those "earlier, funnier films," but now Rock's character (Andre Allen — in a not-so-subtle nod to his inspiration in making this film) wants to get "serious." His attempt to do just that is met with the same kind of reaction when Woody Allen did the same with "Interiors" and "Another Woman." That is to say, they were not well received and suffered a quick box office death.
Rock's character gets a similar reaction to his film about the slave rebellion in Haiti called "Uprize." No one gets what he's trying to do, or if they do get it, they don't like it. His fans want him to return playing Hammy the Bear, and everywhere he goes in New York (where the film takes place) people are always calling out "Hey Hammy!" The set-up in the film is about Allen (Rock) being asked by The New York Times to interview him for a piece in the magazine and he reluctantly agrees. He's not a fan of the paper because one of the critics hates his films and has panned every one of them. But Allen is assured that this writer is just doing a profile piece on him. He meets the reporter Chelsea Brown (played by Rosario Dawson) and the two of them spend an afternoon walking around New York while he gets ready for his wedding to a reality TV star (Gabrielle Union).
Brown and Allen have chemistry from the outset, so you know that there's a level of attraction from the get-go — even though both put on tough exteriors. It's not all flirty, though. Brown asks Allen some tough questions and Allen is often evasive, critical, and just trying to wave away an interview he's not interested in. Throughout their afternoon, they visit his old neighborhood, get his wedding rings, walk around the city, run into Brown's boyfriend, and learn more about their personal lives — which are often full of heartbreak, drug use, alcoholism,and empty sex.
It's not a great film, but it's very good. I would recommend the film, but be aware that the laughs are not knee-slapping, and some of the jokes do fall flat. It's clear that Rock is a hip-hop fan and if you're not into that music, you might not understand the references.
If Rock can continue to explore the nature of fame in a way that keeps an authentic sense of what it's like to be a comedian (or someone who has achieved fame) intact, I think he may well start to carve out a style of filmmaking that's smart, raw, and funny — and one that will surpasses his filmmaking hero, Woody Allen.