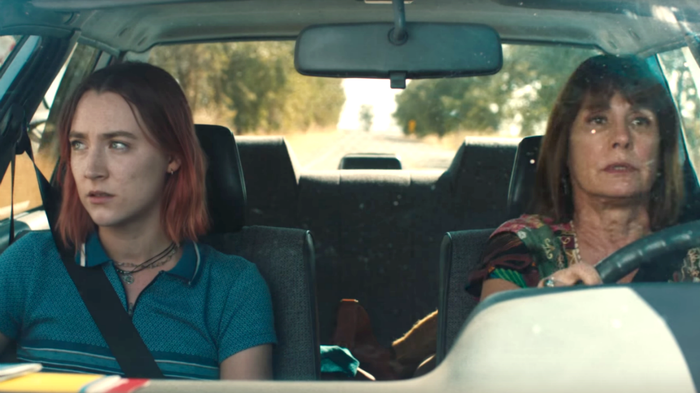 This may be an unfair comparison, but Greta Gerwig's filmmaking style has shades of Woody Allen stitched into its fabric.  Both filmmakers have made (and do make) their quirky sensibilities bubble up to the forefront of their films.  For the 34-year-old Gerwig, her "stamp" really appears in two films, "Frances Ha" (2012) — co-written by Gerwig and her boyfriend, Noah Baumbach — and now in "Lady Bird."  Both films draw on Gerwig's life as a misfit from Sacramento, California to struggling artist (or wannabe artist). But the comparison to Allen comes when Gerwig decided to cast 23-year-old Saoirse Ronan as a stand-in for her in her senior year of high school. Ronan plays Christine "Lady Bird" McPherson, a Catholic school girl who lives "on the wrong side of the tracks" in Sacramento with her family, in pitch-perfect Gerwig style.
The plot is a coming of age story, but with a twist: Gerwig creates a character whose life does have money or status problems. She invigorates a rather shopworn coming of age narrative by centering the story squarely in the margins of the working-class. But this is the working-class of the 21st Century in that Lady Bird's parents work in industries that are of a white-collar/professional variety — and not blue-collar factory work. The year is 2002, and the U.S. is in full "War on Terror" mode, but if one recalls in 2001, the country was going through a recession. And it's this economic backdrop that the character of Lady Bird exists. Her father (who has an MBA from U.C. Davis) loses his job during the film and is struggling to find other work in an era that increasingly looks to younger workers as "first to hire" for the few opportunities available. Her mother is a mental health nurse who often pulls double shifts to help make ends meet. Her bother and girlfriend both work at a grocery store as clerks, and though it's never brought up, it seems the four incomes keep the family from losing their home. This is a family that's not starving but has to cut corners wherever and whenever they can. Discount shopping is just a way of life, and in the private Catholic school Lady Bird attends, being a poorish kid is a ticket to being ostracized from popular cliques — which becomes a source of conflict for Lady Ray, her best friend, and to a lesser extent, her family.
However, at bottom, "Lady Bird" is a mother-daughter story of constant conflict. It's also a story about Sacramento — a city of no great consequence except that it's the state capital of California. But in Gerwig's hands it becomes a city that reveals its charms in the bends of the road, the local landmarks, and even the culture of its residents. Just as Allen's love letters to Manhattan dot his film career, Gerwig's "Lady Bird" looks longingly and lovingly at the city she grew up in and reflects that love in the film. She also reflects how difficult it is to have artistic inclinations and being unable to find a place where those inclinations and ambitions can thrive in a place like Sacramento.
"Lady Bird" is one of the better films I've seen this year, but it's not without its faults. Cheif among them is that even at 93 minutes, the film drags in parts. Perhaps that due to the style of filmmaking Gerwig is used to. When a film is based more on the characters and dialogue, rather than a compelling plot driving the film (i.e., Mumblecore), the results can feel a bit aimless. And while "Lady Bird" doesn't go into full indulgent mode, it sometimes skates close to it. Still, it's refreshing to see a film that explores the lives of an anxious middle-class in California that doesn't take place in L.A. or San Francisco. California is a diverse state, and I think Gerwig has captured a slice of the state's culture in such a way that it reveals how "other Californians" live; and live in a way that bucks the stereotype portrayed in most films. But more importantly, "Lady Bird" is a novel take on the coming of age story that will frustrate you — but also tug at your heart.