Film Views: "Birdman or (The Unexpected Virtue of Ignorance) " and "The Theory of Everything"
Because I'm a member of SAG-AFTRA I get DVD screeners so I can vote in the upcoming SAG-AFTRA awards. It a nice perk to being in this union. I've watched two critically acclaimed films, however both have left me kind of unsatisfied with their conclusions.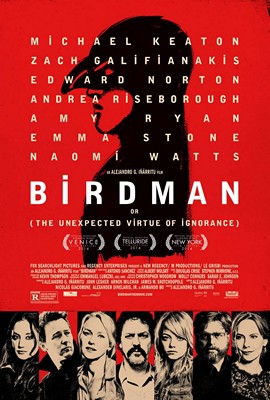 "Birdman or (The Unexpected Virtue of Ignorance)" is a meditation on fame and trying to make a comeback in an age where YouTube views, Twitter retweets and Facebook posts have superseded the work an actor can bring to the stage. Michael Keaton plays Riggan Thomson — a guy who used to play a popular superhero in a film series called "Birdman." Thomson is trying to resurrect his career by staging a play based on Raymond Carver's work, but rehearsals aren't going well, he's full of doubt, and he's battling an internal demon in the form of his Birdman character. If you see parallels between Keaton as Batman in the '80s and his career now, you'll see why he's the perfect person for this role. There's been much made about the way the movie is shot (i.e., it looks like it's one continuous take), the production design and the like, but the acting is what stands out here. Keaton is in top form, but really making an impressive mark are Emma Stone and Edward Norton — who play Keaton's daughter and co-star respectively. If you want to see a group of actors just tear up the screen with some really impressive work, "Birdman" is the ticket. However, the last act of the film kind of left me spent. I suppose the intensity of the story and the way it doesn't let up until the end was too taxing for me. I was more relieved the film was over than feeling like it was a compelling experience.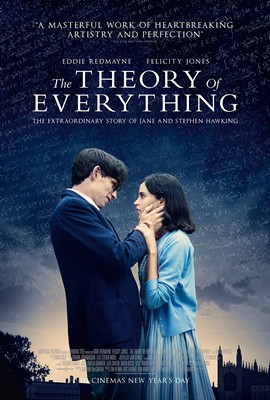 "The Theory of Everything:" It's not easy to bring the life of theoretical physicists Stephen Hawking to the screen in dramatic form, but "The Theory of Everything" gets major points for making us care about his life. Yes, Hawking has been confined to a wheelchair since he was in his 20s, but the story conveyed in this film is less about Hawking than it is about his long-suffering wife, Jane Wilde (Felicity Jones). Eddie Redmayne looks uncannily like Hawking, so his performance alone should win him awards, but Jones is also very good at showing the kind of toll being married to a man whose physical deterioration also makes him withdraw emotionally. Jones' character agrees to marry Hawking after he tells her about his disease (ALS) and informs her that he only has two years to live. Well, we all know that Hawking is still alive (he's 72 now), and it seems that the timeline for his demise made his wife's patience run out — especially since she was also taking care of their children most of the time. Their relationship eventually falls apart, and Wilde and Hawking divorce with more than a hint that they two of them are happier apart than together. Like "Birdman," "The Theory of Everything" left me emotionally disconnected in the last act. I'm not sure why the denouement in both films kind of petered out, but they did. The acting in "The Theory of Everything" was wonderful, the costumes, set design, and photography were all excellent, but there was something lacking in the ending. It's not easy to wrap up stories without succumbing to a kind of standard Hollywood ending, so I give these films credit for trying to avoid the beaten path.