Film View: "The One I Love"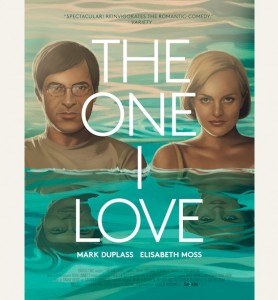 This one goes out to the one I love
This one goes out to the one I've left behind
A simple prop to occupy my time
This one goes out to the one I love
When I saw the title of this film, the lyrics of R.E.M.'s famous alt-rock song was going through my head. However, it wasn't until viewed the film that I realized the first two lines of the song frame the plot of the film, "The One I Love." Starring Mark Duplass and Elisabeth Moss as Ethan and Sophie the story is about a couple with marital problems who are seeking help from  a marriage counselor (played by Ted Danson). The counselor/therapist suggests they go to a retreat in Ojai to try and rekindle their relationship. They agree, and off Ethan and Sophie go to a bucolic country home for a few days. The first night there, they take a swim in the pool, explore the premises (individually) and find there's an adjacent guest house that they presume they can use, too. They have a nice dinner, smoke some pot, drink some wine, have sex, and just kind of enjoy each other's company. It's clear that their retreat is off to a good start. Then they get in a bit of a fight. Ethan goes to the guest house to sleep and Sophie stays in the main house. In the morning, Ethan awakes to find Sophie making breakfast for him. She seems extremely happy (if not content), but a little clueless about what happened the night before.  Ethan asks about the fight, and Sophie just kind of blows it off as "One of those things."
Things start to get strange about then when the couple realizes that all is not what it seems. I won't give away the plot twist, but let's just say when the couple is shown what their "better selves" are like with each other, it elicits opposite reactions.
Mark Duplass is good as a nerdy husband (who was once kind of cool), but Moss really excels in her role as Sophie. Let's just say that both actors had to play different versions of themselves and both did wonderful jobs. Moss, though, brought a lot of depth to her character that required her to display a greater range of emotion throughout the film. Only once, did she remind me of Peggy Olsen from "Mad Men" during a fight. She had that turned down mouth with sharp twitches of her head to punctuate the level of her anger during a blow up. Other than that, reminders of Peggy on the screen never crossed my mind.
"The One I Love" is a quirky movie that delves into science fiction territory, but doesn't explain how these odd things are happening.  And that's a good thing because "The One I Love" is, at bottom, about repairing the frayed relationship between these two characters. The added sci-fi twist makes it more interesting — even when the story centers on familiar themes about troubled a marriage.