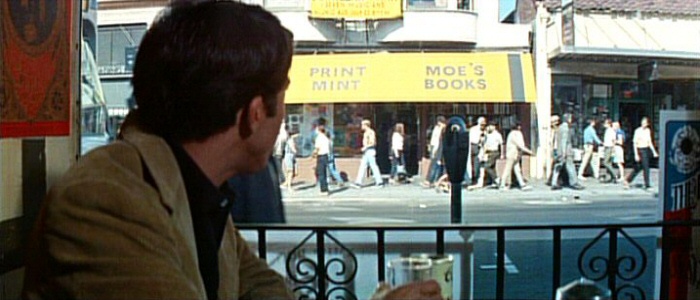 If you're a fan of the movie, The Graduate, then you know it was  filmed partially in the Bay Area. In one scene, Dustin Hoffman waits for Katharine Ross in Caffe Mediterraneum — the supposed birthplace of the caffè latte.  So yes, you can blame them for the prototype to a coffee drink that later became synonymous with suburban soccer moms.
Anyway, if you remember the scene, Hoffman sees Ross get on a city bus and he runs after it to the next stop.  Hoffman boards it and sits behind Ross to strike up a "Wow! Isn't this a coincidence" conversation. Clearly, he's annoying her, but the guy is obsessed and in love with her.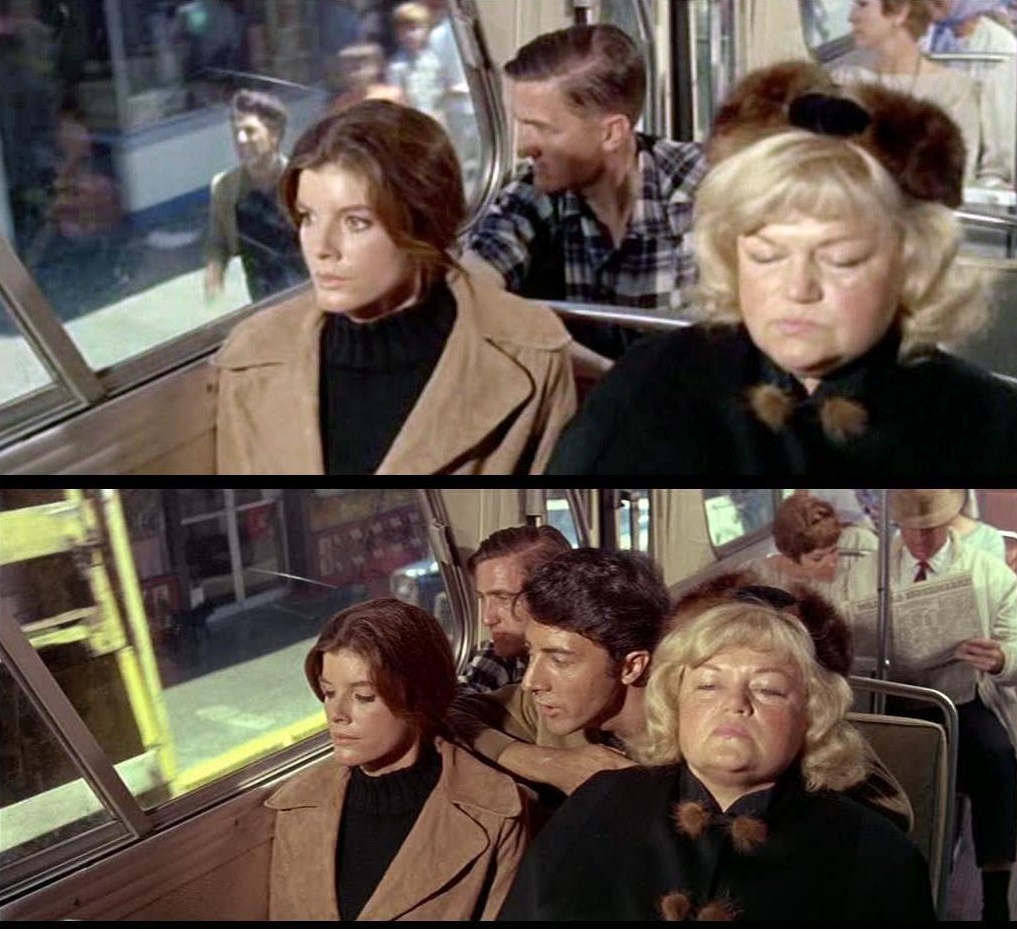 Growing up in the Bay Area, I didn't really notice the location shots in San Francisco and Berkeley until I started film classes at Diablo Valley College in Pleasant Hill. My film teacher was going on and on about The Graduate in both laudatory and critical ways during class at times. But the biggest mistake that just got my film teacher's dander up was the scene where Hoffman drives to Berkeley from San Francisco across the upper deck of the Bay Bridge. Well, if you live or have visited the Bay Area, you know that if you want to drive across the Bay Bridge to Berkeley from San Francisco, you have to drive on the lower deck of the bridge. But since the filmmakers wanted to go for the beauty shot rather than being geographically correct, we got this series of shots: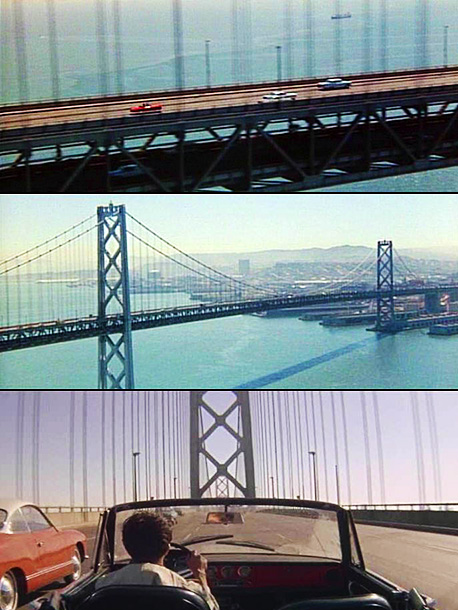 The Graduate was such an interior film (i.e., it's about the kind of social detachment of Dustin Hoffman's character…well, until he falls in love), so making the Bay Area a character in the film wasn't important to the story. But nevertheless, showing Berkeley and San Francisco sure means a lot to its residents. For me, I get a kick out of seeing the old Moe's storefront and watching Hoffman running up Telegraph Avenue trying to catch the bus.  It's a great shot for the study in contrasts that it creates.  Hoffman trying desperately to keep up with the bus, Ross catching a glimpse of him and hoping that he doesn't get on the bus.  But when he does…well, just let the clip below play and you'll see.
The Med, though, has a history that's far more rich than the being in a Hollywood film. Rather, it's one of the oldest coffee houses in California, and as such, has been a hub of left-leaning social movements. The Beats, New Left types, and Hippies all held court there where they talked about politics, maybe plotted strategy and generally found that it was "their place" to hone their personal and political identity. When I was in college in the late '80s, Julie and I used to go into Berkeley to shop for books and records. Sure there were bookstores and places to buy records in San Francisco, but there weren't great places like Moe's and Cody's — which were just a few doors down from each other. Rasputin Records was also pretty great to get lost in, but overall we did enjoy the vibe of just browsing for hours at the bookstores. Since this was the pre-Internet age, it was these places where you could find titles that had small publishing runs (mostly the academic presses), and you could  find rare books as well.
Moe's still exists (even though its owner, Moe Moskowitz, died 16 years ago), and they still carry an impressive collection of used books. Being so close to a university and existing in a highly literate city, I gotta say that browsing in a bookstore like that is a real treat. Sure, we go to our local Barnes and Noble in Walnut Creek, but most of the titles they carry are pretty mainstream. Going to Moe's is wonderful because of the sheer volume of books on whatever subject you can think of. I sure hope they don't go out of business because I think if they do, it will signal the end times for me. Sure, I don't go to Moe's as much as I used to, but when I do go it reminds me of why I love reading and collecting books. Some of the works just seem so important that I just want to have them on my bookshelf. Yes, I could easily fill up my Nook with these titles, but having a physical copy is just…well, there's nothing like it for me.
Well, after book shopping in Berkeley, what do you do next? Go to The Med, of course. They do have great coffee and the place has been remodeled and cleaned up so it's not, as it was in the late '90s, a kind of adjunct homeless shelter. The place is still populated with potpourri of interesting-to-look-at folks. Students, hipsters, really old hippies, street people, and…well us. You know, a suburban couple who are out for the afternoon. For Julie's family, the place has a lot of historical significance. I texted her dad these pictures today, and I think it brought back some good memories for him. The first one is Julie standing across from the Med: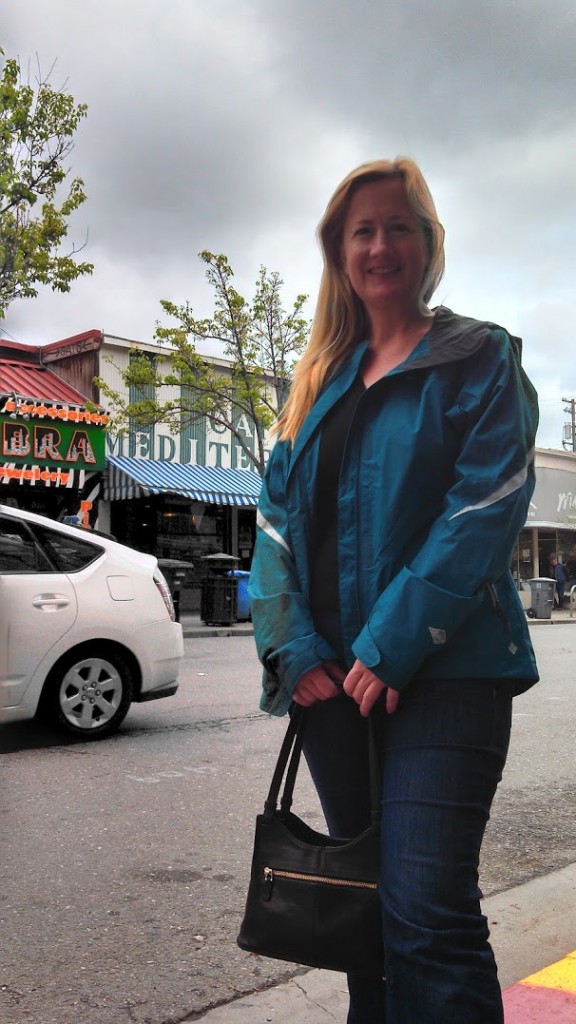 Nice pic, huh. I sent that to Julie's dad and he texted back:
Wow! Caffe Med, where Joyce, Robert and I hung out. Have they painted or updated anything in the last 50 years?
I wrote back:
Yeah, the downstairs is updated.  Here's the new counter.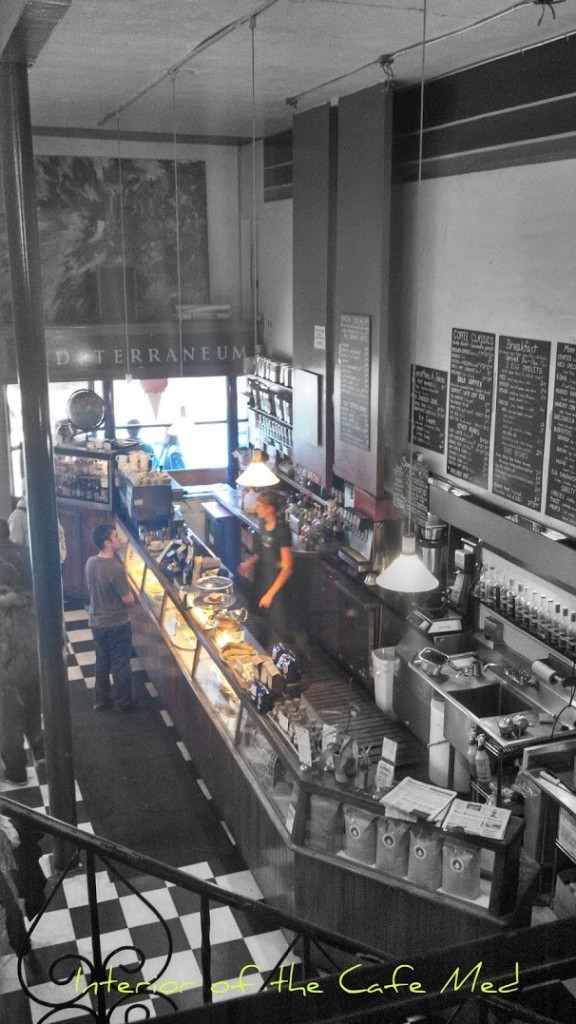 So…who are Joyce and Robert?  Joyce is Julie's mom and Robert was a friend of theirs from high school.  When they were in high school, they started a club (not affiliated with their high school) that had a long-ass name — the only word in the title I do remember is "chowder." Anyway, it was a playfully anti-establishment club where these central valley misfits could find their individualism in a very monocultural Modesto.  I could be getting this part of the story wrong, but I seem to remember that Julie's mom and dad — along with Robert and others in the club — wrote up a newsletter-type thing that was critical of high school and paid special attention to the failings of the principal.  Well, a copy of their writings made its way to the principal's office. I guess he wasn't a fan of their exercise in free speech, and they got a reprimand writing "such horrible things." I think after that encounter with The Man, the club kind of disbanded.  Like I said, I'm sure I have totally screwed up the telling of this tale, but I think I got their anti-establishment bona fides pretty much correct. So, Robert, Joyce (as she was known then) and Michael all moved to Berkeley to attend college at Cal (I don't know if Robert did, but I presume he was there for school), and The Med played a part in their early years away from home and on their own. I don't know if it has such a "cool factor" for Julie as it does for me, but just knowing that this was her parent's hangout makes the place kind of special for me.
Now that I'm an old fart  older, my memory of the place isn't as good as it used to be.  When Julie and I went there today to get some coffee and a snack, I noticed there was an upstairs seating area (the picture above was taken from our table). I don't remember there being an upstairs area when I used to go there, but there it was…tables, chairs, and books! What I like about the upstairs area is that it has a nice vibe and it's a great perch for people watching. So if you're ever in Berkeley, make sure to visit the Caffe Mediterraneum (Caffe Med or "The Med").  They do make a great latte and if you're a film fan, you can snap a picture of yourself looking stalkerish longingly like Dustin Hoffman in The Graduate.