But I Thought He Was Gay?
Ding dong, the witches are dead!  Well, at least they are now the "minority party" in one house of Congress.  So, "Woo Hoo!" for the Dems. I sure hope they don't screw this up.   If there's one thing Reps are good at is slinging mud and generally being a pain in the ass, so they may be down but not out.
More to come…
Last night I was being a total guy and compulsively channel surfing (which drives J nuts), and I was bouncing between the news channels and VH1 — who had one of those best '80s artists countdown type of things.
Eventually and inevitably the spotlight turned to that two-album wonder, Wham1   Yeah, the song was "Wake Me Up (Before You Go Go)," and they showed parts of the video with celebrity-has been commentary from Debbie Gibson who thought it was the best pop song ever written. Whatever.
Okay, so we all know that George Michael is gay, right? Right?   If not, here's an unambiguous message:  GEORGE MICHAEL IS GAY.  But what of the other half of Wham! That would be Andrew Ridgeley, the guy who played guitar and sort of sang.  Gay? Nope. Or to put it bluntly:   ANDREW RIDGELEY IS STRAIGHT.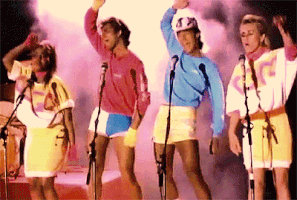 What amazes me is that Ridgeley is married to a member of Bananarama (Keren Woodward).  Huh! wha? On its face it looks perfectly logical.  A member of one of the biggest pop groups of the '80s marries a member of a moderately popular bubblegum group of the 80s.  But for some reason, I don't know, maybe it's the video for "Wake Me Up" (or the picture on the left) but I really thought Andrew was gay, too.
Nowadays, he sports a silver bullet, and looks like a dad who loves football, British beer, and makes a great grilled halibut.

But fear not kids.  If you want to get your Wham! on, it seems there's supposed to be some kind of reunion in December? But with George Michael's pot problems, maybe not.
–PK