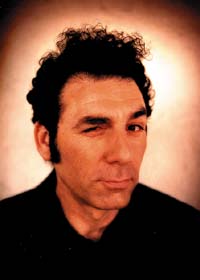 I was at work today when I took a bit of time to check my email and on my ISP's homepage was a link to Michael Richards (AKA Kramer) berating a black guy from the stage of a comedy club.
This couldn't be right.  I mean, it's Kramer!  Wha' happened?
Sure enough, I clicked the link and saw a guy with a very familar face come unglued after being heckled one too many times.
Comedy is not pretty, but seriously, what's the point of firing back with such ugly hostility?  First Mel Gibson and his fear of Jews, and now Michael Richards harboring a deep racial hatred of black people?  I really don't know what to say…
If you wish, you can click HERE see Richards' meltdown and the aftermath on David Letterman's show HERE.
–PK