Book Thoughts: "Basement Songs: A Memoir One Song At A Time In A Lifetime Of Music"
I've blogged since 2007 and in that time I've made bloggy friends who have turned into friends.  One such fella is Scott Malchus whose Thunderbolt blog I've read since '07. I love his very personal writing style, the bold moves he's taken in his life (i.e., moving from Ohio to Los Angeles to pursue a film career, making a feature film on shoestring budget, writing a comic book, and most recently, publishing a book).  We've only met once when he came to San Francisco.  We had a very nice lunch at the Elite Cafe, and talked without any awkwardness that could come from meeting someone you only know online.
But it's not only through blogging that we know each other.  Scott is also a writer at Popdose where he brought over a series from his blog called "Basement Songs."  It was a very successful series and widely read (and admired) by both the Popdose staff and the readers of the site.
Well, all good things must come to an end, and so it was with "Basement Songs."  The series reached a natural ending point, but Scott was urged by several Popdose writers to publish his work in book form.  And so after a few attempts to get the project going, he finally got down to business and started the task of choosing which posts would be included, and rewriting (or in the parlance of audio recording, "remixing") his work into a narrative arc.  The result is this book: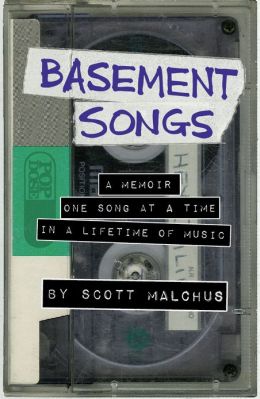 I finished Basement Songs this morning and was really impressed with what Scott wrought.  One the face of it, one would think that this book is about music — and, in part, it is.  But it's really about his life course and how certain songs act as a catalyst or sledgehammer taking him back to moments in his life that were life changing, cathartic, or prophetic. But this is not a solipsistic tale that spotlights his life in a way that says: "Hey, I'm the most important/luckiest/amazing guy in the world."  Nope.  Scott is a humble guy, and is incredibly grateful for his family, his friends, and for the music that's been a constant source of pleasure, passion, and a soundtrack that often strikes the keynote during certain parts of his life.
Growing up in North Olmstead, Ohio doesn't seem like a place where much happens, but for Scott it was a place where he forged lasting friendships, expressed his individuality, immersed himself  in music, found the love of his life, and groped his way to finding himself. Basement Songs is one part "coming of age," one part "finding love," and one part "struggles with family health issues."  You see, Scott's son was born with Cystic Fibrosis — an inherited chronic disease that affects about 30,000 people in the U.S. alone.  If you don't know about CF, there's a good description here that'll give the rundown on what it is, what people who live with CF have to go through every day to live, and the progress that's been made in treating the disease.  And 100% of the proceeds from this book will go to the Cystic Fibrosis Foundation.
Throughout Basement Songs Scott demonstrates his devotion to those he's closest to.  And it struck me while reading this book that he's probably one of the most emotional guys I've ever met.  I don't mean a kind of slobbery "breakdown and cry at maudlin TV commercials" type of guy.  No, he's a guy who's not afraid to express his feeling and chronicle them in written form.  Me?  I can be kind of emotionally cold.  I don't generally let myself get swept up in life's dramas (unless I'm bitching and moaning about work), but reading Scott's prose and seeing how readily he's willing to drop his guard and say "this event affected me like this" is refreshing to read from a male writer.  I guess some guys are stereotypical in that they don't really let their emotions show (for fear that's its perceived as weakness), but Scott is unapologetic and unafraid to express how he feels.  And the stories contained in Basement Songs, like the songs that frame each chapter, are highly moving and powerfully written.
If there was one thing I found lacking  in the book (or maybe it's just me wanting to know more) is what happened to Scott's best friend, Matt.  Matt, as is revealed in the book, died in 2005 from diabetes.  However, before his death, Scott and Matt had drifted apart — and it's not clear why?  Was it a case, of marriage, kids, job, and geography that caused the rift in their friendship to develop? I never found out. Maybe I fasten on this relationship because I have my own "Matt" in my life. Friends since high school, but now disconnected (for years).  I've tried to reach out, but…nothing.  And yes, I realize I'm projecting my own lost friendships onto Scott's friendship with Matt, but the similarities are striking in some ways (right down to the name) that I guess I thought it was one hole in the narrative I hoped the author would fill.
But these are small quibbles in an otherwise wonderfully written memoir that is compact in form, but packs a number of emotional punches that'll keep you turning the pages to see where Scott is taking the reader.