Anniversary Dinner at Morimoto in Napa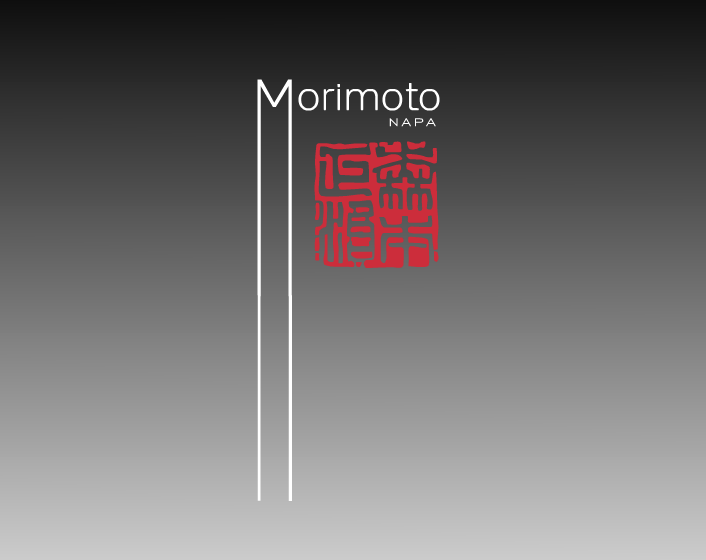 Well, yesterday was our 18th wedding anniversary, and Julie and I decided that we were going change it up as far as our celebration dinner goes. Most years, we go to Rivoli in Berkeley for our anniversary dinner, but this year, after missing our first choice because they close on Sundays, Julie suggested Morimoto in Napa. Being a fan of Food Network's Iron Chef (and owning a Morimoto t-shirt), I thought it was a fantastic idea. I mean, being able to finally taste the dishes Morimoto created was too good to pass up. The only problem was the reservation time. Since we booked too late, our seating wasn't until 9:30pm, but at least we got a reservation.
So off we went!
The drive up was nice (Except for the sun blinding me as I was approaching the Benicia Bridge — which is also a recurring nightmare I've had for years. You know, not being able to see while driving). We got to Napa, and proceeded to try and find the restaurant. Just for your information, Google Maps on the iPhone thinks the restaurant is about a block away from the actual location.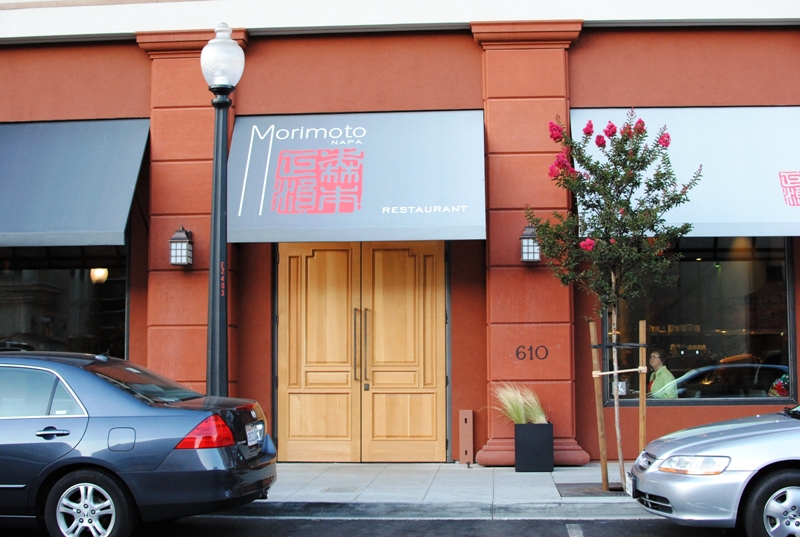 I wasn't sure what to expect, but considering the prices, I was prepared for a real upscale interior. What you see when you come into the restaurant is this waiting area, and right next to it is a kind of fish market/take out kind of thing that looks out of place.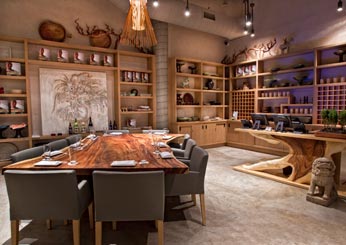 There's a long hallway that is wallpapered with, what else, very large images of fish: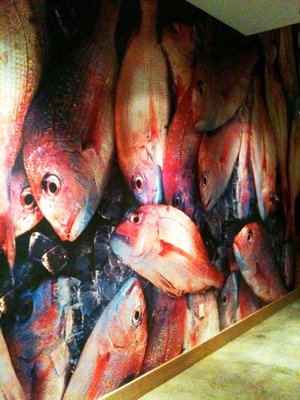 The bar/front seating area is kind of nice, but the place was packed, so it was uncomfortably loud: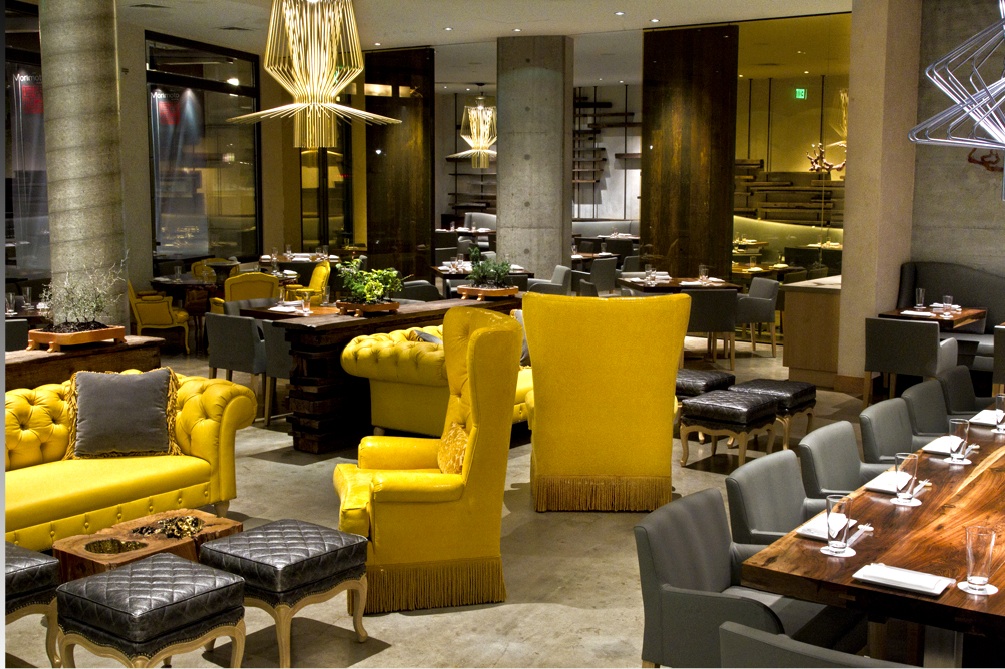 The back seating area (where our table was) was really spartan. There was a lot of concrete (and that means gray), and a curious use of wood and metal for the back wall decor. This picture of Morimoto as taken close to where our table was.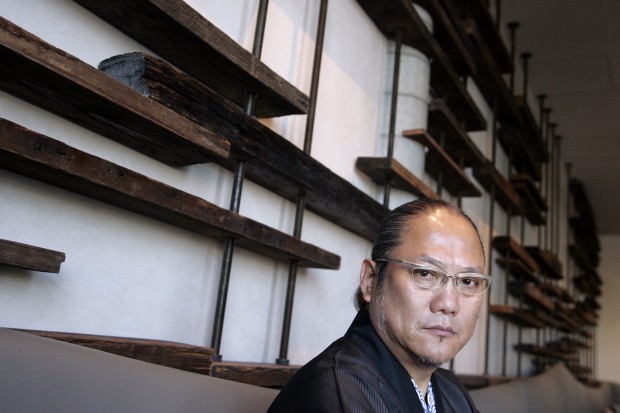 Now even though we were seated at the back of the restaurant, it was still unbelievably loud. Julie and I could have a conversation, but it was difficult to hear at times because the sounds of drunken people at the bar and at other tables just echoed through the large dining room. Plus with all that concrete, it just amplified the noise. But we came for the food, so I tried to concentrate on that.
After looking over the menu items, we settled on our dinners. For starters, it was spicy tuna sushi – which were really quite delicious. And even though I'm used to American portions when it comes to sushi (i.e., huge rolls that take two or more bits to eat), I really appreciated that Japanese portions because, unlike the American portions of sushi, I didn't feel like I was in some kind of eating competition where I had to pack as much rice and fish in my stomach in a short amount of time. Instead, I would savor the flavors in small doses. The fish was extremely flavorful, and the use of spices was not overpowering. Overall, a very nice start to the meal.
Next came our entrees. I ordered the surf and turf, which consisted of a Waygu fillet (cooked medium rare) that had a spiced crust and a small cooked half onion. The "surf" part was a combination a raw (market) fish with assorted vegetables and a vile of chili oil if you really like things hot. I also ordered a side of mixed vegetables that had very small broccoli flowers, edamame, sliced radish, yellow waxed beans, and lima beans. The Waygu fillet was really quite flavorful, but it was also very mild and tender. Overall, the beef was my favorite part of the meal. The fish also had a lot of flavor, and combining it with the vegetables added both texture and some heat that complimented the mildness of the beef. The portion sizes of the entrees were small, which I kind of expected, but when you're really hungry, it's kind of disappointing to see that for the prices you pay, that you may very well leave a bit hungry.
Julie ordered the braised black cod – which was seasoned in such a manner that you could really taste the fish and not the sauce. I only had one bite, but it was good. Not great, mind you. Just good. The portion size of her meal was also small, which meant that she may have left the restaurant not pleasantly full. We passed on dessert and coffee, because quite frankly, none of it looked all that appetizing.
The service was really spotty. Our hostess was kind of cold to us when we arrived (even though she knew it was our anniversary dinner). The woman who seated us was friendly, but she wasn't prepared to take our drink order, so she excused herself to "get something to write on." After we ordered drinks, another waiter came over to welcome us, and ask if we'd like drinks. When we informed him that our drink order had already been placed, he seemed a bit perplexed –which made me believe that the woman who took our drink order wasn't supposed to. When we were ordering, our food server couldn't tell us what was in the mixed vegetables, nor did she know that they were out of side dish (Julie ordered Chinese broccoli). And the busboy, who would've normally asked "Are you finished with your meal?" said "No more food? No more sushi?" when he took our plates away.
So overall, while I'm glad we tried Morimoto, I thought the service was really quite bad — considering how much they charge for dinner there. The food was good (not great), the presentation was very good, but the complete dinning experience was lacking. Would I go back? No. Would I recommend the restaurant? I'd say eat there for lunch, but be prepared to be a bit peckish after you leave.
And since Julie and I are doing "He said/She said" posts on our dining experience, you can read her review by clicking HERE.
Oh, and one last thing: I found this slideshow Julie and I made three years ago. It's of our wedding day, so if you'd like to see pictures (with commentary) of our wedding, day, here 'tis!
[Note Exposure Room went belly up, and with it this slideshow]