A Spark of Decency Against a Starless Night*
Julie and I met in 1987 — the same year she met her father for the first time.  At that time, Julie and I weren't a couple. We were just a couple of classmates in a speech class at San Francisco State University who barely knew each other.  But if it wasn't for that meeting with her father after class, we probably wouldn't be a couple today.
A kind word can go a long way…
A kind word was what happened in class.  Julie was dressed up and had some flowers with her that day. I said something like:  "Wow! You're all dressed up today."  She replied that she was meeting her parents after class and was nervous.  I asked why, and Julie said that she was meeting her father for the first time and was afraid he wouldn't like her.  I just said, "Aw, he'll love you!  What's not to like?"
That did it.  After that, Julie said she saw me in a different light. Before, I was kind of a self-absorbed 20-something with long hair and an attitude. However, after my "kind" comment, I became a nice guy in her eyes who she thought was kind of cute as well.
Sudden loss
I mention Julie's dad because he died suddenly on July 5th while hiking with his wife (whose name is also Julie) in The Dolomites ( Italian Alps).  This was not a trip that he and his wife were just casual tourists on. They trained for this trip by hiking in the mountains of Washington and Oregon to get used to the high altitude and thin air, but after a few days of doing 5 to 6-mile hikes in the Alps, my father-in-law Michael had sudden heart failure. There was a medic hiking with the group, and he administered CPR right away.  Michael was somewhat conscious after the medic was able to get his heart going again, but he couldn't speak. They called for an emergency helicopter and he was airlifted from the mountains to an area hospital.
However, he died before the helicopter landed.
It's just a shocking loss for the family.  Michael was only 73 and in extremely good health.  He jogged a few times a week, ate a very healthy diet, was almost retired from his career, and was enjoying life with his wife Julie — while planning the next phase that involved creative writing and teaching.  Well, he had taught at Portland State for years (a class on grant writing — which he wrote four books on), but he planned on continuing that part of his semi-retired life. About a year ago Michael was telling me how he planned on keeping his office in downtown Portland so he could start writing a novel or maybe some short stories. I had no idea he had creative writing interests, so I asked him what he planned on writing about. He said that he'd been thinking about all the colorful and crazy people he's met through the years, and wanted to weave their stories into a novel.
He told me about a few of them, and after hearing about these rather unique people, I said something like: "Well Michael, you've got chapters one through three sketched out right there." He chuckled and said, "That's just the tip of the iceberg, Ted. There are more people who could show up in my book."
Alas, that book will never be written.
I really admired Michael for things he did in his youth to the work he did prior to his untimely death.  He grew up in Modesto, CA, but once he left that place and moved to Berkeley in 1961, he, like many of his contemporaries, saw both the injustices of the world and their own need for self-discovery intersect during a time when the culture was starting to change. Yes, he was inspired by Jack Kerouac to go on the road, but he was also willing to do time in jail to fight against the injustice of racism — and to conscientiously object to the war in Vietnam.  Later in life, through grant writing, he helped countless non-profits and other organizations get funding to continue the work they did.  He also tried to help the local community radio station, KBOO, be a bigger footprint in Portland by serving on their board of directors.  On a smaller scale, Michael delivered food for Meals on Wheels for decades — which Julie (my Julie) does as well.  It's the amalgam of those things that reflect who Michael was at his modest and pragmatic core.
He seemed (to me, at least) to be a guy who believed that we shouldn't be satisfied until, as Martin Luther King, Jr., once said, "justice rolls down like water" — which is probably why he didn't let the valley of despair overtake his sense of rightness in a time when bitterness and hatred seem to prevail. Oh, don't get me wrong. He was just as shocked and feeling rudderless after the 2016 election — as many were.  I had posted on Facebook that I was going to treat the next four years as a marathon by engaging in one political act a week.  It could be signing a petition, contacting my representative, give a bit of money, and the like.  I didn't want to burn out, so I made realistic goals that I could reasonably keep.  Michael commented that he was looking for ways to stay involved politically and thought my idea was a good one to follow.
When Julie's mother died in 2008, and when my father died in 1993, it was after a decline in their health.  With Michael, it was all very sudden, and that has left a huge hole in the lives of his family and friends.  His passing has been surreal for a time, but now with time, the reality of his passing is more blunt and painful.
I wrote in an email to Julie's sister (who traveled to Italy for emotional support and to help with the bureaucratic stuff in the aftermath Michael's death) that I'll miss his quirky sense of humor.  But I also noted:
"Anyone else who did a fraction of the things your dad did in his life would probably be bragging about how they did such and such, or met so and so, and help build this and that, but your dad had a way of just kind of pursing his lips, shrugging, and saying 'Well, it was just the right thing to do.'
I wish the world had more people like him.
But really, I wish he were still here with us."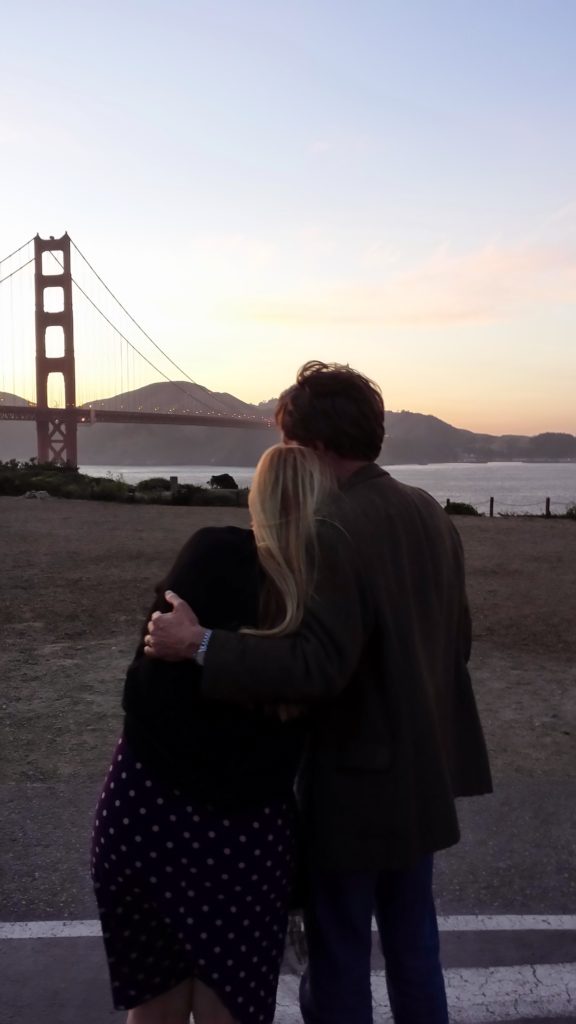 * Blog post title altered from the lyrics of "Everyday Glory" by Neil Peart (Performed by Rush)