A History of White People Food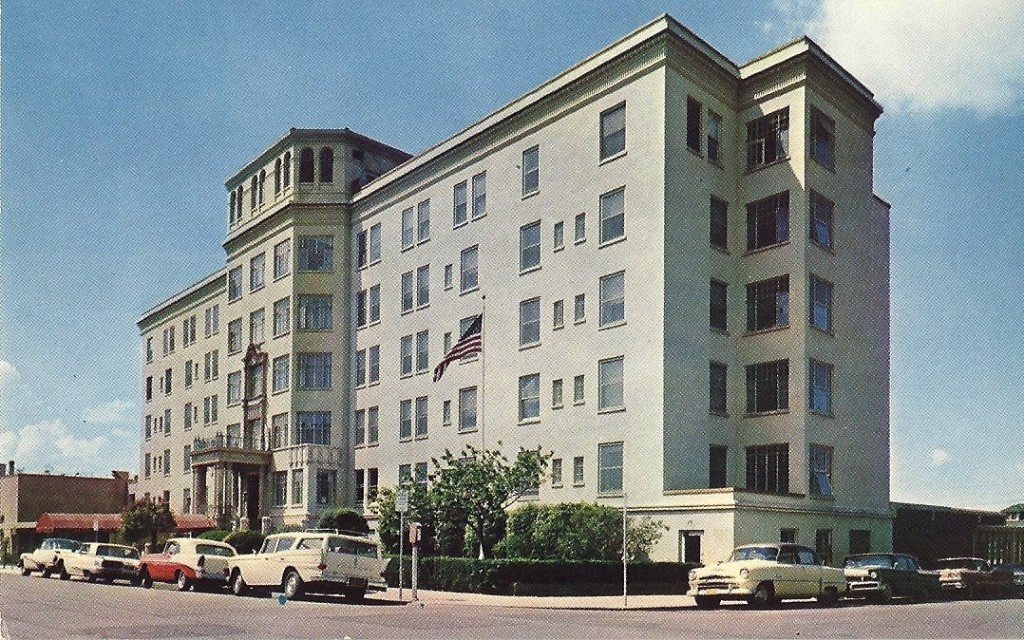 See that hospital?  That's where my lovely wife Julie was born.  And it's because of the doctors and nurses at Alta Bates that she's here today.  She was a premature baby who needed to be in an isolette for six days, fed intravenously for four days, and because of the excellent care she got at Alta Bates, she grew up to be the happy and healthy person she is today! So, thank you Alta Bates (and since this is Thanksgiving weekend, this is another thing to be thankful for).
Earlier this week, Julie went through a bunch of boxes that have her mother's books.  While digging through box after box, she found her "Baby Book" that has info jotted down about Julie's infant days.  Tucked in the book were two historical documents I found interesting.  The first was the picture of Alta Bates (above) that shows a very different Berkeley, CA — and reminds me that 1965 America was still very much 1950s America in many ways.  I mean just look at the cars (and the lack of traffic)!
The second document was the Breakfast/Lunch/Dinner menu hospitals give to patients to order their meals.  While I think it's not much of a stretch to say that hospital food hasn't gotten better over the years, it's interesting to see what was offered to patients back in the mid '60s.  And from my reading of this menu, it's a testament to food white people in the U.S. ate.  Now, before you get all "What's all this hating on white people food," just know that my father (100% Asian Indian) loved, loved, loved this kind of food.  I have no idea why, but maybe after living in the U.S. during the '50s and studying medicine, he grew to like it — because that's all that was available to him.
So, do you want to see what I'm talking about?  Okay here goes: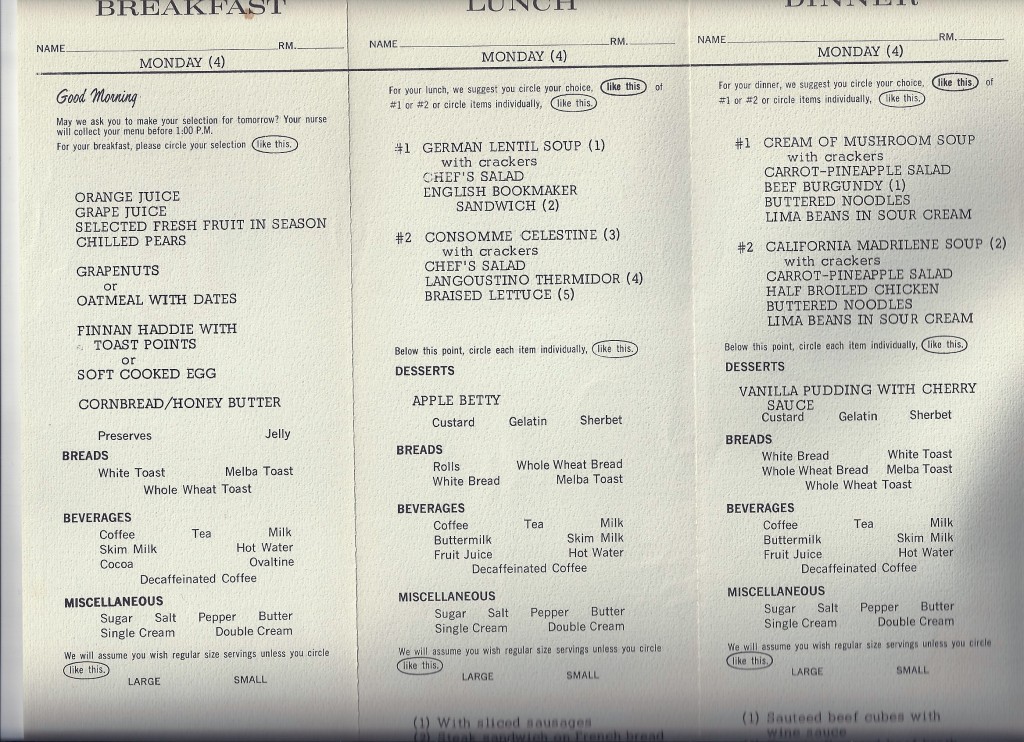 Breakfast!  
While there's the standard juices, fruit, toast, coffee, tea and the like, there are some questions marks (for me, at least).  What the hell is Finnan Haddie with Toast Points? Well, nowadays I can't feign ignorance because,well, there's the Internet that seems to know what such things are.  It's fish, milk, and potatoes in a kind of stew and the dish comes from Scotland.  Next:  What is Melba Toast? I thought I was up on my breads, but Melba Toast?  Nope.  Well, I know what it is now, but when I first saw it on the menu, I hadn't a clue.  Oh, and you know it's still 1950s America when Ovaltine is a menu option. When was the last time you've seen that?
Lunch!
An English Bookmaker Sandwich?  Huh, wha?  Actually, looking at what goes into that sandwich, it doesn't look half bad. Consomme Celestine…I know it's soup, but I've never had it, so it's a bit of a puzzle.  There's a crepe batter used to make a kind of noodle, but at Alta Bates, they didn't have time for such fancy things like crepe batter, so they just added egg noodles.  Apple Betty?  It's dessert, right?  Yes it is, and it's something I have had (or a variation of), but it was never called Apple Betty.
Dinner!
California Madrilene Soup.  Another consomme that's tomato based and is often served jellied or cold. You're probably wondering what makes the soup "California," right?  Well, they added a wedge of avocado on the side, and that's why it's California Madrilene Soup.  Oh, and did you see the Lima beans in sour cream?  Um…yummy.
So, what have we learned?  Well, the culinary choices for Alta Bates' patients was pretty bland, but that could be because they often serve bland food to folks staying in a hospital.  But looking at the food choices, it's clear the dishes were pretty white.  Fish soup in milk?  Melba Toast?  Consomme? Oatmeal with dates? Ovaltine? Also, notice  that the food comes from England, Scotland, Germany, and France — which reflects the northern European nexus that immigrated to the U.S. And since most of the patients were most likely from northern European stock, it's not surprising that the hospital would feature this kind of food. Nowadays, hospitals still have many of these menu items, but I would venture to guess you'll see burritos and Chinese food offered. That's not to say that said items will taste good, but there's a broadening of cultural tastes.
I doubt Anthony Bourdain will ever do a show about hospital food, but if Bourdain really wants a food adventure, he might consider exploring a time when this kind of food was more common in U.S. cities and suburbs.