A Geography of Class Lines
The other day, I decided to take a little midday constitutional before going to work where I had to stand or sit for about eight hours.  I was just feeling a bit sluggish, so I thought a little walk before work would energize me.  I got into a bit of an observational bubble (aided in part with music piped in through my headphones/earbuds) as I walked along the Ironhorse Trail that's near our house.  But instead of walking toward downtown Walnut Creek, I walked the other way toward Concord.  Maybe it was the music, but it started to frame the way I was looking at my surroundings.  Maybe it was that the terrain was moving more slowing and I had time to take it in — as opposed to when I'm on my bicycle and the landscape goes by in a bit of a blur.
Where we live, it borders Pleasant Hill and Concord.  I jokingly call it the "ghetto of Walnut Creek" (much to the annoyance of my daughter), and it's an area that's been built up over the eighteen years we've lived here from a kind of outpost where condos and some apartment complexes dot the landscape, to a live/work area. Our neighborhood has been known as "Oh you live near Pleasant Hill BART" (located, oddly enough, in Walnut Creek), and when we first moved here, there was a lot of large talk about building a transit village where people could work, shop and live (or is it live work and shop).  They had a fancy name for it ("New Urbanism") and the geography is modeled on the Rockridge neighborhood in Oakland where boutique shops, cool restaurants, and other markers of independent small businesses are nestled among a residential area. It's not complete, but this is a bit of what they've built so far: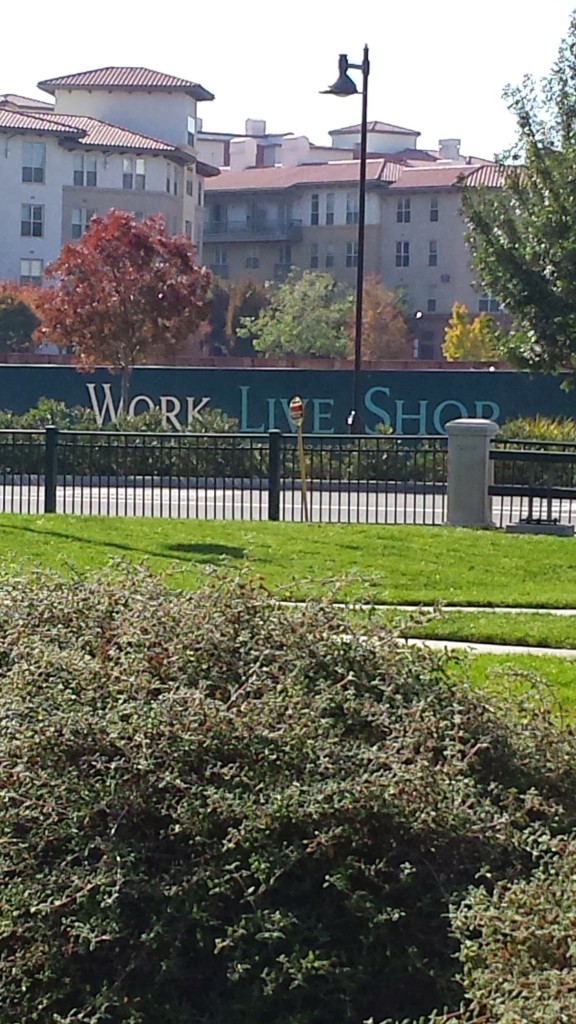 Those are apartments (expensive to rent, too!), and on the ground level, there are commercial spaces where businesses can set up shop.  Right now, we have a Starbucks, an Allstate insurance office, a place called "Third Work Place" where you can take your laptop and work in a space that has coffee, WiFi, meeting spaces and other work related things for the more independent-minded worker.  You pay them $6.00 an hour and you can drink as much coffee as you want.  And yeah, this is just a couple of doors down from Starbucks –where people are doing pretty much the same thing.  A restaurant is supposed to go in soon, they have a hair and nail salon, a place where little kids can take little kid ballet, and some place where you can help your dog socialize with other dogs in an indoor doggie playground.  Of course this is right across from the BART station: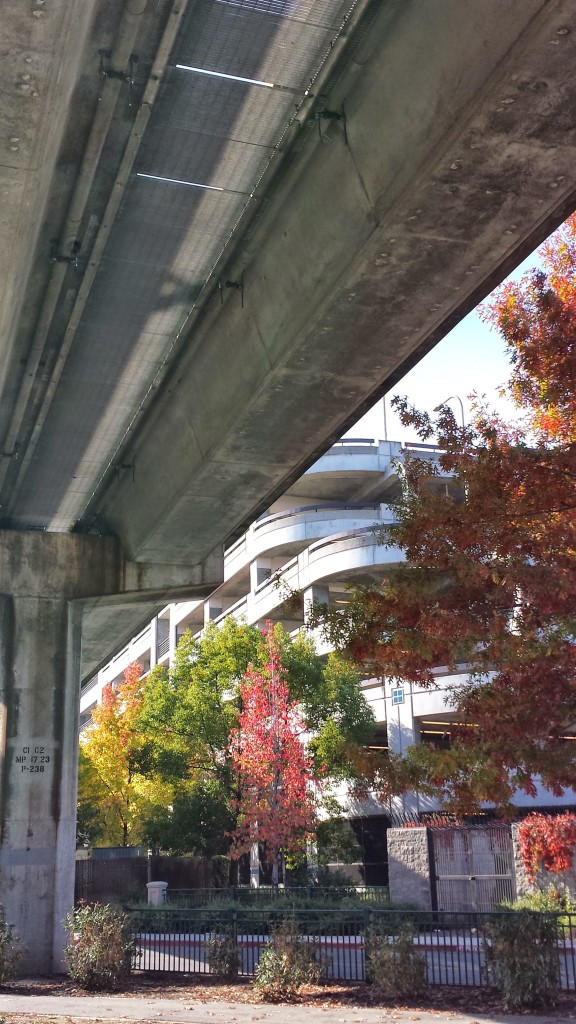 You walk down the trail a bit and you get this very nice part that's been landscaped as a kind of (sub)urban park that has a lawn, some whimsical suburban graffiti, and a pedestrian-only path where you can stop and smell the roses without having dodge bicyclists and joggers.
Having these things right in our backyard is much, much nicer than what was here almost two decades ago (just typing "almost two decades ago" is really strange because it doesn't seem like that much time has passed).  Eighteen years ago, most of what you see in these pictures was a parking lot for BART riders.  In short, it was pretty ugly. Now?  Pretty nice!
As you walk down a little farther, this is where the class distinctions start to show in our little slice of suburbia.
As I got farther away from the New Urbanism of Walnut Creek, there was a bit of Old Urbanism that started to creep into the landscape.  The signs went from whimsical to more desolate, angry and (as least at the border between the two cities) more protected. Mind you, there's about a mile that separates Walnut Creek and these parts of Concord and it's interesting to see how in a small segment of land, the differences can become so sharp.
You know how palm trees have become synonymous with California?  Yes, it's more of a SoCal thing, but even in San Francisco and Oakland, there are palm trees that dot parts of the new Bay Bridge and parts of the waterfront in San Francisco.  When I happened across this sad looking palm, it kind of reminded me that while the image of a palm tree has a signifies a kind of paradise, this one had a kind of paradise lost quality to it: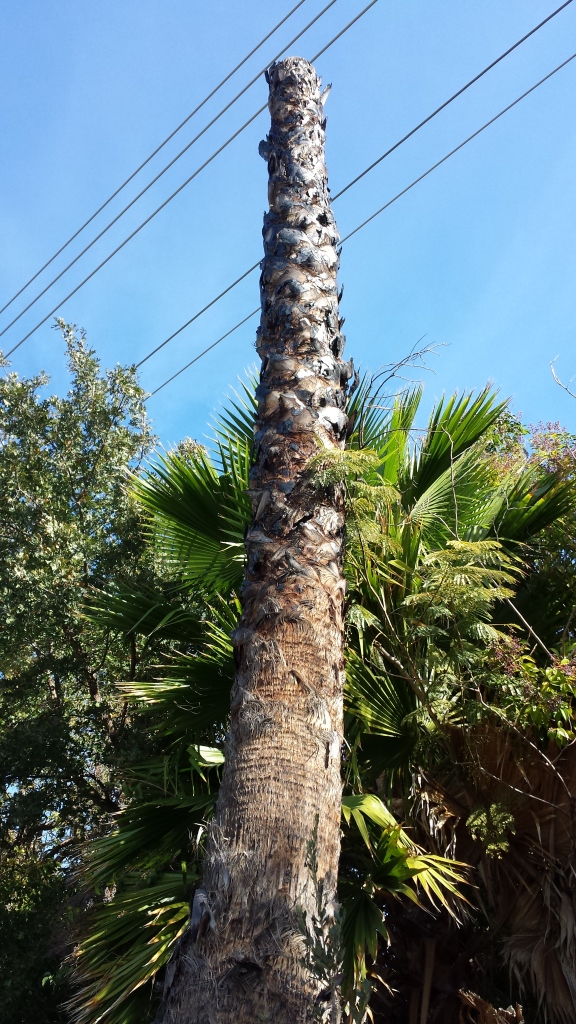 And those happy little markers of suburban whimsy?  Well a little farther down the road, it looks like someone is hoping for a better scenery instead of the half mile of wall that keeps the trail and the various light industry businesses and RV parking lots separated.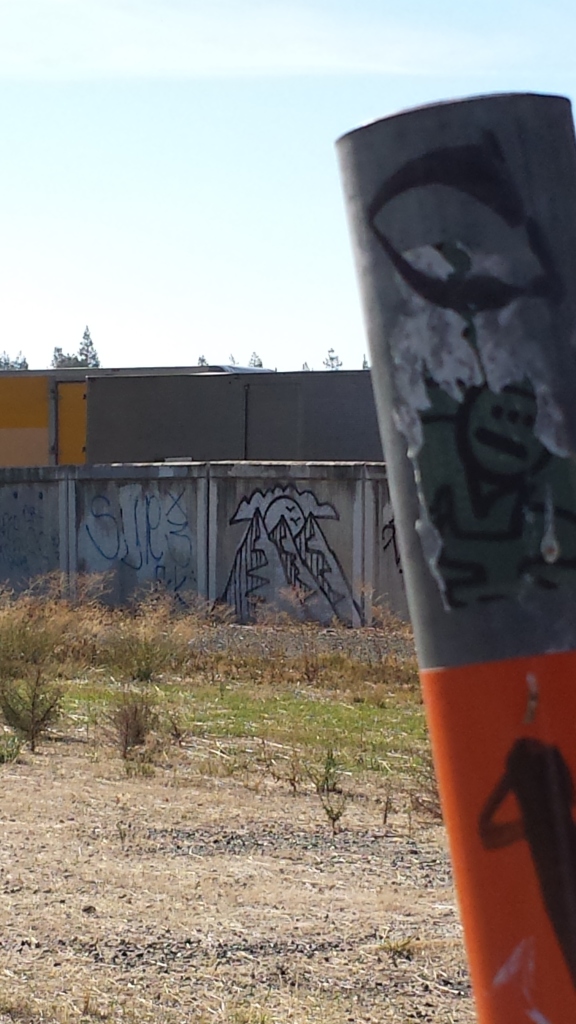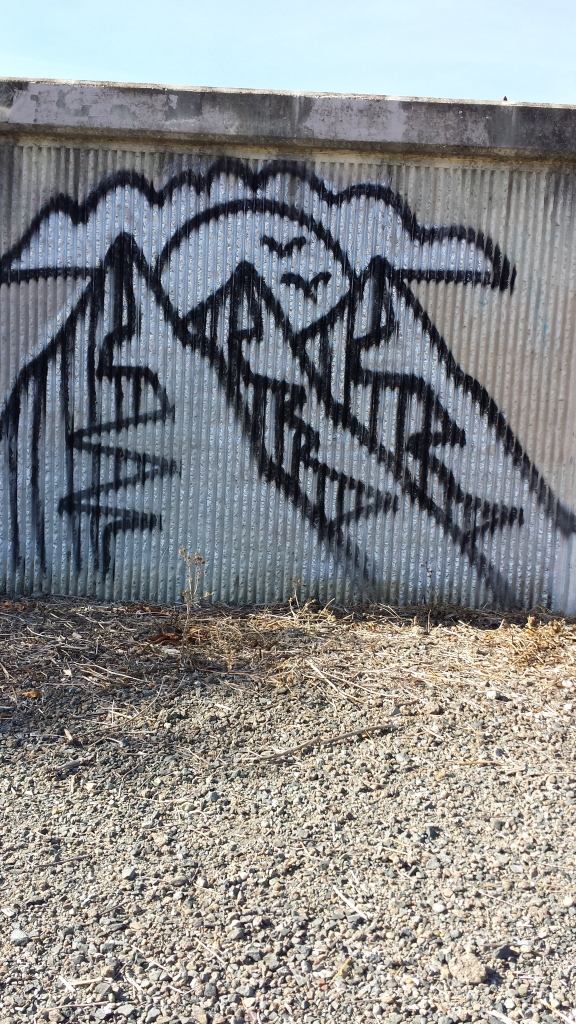 Finally at my turnaround point, I crossed the concrete channel that keeps the area from flooding when we get heavy rain over this remnant of when the Southern Pacific Railroad used to be here.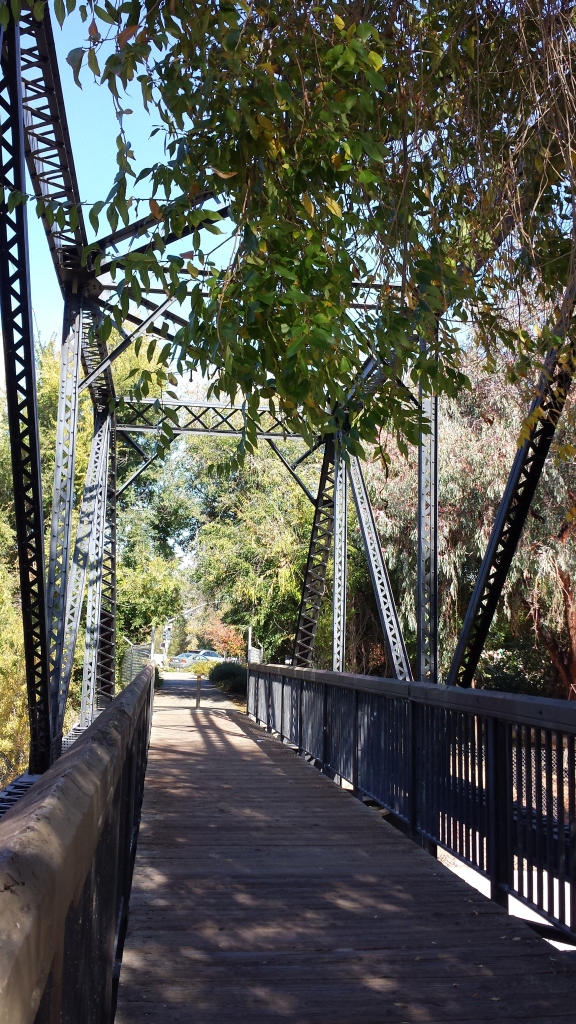 It's a nice walk across the trestle  — until you look down at the channel below: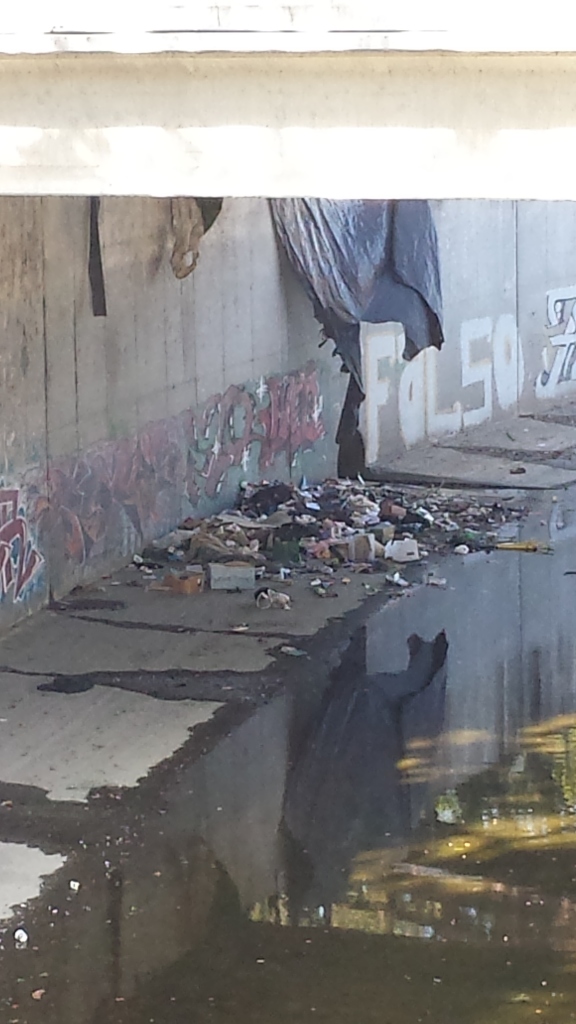 Like I wrote earlier, it's so strange to see how at times the landscape changes between a small geographic space.  When we lived in Philadelphia, the class lines were pretty sharp and you would see nice houses on one street with deteriorating homes a couple of streets over.  In this part of the Bay Area, it's clear that while many of the images here may look like they are examples of a tale of two cities, these sights more or less stick out in a sea of relative sameness. But since the Great Recession, that sense of sameness has been eroding with an uptick in signs that it's "us and them" in this little slice of The Golden State.