A Friday Music Feature: The Go-Go's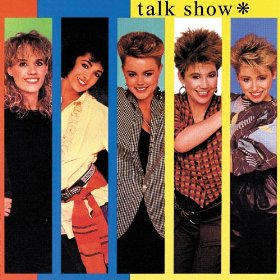 Back in 1984, I had hair. And I had the kind of hair that marked me as New Wave. Ponder the possibilities of that for a second while I get to a somewhat maligned band that was kind of on the ropes in 1984. The Go-Go's are a perennial favorite of '80s retrospectives nowadays, and I don't think "We Got The Beat" and "Our Lips Are Sealed" will ever disappear from classic status when it comes to pop songs of that era. But in 1984 these gals were under a lot of pressure to deliver hits by their record label. They did deliver…but the album didn't contain any huge hits. Nevertheless, Talk Show was strongest album of the three the Go-Go's released in the '80s. Unfortunately for the group, the album was tepidly received and it lacked what people wanted: "We Go The Beat, Part II."
Maybe it's because my colleagues at Popdose have got all ga-ga over the Go-Go's with the release of Belinda Carlisle's greatest hits (and they scored an interview with her – which you can read here), but I've listened to Talk Show for over a week and was reminded what really a great album it is (Thank to Annie Z who shared the album with the Popdose writers). The songs on the record are more rock and less pop, but damn if these women didn't play their hearts out on this record — something that wasn't lost on Rolling Stone when they reviewed the album back in 1984. Because I have a subscription to Rolling Stone (Julie's ongoing gift to me), I have access to their archives. So, just to put a find point on what I wrote earlier, here's an image of the review as it appeared all those years ago: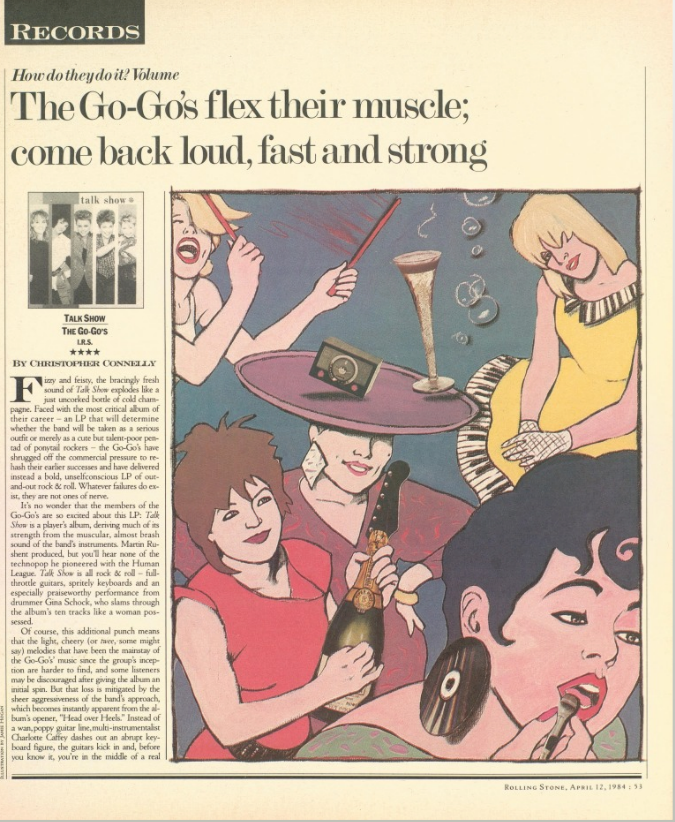 This is generally a glowing review of the record, highlighting song after song where the individual band members shine. Interestingly enough, Chris Connelly notes that Belinda Carlisle's presence recedes on this album — even though she's the lead singer. I think perhaps that was by design because the Go-Go's were a band and each member brought their own "certain something" to the effort. Also, this was the group's third album, and while they weren't accomplished musicians by any stretch, they had grown more confident and were playing with a greater level of maturity. So, it was probably clear to the members of the band this album wasn't going to be "Belinda Carlisle and the Go-Go's" since they all brought equal parts to the making of the record.
I know I've gushed a lot about this album, but I think the last 'graph in the Rolling Stone review summed it up quite nicely: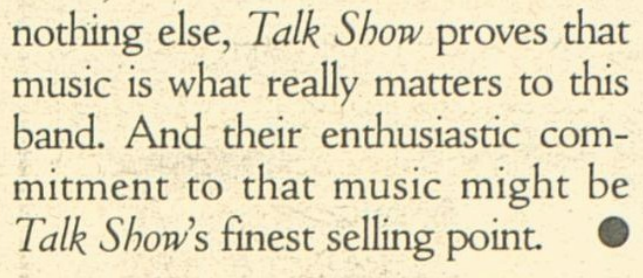 While most of the songs on Talk Show are very good, I think the strongest track is "I'm The Only One" — a blistering 3 minutes and 30 seconds of some of the strongest rock the Go-Go's ever recorded. Here they are in 1984 performing the song — with special emphasis on the "'80s Dance" that Carlisle and Jane Wiedlin bust out during the lead break.
P.S.
I had hair like Bono — which is now called a mullet.